News
NSPCC launches campaign to create a city of safe guarders in Newport
The NSPCC has today launched a pilot campaign to teach about the warning signs of child abuse in three UK cities – including Newport.
The Listen Up, Speak Up campaign is encouraging residents in Newport to take part in workshops to create a city of safe guarders.
The charity is asking Newport taxi drivers, market traders and neighbourhood watch groups to go online to take part in the digital training which offers information on what steps to take if they are concerned about a child's safety.
More than half a million children experience abuse or neglect each year and last year Gwent Police recorded 378 crimes of child sexual abuse.
Free workshops will be held in various locations across Newport over the coming weeks, including free 10 minute digital training and information from experts about how to help keep children safe.
The launch comes as the charity reveals that over the past year, its adult Helpline has seen a 14% increase in calls across the UK about in-person sexual abuse.
Brighton and Hove and Leeds will also join Newport as part of the new pilot.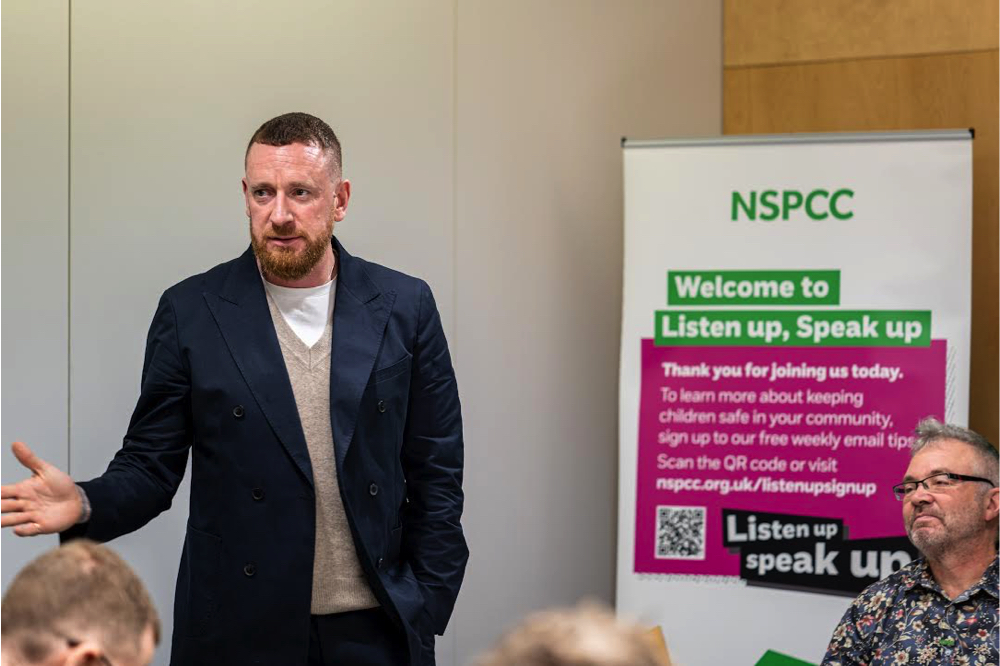 The launch has been endorsed by Olympic cyclist, Sir Bradley Wiggins, who last year spoke out publicly for the first time about being groomed by his training coach when he was thirteen years old.
Bradley buried his experiences and struggled to cope and he said that if someone had spotted that he was suffering and had spoken out, he might have been able to get the help and support he needed much earlier.
Local Campaigns Manager Emma Motherwell said Listen Up, Speak Up aims to give the public the knowledge and confidence to seek support about any concerns they have about a child's safety.
Emma said: "Child protection needs to be made a priority. There's so much we can do in the local community.
"At the NSPCC, we want to encourage everyone in Newport to play their part in keeping children safe, and that's why we're thrilled to be piloting our new campaign, Listen up, Speak up, here in Newport.
"The campaign offers free digital training to adults, which can be completed on a smartphone or tablet, as well as free workshops that can be attended in person or online."

Digital training
Those that sign up to Listen up, Speak up will initially take a 10-minute digital training session that uses scenarios – a father concerned about messages his son is receiving, a hairdresser that notices bruises on a child and a friend worried about a new parent – to show people what to do if they think a child is in trouble.
The advice is based on the mnemonic DOTS which is designed to address the barriers to people acting on concerns.
DOTS stands for:
• Don't ignore it
• Observe the situation
• Think: If not you, then who?
• Speak up.
One dad who called the NSPCC Helpline said: "My 5-year-old son told me he's being abused. He told me his step-dad has been visiting him in his bedroom at night and hurting him; when I ask more details he shuts down and looks away.
"I noticed he cries so much when I drop him off at his mum's house, but I didn't think it could be a sign something's wrong."
Extra knowledge
NSPCC CEO Sir Peter Wanless said: "You might never need to use the training, but it's beneficial to take part. Even if children are not a big part of your everyday life, you'll see them in your neighbourhood, on your commute, at the supermarket.
"We're encouraging everyone to take 10 minutes to complete the digital training – a little bit of extra knowledge can help keep a lot of children safe."
To find out more and to sign up to take the Listen Up Speak Up training in Newport email localcampaigns@nspcc.org.uk
---
Support our Nation today
For the price of a cup of coffee a month you can help us create an independent, not-for-profit, national news service for the people of Wales, by the people of Wales.