News
Nurses pause strike action as union begins 'intensive talks' with UK Government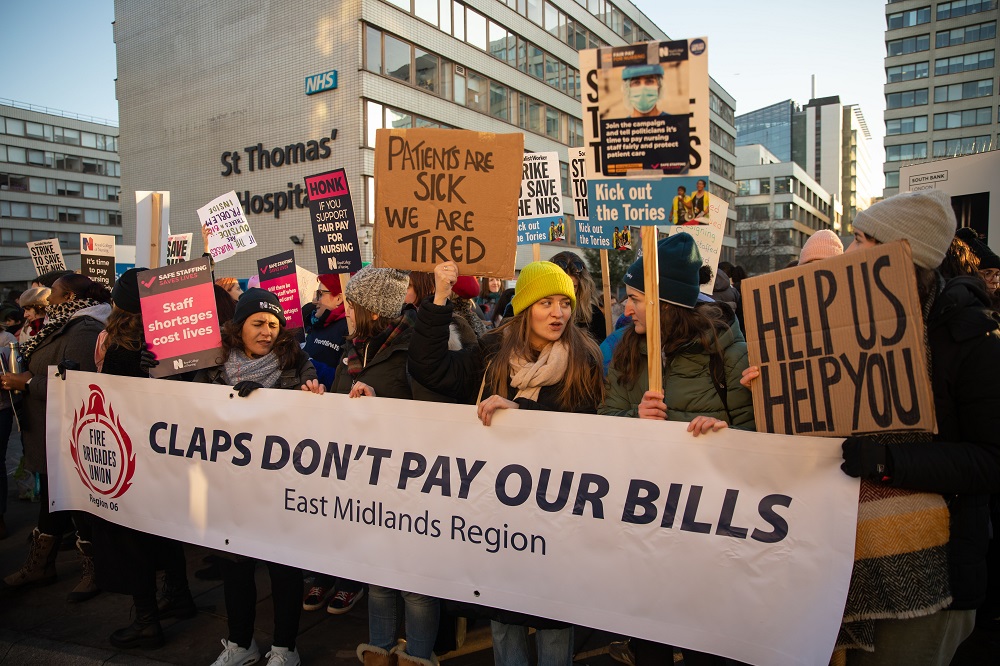 Nurses have agreed to pause major strike action as they begin "intensive talks" with the UK Government with a view to finding a settlement in the bitter dispute over pay.
The Royal College of Nursing (RCN) and the Government issued a joint statement saying that the talks would focus on "pay, terms and conditions, and productivity enhancing reforms".
Health Secretary Steve Barclay is due to meet with RCN representatives on Wednesday.
A joint statement from the Department of Health and Social Care and the Royal College of Nursing said: "The Government and Royal College of Nursing have agreed to enter a process of intensive talks.
"Both sides are committed to finding a fair and reasonable settlement that recognises the vital role that nurses and nursing play in the National Health Service and the wider economic pressures facing the United Kingdom and the Prime Minister's priority to halve inflation.
"The talks will focus on pay, terms and conditions, and productivity enhancing reforms.
"The Health Secretary will meet with the Royal College of Nursing on Wednesday to begin talks.
"The Royal College of Nursing will pause strike action during these talks."
The next industrial action pencilled in for nurses was on March 1 when they had planned to strike continuously for 48 hours.
The action would have also included nursing staff from emergency departments, intensive care units, cancer care and other services that were previously exempted.

Positive
Commenting on the news, Danny Mortimer, chief executive of NHS Employers – which represents National Health Service employers in England, said: "It is a positive development that there will be substantive negotiations with the RCN.
"NHS Employers will do everything in our power to support a constructive outcome to the talks with the RCN, as well as with other trade unions."
Sir Julian Hartley, chief executive at NHS Providers, said: "Trust leaders will be breathing a sigh of relief that the Government and the RCN are finally coming round the table to talk about pay, and that the imminent nurses strikes are now on hold.
"The past weeks have seen a worrying escalation of industrial action, which has hit patients hard.
"Both sides being committed to finding a fair and reasonable settlement is the glimmer of hope we all needed.
"For these talks to end in a resolution, any agreed settlement will need to pass a vote by RCN members. Hopefully, it can pave the way for similar negotiations with other unions planning strikes.
"We eagerly await the outcome and hope that further disruption to services can be averted, allowing NHS staff to continue delivering high-quality care, bearing down on backlogs and meeting elective targets."
Evidence
It comes as the Department submitted its evidence to the NHS Pay Review Body for the 2023/24 financial year.
Officials said 3.5% pay rise for staff would be affordable for the UK Government.
"Through the current financial settlement provided by HM Treasury to the department and reprioritisation decisions, funding is available for pay awards up to 3.5%," the Department said in its submission document.
"Pay awards above this level would require trade-offs for public service delivery or further Government borrowing at a time when headroom against fiscal rules is historically low and sustainable public finances are vital in the fight against inflation."
The NHS Pay Review Body is responsible for making recommendations on the pay of more than one million NHS staff paid under the Agenda for Change contract.
Their recommendations cover all staff employed in the NHS across the UK, but they do not make recommendations on the pay for doctors, dentists and very senior managers.
Elsewhere in NHS disputes, junior doctors have said they are meeting with DHSC officials on Wednesday.
BMA
On Monday, the British Medical Association (BMA) announced that its junior doctor members had voted overwhelmingly in favour of taking industrial action.
The action, which will include all doctors under consultant level, will last for 72 hours and the BMA said that it could possibly coincide with action taken by other health unions.
One hospital leader, Nick Hulme, warned that the majority of pre-planned care would be cancelled on strike days, which are yet to be announced.
The BMA's action is the latest industrial dispute to hit the NHS as workers face a squeeze on living standards driven by soaring inflation.
A smaller number of junior doctors in the Hospital Consultants and Specialists Association (HCSA) have already said they will strike for the first time in the union's history next month in a dispute over pay.
More strikes are set to be announced by ambulance workers with the Unison union, while action by ambulance staff with the GMB and Unite unions is pencilled for March 6 and March 20.
---
Support our Nation today
For the price of a cup of coffee a month you can help us create an independent, not-for-profit, national news service for the people of Wales, by the people of Wales.