News
8,000 pack Caernarfon square to call for Welsh independence
//= do_shortcode('[in-content-square]')?>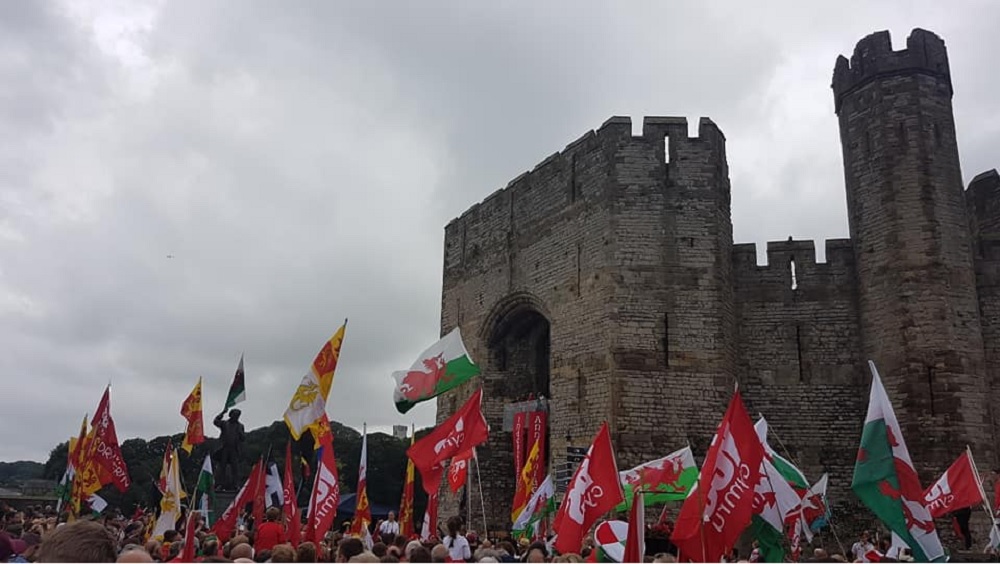 8,000 people have joined a march in Caernarfon to call for independence for Wales.
The march started shortly after 1pm as the crowds made their way from Victoria Dock Car Park to Castle square – the Maes – in the centre of the town.
The march was organised by All Under One Banner Cymru (AUOB Cymru), who also held a march in Cardiff in May which attracted over 3,000 people.
Steven Davies, who had made the short trip from Bangor to join the march, said he was there to push for Independence: "It's something I've thought of since I was a child and I've been inspired by heroes throughout history. What's happening today in modern politics is pushing me more and more towards it.
"It's the right thing to do. It makes complete sense. Wales should be governed and ruled by the Welsh people."
In the shadow of Edward I's castle, the crowd heard from speakers and musicians including Scottish comedian and political activist, Hardeep Singh Kohli and singer Dafydd Iwan.
Organisers hung giant banners from the castle's Queen's Gate saying 'Independence / Annibyniaeth'.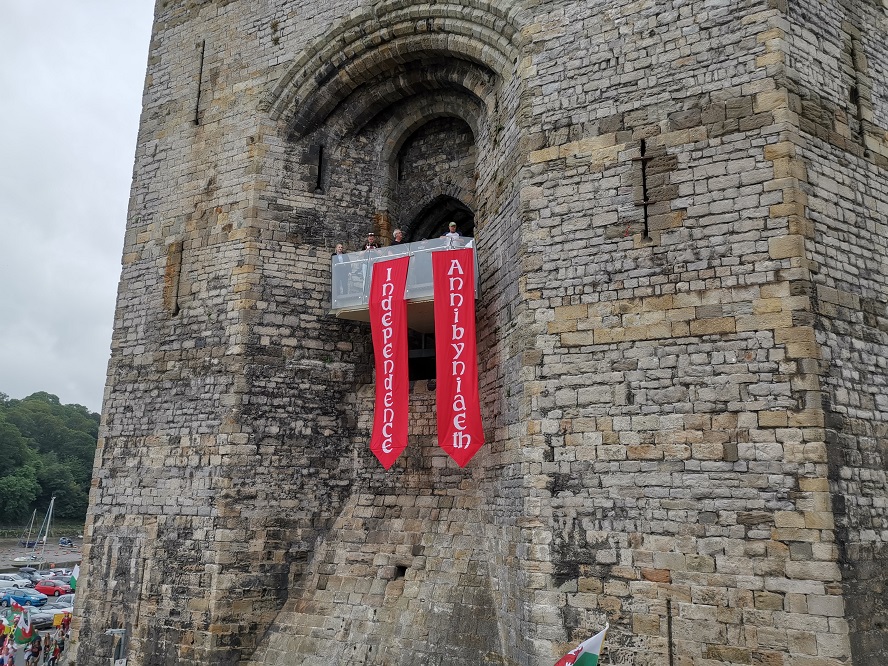 Standing in front of the castle – built in 1283 by King Edward I of England – as the banners were unfurled, Yes Cymru Chairman Siôn Jobbins declared to loud cheers: "These castles were built to keep us down. They instigated generations of apartheid laws in Wales against Welsh people. Welsh people weren't allowed inside the castles. We weren't allowed to trade with them.
These are signs of oppression, but we're back Edward and we're taking the castle back as well."
Turning his sights on the UK Government he added: "Some people say you can change Westminster. Westminster won't change. It is built on  a corrupt class system."
"Brexit is a British Nationalist coup and it is being used to take powers from Wales."
"When you give power to Westminster, they just keep it."
Hardeep Singh Kohli paid tribute to Welsh resilience as he took the stage: "There is no league table in injustice when it comes to colonisation and subjugation. Any keeping down of people is wrong. But the main reason I'm here is because  I can't sleep for thinking of the injustices visited upon the Welsh people."
"No country in the world has more castles than Wales. Why is that? 'Cause they needed to build them to keep you down. No country in the world has systematically had an onslaught, an assault on its language the way London governments have assaulted your language. And yet it is still spoken."