News
Parties must unite behind Gaza ceasefire call – Plaid Cymru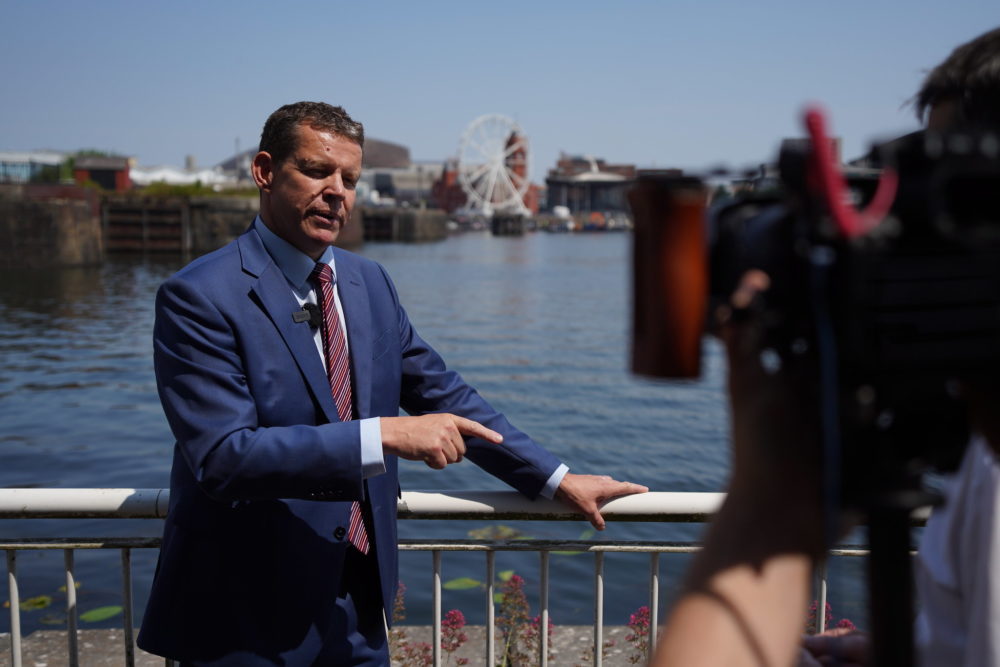 Plaid Cymru leader, Rhun ap Iorwerth has urged all parties to unite behind calls for an immediate ceasefire as Israeli operations in Gaza intensify.
Mr ap Iorwerth's intervention comes as Israel's military continued to expand its ground operation in Gaza on Saturday, as part of its ongoing retaliation against Hamas's deadly raids three weeks ago that left 1,400 people, mainly civilians, dead.
The Hamas-controlled Gazan health ministry saying more than 7,000 people have been killed since the start of the conflict, sparking growing demands for a ceasefire among politicians, amid fears of a humanitarian crisis.
Plaid Cymru's Westminster leader, Liz Saville Roberts MP, has also called for the UK Parliament to be  recalled in order to keep pressure on the UK Government and the Official Opposition to call for a ceasefire.
Parliament is currently prorogued, or closed down, in preparation for the King's Speech on 7 November.

Desperate
Rhun ap Iorwerth said: "As the attacks on Gaza intensify, the humanitarian situation becomes even more desperate.
"The international community must not lose sight of its moral duty to uphold international law and do everything possible to protect the hundreds of thousands of innocent civilians trapped in this conflict.
"An immediate ceasefire, release of hostages, safe aid corridors, and the restoration of vital communications channels must be the priority and I urge all parties in the UK to unite behind this call."
Liz Saville Roberts added: "As Israel escalates its ground operation to a scale never seen before, Gaza is experiencing a humanitarian disaster.
"Westminster is in recess next week which means no opportunity even to demand updates from the Government in the House nor through written questions.
"The Prime Minister and the Leader of the Opposition will continue to evade calls for a ceasefire unless Parliament is recalled."
Massive strikes
A spokesman for Tel Aviv's military on Saturday said infantry and armoured vehicles were being backed by "massive" strikes from the air and sea in a sign it could be moving closer to an all-out invasion of Gaza.
As part of the stepped-up bombardment of the 25-mile stretch, Israel also knocked out communications and created a near-blackout of information, largely cutting off the 2.3 million people in besieged Gaza from contact with the outside world.
Dismissing calls for a ceasefire in the conflict, despite the escalation, Foreign Secretary James Cleverly said that Hamas has given no indication it "desires or would abide by calls for a ceasefire".
Mr Cleverly said "calls for a ceasefire in the abstract aren't going to help the situation".
The UK Government's position, backed by Labour and Opposition leader Sir Keir Starmer, has been to push for "humanitarian pauses" to allow aid into Gaza and to allow people, including 200 trapped British nationals, to escape the territory.
The Foreign Secretary told broadcasters: "We have consistently sought to bring about pauses to facilitate the inward passage of humanitarian aid that we are providing and the release of hostages and the evacuation of British nationals in Gaza, so that has been our position from the start.
"Of course we want to see this resolved, we want to see Israel safe, peaceful and secure.
"But, as yet, I have seen or heard nothing from Hamas that gives me any confidence that they desire or would abide by calls for a ceasefire."
He said the Palestinian militant group "habitually embed military capabilities within civilian infrastructure" in a move he said was "internationally recognised" as "completely inappropriate".
Mr Cleverly reiterated the Government's position that Israel has a right to defend itself after Hamas's attack on October 7.
"Of course we are having conversations and will continue to have conversations with the Israeli military about the preservation of civilian life, about the adherence to international law," he added.
"But they do have a right to self-defence and throughout this operation, since the atrocities of October 7, Hamas and other terrorist organisations have consistently bombarded Israel from Gaza, from among civilian infrastructure."
---
Support our Nation today
For the price of a cup of coffee a month you can help us create an independent, not-for-profit, national news service for the people of Wales, by the people of Wales.