News
Pembrokeshire foodie prepares for first 'secret seagarden' harvest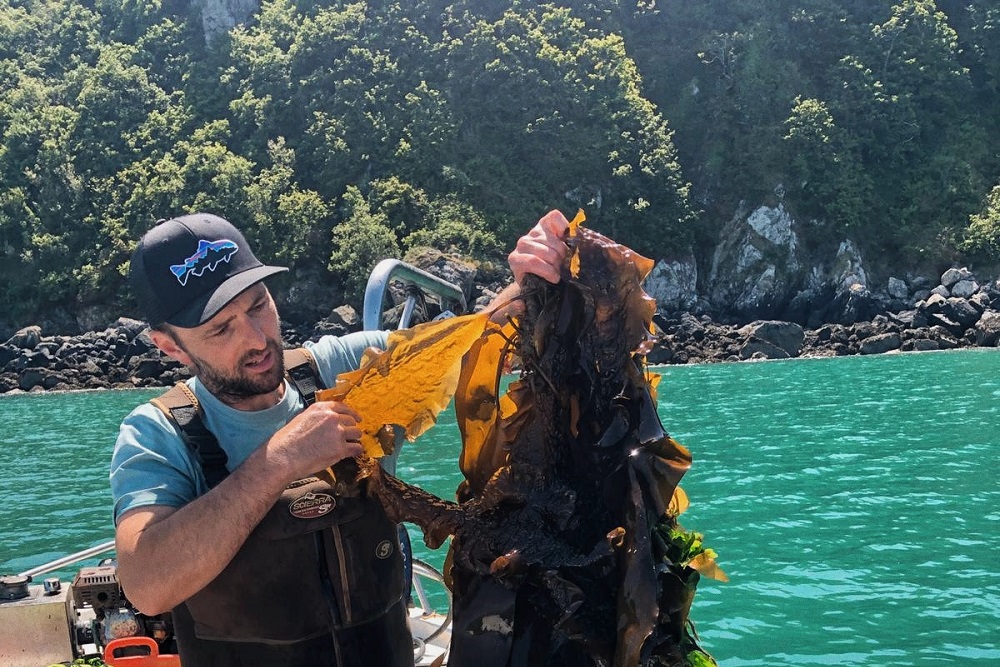 Seaweed enthusiast and Pembrokeshire Beach Food founder Jonathan Williams has built his business by harvesting foods from the sea.
His award-winning Café Mor, a street food outlet now permanently located at his pub, The Old Point House on Angle, Pembrokeshire, specialises in seaweed-based food such as lobster rolls with seaweed butter or Welsh brekky rolls filled with bacon, egg, and laverbread patties.
The Old Point House's indoor restaurant also specialises in seaweed dishes, ranging from house seaweed pasta to seaweed Welsh cakes, and the Pembrokeshire Beach Food Company sells everything from seaweed salt to seaweed ketchup.
National Laverbread Day, launched by Jonathan in 2022, is another part of his mission to champion seaweed as a delicacy.
Now Jonathan is switching from foraging for seaweed to farming it in his secret sea garden, located off the Pembrokeshire coast.
The "garden" currently produces a range of seaweed including laver, dulse, kelp and sea lettuce, and mussels, which attract lobsters and spider crabs and there are further plans to grow scallops and other shellfish.
The aim is for it to supply the pub with a steady supply of shellfish and seaweed, and to demonstrate what a valuable resource the sea is.

Naturally seeded
"The seaweed is naturally seeded on manila, sisal and hemp ropes rather than traditional fishing ropes that are made of plastics, meaning micro plastics and nano plastics enter the water," Jonathon says.
"We're also applying polyculture techniques. Seaweed farming tends to follow what farmers do on lands in terms of monoculture, because growing one type of seaweed makes it easier to harvest.
"We're growing a range of seaweeds because we want to create a rich and vibrant habitat. We're not seeding it ourselves – it's done by the millions and millions of seaweed and shellfish seeds that are floating looking for something to attach onto. We're just letting nature do what it does best."
By also growing shellfish on the ropes, he's providing a truly local source of seafood for his kitchens in the Old Point House, which has a long history of serving local food in a setting once frequented by pirates.
"Local shellfish is hard to come by, with the exception of Atlantic Oysters, so growing our own will cut food miles right down," he says. "This is also about pushing the pub into the 21st century. We have a typical garden with herbs and vegetables but to add the sea garden makes us even lower impact. It's also about education and showing people this is a way to sustain ourselves for years to come."
Lobster fisherman
Jonathan has been working with Danny Curtis, a local Lobster fisherman and owner of Little Haven café Lobster and Mor, whose local knowledge of the coast is allowing the Sea Garden seeds to be sown. It is hoped the harvest will provide a year-round sustainable source of seafood.
"It's early days but we are both very excited about the potential," says Jonathan.
The first harvest from the Secret Sea Garden will be celebrated later this month with the Secret Sea Garden Feast at The Old Point House. Anyone interested in attending can sign up for the Old Point House newsletter here.
"We'll be serving a tasting menu with seaweed and seafood being the main focus – it will demonstrate how feasible sea gardening is and give people a taste of seaweed that's been naturally grown on our doorstep," says Jonathan.
You can book to attend the Secret Sea Garden Feast here.
---
Support our Nation today
For the price of a cup of coffee a month you can help us create an independent, not-for-profit, national news service for the people of Wales, by the people of Wales.