News
Pembrokeshire podcast host jailed for stirring up racial hatred on 'vile' podcast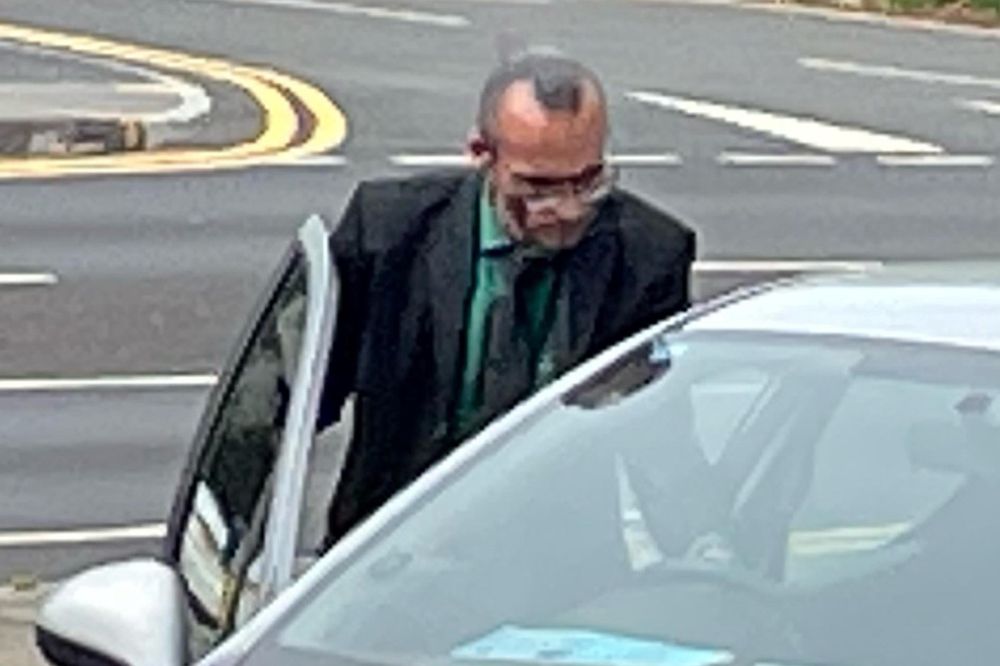 The host of a "highly antisemitic and white supremacist" podcast called Radio Aryan has been jailed for more than two years.
James Allchurch, a self-avowed racist and Hitler supporter, was found guilty in March of stirring up racial hatred.
The 51-year-old from Pembrokeshire, Wales, is said to have recorded the "vile" show to "spread his propaganda about racial conflict".
Guests of the platform included extremists such as jailed National Action co-founder Alex Davies.
On Monday, Allchurch was sentenced at Swansea Crown Court to two and a half years in prison by Judge Huw Rees.
The judge also ordered forfeiture and deprivation orders in relation to recordings and materials including Allchurch's laptop.
Judge Rees said: "During the playing of these podcasts, it was immediately apparent that the recordings were plainly insulting or abusive, and that your sole intention was to stir up racial hatred, or at least racial hatred was likely to be stirred up as a result.
"The content of these podcasts were vile. Listening to them, as the jury had to, was a disturbing experience.
"It beggars belief, or at least it should be, that someone would want to speak these words at all, let alone feel the need to publish them for the consumption of others.
"That would be the case for right-thinking people at any time, leave alone currently in an enlightened age of diversity and inclusivity.
"Your offending amounts, in my view, to a stain on our humanity for our fellow human beings.
"Your ideology based on race, being pro-white and anti non-white, has been expressed by you as having some form of basis for protection of our society – it is no such thing.
"It is a concerning ideology, by reason of its consequences for communities and for parts of those communities."
The judge said he did not believe Allchurch had expressed remorse for his actions and the jury saw through him despite him seeming to have "an answer for every challenge" under cross-examination.

Offence
At trial Allchurch claimed he had not intended to cause offence and believed he was using "accurate terminology" to describe different races. He also claimed the podcast was only intended for those who already subscribed to nationalist ideology.
Allchurch was convicted of 10 out of 15 counts of distributing audio material to stir up racial hatred between May 17 2019 and March 18 2021.
Each charge related to a separate episode uploaded by Allchurch to a public website called Radio Aryan, which has since been renamed Radio Albion.
The jury listened to each of the recordings, totalling around nine hours of audio.
Episode titles included Rivers Of Blood, Banned From The UK, The Foreign Aid Scam, Where The Jews Fit In and The Strawman Nationalist.
In the clips, Allchurch and his guests repeatedly used extreme racial slurs and propagated racist ideology while discussing topics such as grooming gangs, immigration, slavery and crime.
In one episode, he suggested creating "safe spaces" outside cities for "indigenous Britons" and questioned whether gas chambers were really used by the Nazis during the Holocaust.
Each episode was accompanied by often racist and insulting cartoons.
Allchurch, who created the website in November 2015 and was the proprietor, producer and main host, told the jury that each episode attracted around 4,000 listeners.
He went by the alias Sven Longshanks – a reference to King Edward I, who was also known as Edward Longshanks and was responsible for expelling Jewish people from England in 1290.
A number of co-hosts also went by pseudonyms including American neo-Nazi Daniel Kenneth Jeffries, who was known as Grandpa Lampshade – a reference to the skin of Jews being made into lampshades – and Laurence Nunn, also known as Max Musson.
Davies, from Swansea, who was jailed at Winchester Crown Court in June last year, appeared on the show under his own name.
Counter-terror
The court heard that Allchurch was arrested by officers at his home on December 17 2019 and questioned by counter-terror investigators.
He is said to have continued to display the offensive material on his website for sometime after he was interviewed.
He told police he was disabled and unable to work and that he spent up to 12 hours a day producing podcast episodes and maintaining his website, which accepted donations through a Bitcoin link.
During the hearing, Allchurch's defence counsel Emily Baxter said her client became disabled after an assault in 2009, and due to his isolation became involved in online "echo chambers" with people including those with far-right views from the US.
Ms Baxter said Allchurch had since taken down the offensive material from his website and had produced content discouraging violence, claiming he wanted to promote "lawful protest".
A number of the podcast's listeners wrote to the judge and claimed the website was not hateful, but Judge Rees said he had been unimpressed by some of the letters because they had referred to the defendant by his alias Sven Longshanks.
Ms Baxter urged the judge to suspend Allchurch's sentence on the basis that he had serious health conditions and had been deemed to have a low risk of reoffending.
She also asked that his legal representatives be allowed to retrieve account details relating to his Bitcoin account from his laptop so he could access his money.
Detective Chief Superintendent James Dunkerley, of Counter-Terror Police North East, said the podcasts had threatened "the safety of the public and the stability of our communities".
"We will not accept any action which attempts to undermine or divide our communities and will continue to work to counteract the intentions of individuals who seek to do this," he added.
---
Support our Nation today
For the price of a cup of coffee a month you can help us create an independent, not-for-profit, national news service for the people of Wales, by the people of Wales.