News
Petition launched to save Cofiwch Dryweryn mural after prosecution threat
//= do_shortcode('[in-content-square]')?>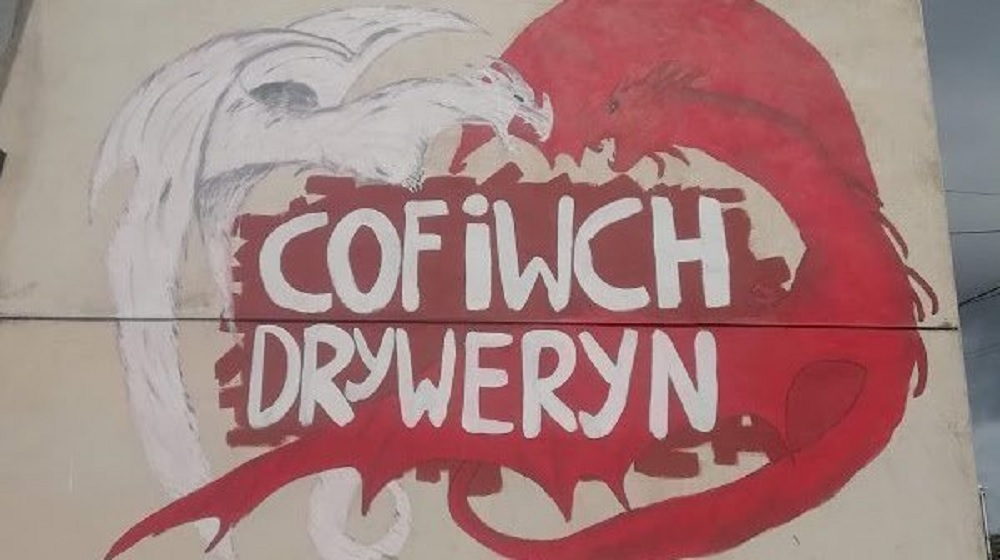 Maesteg's branch of YesCymru have launched a petition to stop the painting over of a mural to the drowning of the Tryweryn valley.
The Cofiwch Dryweryn mural flanked by two dragons was painted on the wall of a private property in Nantyffyllon, Maesteg last year.
However, the owners of the building said that they had received a letter by the council last month warning that if it is not painted over within 21 days, they would be liable for prosecution.
The petition authored by artist Cerys Thomas-Ford says called on the council to allow them to keep the mural in place.
The letter received by the council stated that the Highway Department believed that the mural was a danger to motorists.
However, the petitioners said that the mural was large enough to be seen from such a distance that it posed no danger to motorists, and contained "no information that needs to be read and absorbed".

'Danger'
"We are of the opinion that the mural is a vibrant addition to the valley that we love, and that it has opened up conversations and opportunities for learning about Welsh history and Welsh language, which otherwise would not have happened," Cerys Thomas-Ford says in the petition.
"It is one of the Welsh Government's well-being goals that we have a 'Wales of vibrant culture and thriving Welsh language'. We strongly believe that the artwork feeds into this in our community, and brings an interest in and creativity to the conversation and education which has previously been missing from the valley.
"Advertising on roundabouts, flyovers, bridges, railings is allowed, so it seems that danger of distraction is only an issue if you haven't paid the council for it to not be so. Also, if a large wall painting is deemed as a significant dangerous distraction, then we raise the point that Christmas decorations on the exterior of houses; political placards on railings and in front gardens; pubs, club and restaurant A-boards also should be at least under investigation by the Highway Department."
Resevoir
Cofiwch Dryweryn was first painted on a wall in Llanrhystud in the 1960s in a reference to the Welsh village near Bala that was flooded to provide water for Liverpool.
The message was originally painted by young nationalist Meic Stephens, who was determined that the people of Wales would never forget the decision by the UK Government to drown the village of Capel Celyn in 1965 to create a reservoir for Liverpool City Council.
Actor Rhys ap Hywel is also known to have re-painted the wall as a schoolboy.
The Cofiwch Dryweryn mural was knocked down in April 2019 and had been defaced with graffiti many times before then, including being spraypainted with a swastika in June of this year.
Following the attack on the wall last year a number of other Cofiwch Dryweryn murals were painted up and down the country.