News
Petition opposing Towy Valley pylons launched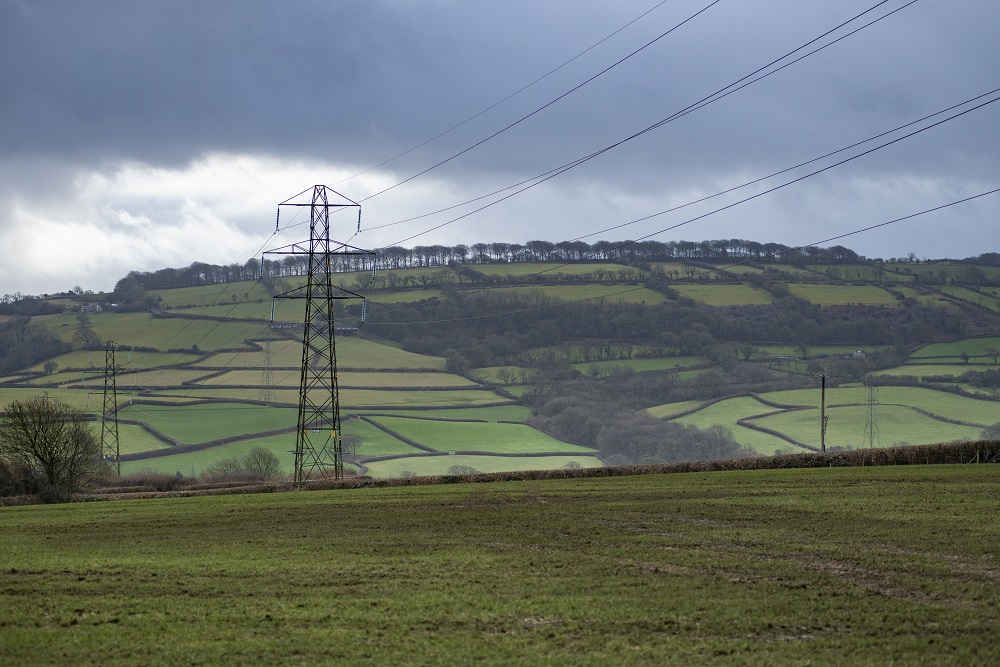 An online petition saying 'NO' to controversial plans to erect 60 miles of pylons from Carmarthen to Powys through the Towy Valley has gone live.
Organised by Countryside Alliance Wales, its Director Rachel Evans said the petition is aimed at Welsh Government Climate Change Minister Julie James MS.
Ms Evans said the petition will demonstrate the strength of feeling against construction of the electricity pylons proposed by Green GEN Cymru, part of the Bute Energy group, which is a developer of onshore wind and solar energy parks.
Bute Energy said in a statement earlier this month: "The Green GEN Towy Usk proposal is for a new 132kV double-circuit overhead line, supported on steel pylons, between a substation at the Nant Mithil Energy Park in the Radnor Forest and a new substation on the existing National Grid 400kV transmission line between Carmarthen and Pont Abraham."
Countryside Alliance Wales Director Rachel Evans said "I have spoken to thousands of people over the last month during the various meetings along the proposed routes and one message was very clear, the pylons are seen to be a thing of the past.
"If this proposal does actually come to fruition, it is imperative that the cabling goes underground.
"There is a very genuine concern that blighting the landscape with this infrastructure will have a negative impact on the tourism sector, and indeed people's health and well-being."
Bute Energy has confirmed that the planning application they intend to submit at a later date, will seek Welsh Government approval because it is as a Development of National Significance.

Underground cables
Dr Jonathan Dean is a Director of The Campaign for the Protection of Rural Wales (CPRW). He claims to have studied Green Gen Cymru's grid connection strategy on their website, and that he didn't find the information he was looking for.
Dr Dean said: "Some fundamental questions remain unanswered. They've acknowledged that Planning Policy Wales say that cables should go underground unless it would make a project unviable.
"What they don't then do is show why undergrounding would make this unviable. Their starting point is pylons because undergrounding is more expensive, whereas Welsh Government policy is to (use the more expensive option of underground cables) unless it tips the balance and makes it unviable."
In a lengthy reply, a Bute Energy spokesperson said: "The estimated additional cost of placing a 132kV HV electrical connection underground could be approximately 6 – 10 times the cost of an over-head connection …
"Green GEN Cymru has considered a wholly underground solution for the connection, and deemed this unsuitable as the additional cost would severely impact the viability of the project, take more years to build, increase ecological impacts during construction and not comply with our obligations to be economic and efficient …"
Huge outcry
Cefin Campbell, Plaid Cymru MS for Mid & West Wales is one of many politicians who have voiced grave concerns about the proposals to erect the monster pylons.
"Like many others, I fully recognise the importance of generating green energy. However, proposals for this 60-mile network of 27-meter-high pylons across our historic and beautify countryside has led to a huge outcry – with many hundreds present at local meetings.
"Over recent weeks, I have been contacted by a large number of constituents from Carmarthenshire and Powys who have expressed grave concerns over proposals that could see pylons erected from New Radnor in Powys to the electricity grid south of Carmarthen."
In response to Mr Campbell's question in the Senedd, Climate Change Minister Julie James MS confirmed that the Welsh Government's policy is that electricity transmission cables should be placed underground where possible.
Mr Campbell added: "Like many other residents, I have no doubt that the undergrounding of these cables should be seen as the way forward and would encourage residents to take part in the consultation period, ensuring their views are heard."
Another petition by Plaid Cymru opposing the proposed pylon route along the Tywi Valley, and demanding the cables go underground has been signed by around 3,000 people to date.
Carmarthenshire Council Leader Darren Price has also urged Bute Energy to reconsider its plans to erect pylons in the Towy Valley.
Bute Energy
Bute Energy is due to start another round of public exhibitions this week, commencing at the Royal Welsh Showground on 23 March. It will visit Llandeilo, Penybont near Llandrindod Wells and Llandovery before ending in Llandyfaelog in Carmarthenshire on 30 March.
Nation.Cymru asked Bute Energy if its policy is to have its own network rather than link in to the likes of the National Grid Energy Distribution?
A spokesperson said: "Where possible, our projects connect into existing infrastructure …
"Our green grid network has the potential to provide a regional network solution for Mid Wales.
"Other energy generators will be able to apply to connect to it, reducing the need for more infrastructure in future."
Bearing in mind that several electricity lines are already running through the Builth Wells area, including two 66kV lines, we also asked Bute Energy whether these could be upgraded to 132kv so that no new lines are required?
Their spokesperson said: "The existing lower voltage (some of which are 66kV) electricity distribution network is not capable of transporting the quantity of power that the Energy Parks will be generating in an economic or efficient manner …
"The distribution voltage capable of transporting the amount of electricity to be generated at the Energy Parks would be at 132kV and there is currently a lack of these grid connections in the vicinity of the proposed Energy Parks."
---
Support our Nation today
For the price of a cup of coffee a month you can help us create an independent, not-for-profit, national news service for the people of Wales, by the people of Wales.