News
Petition to save Welsh castle at risk of collapse reaches over 6000 signatures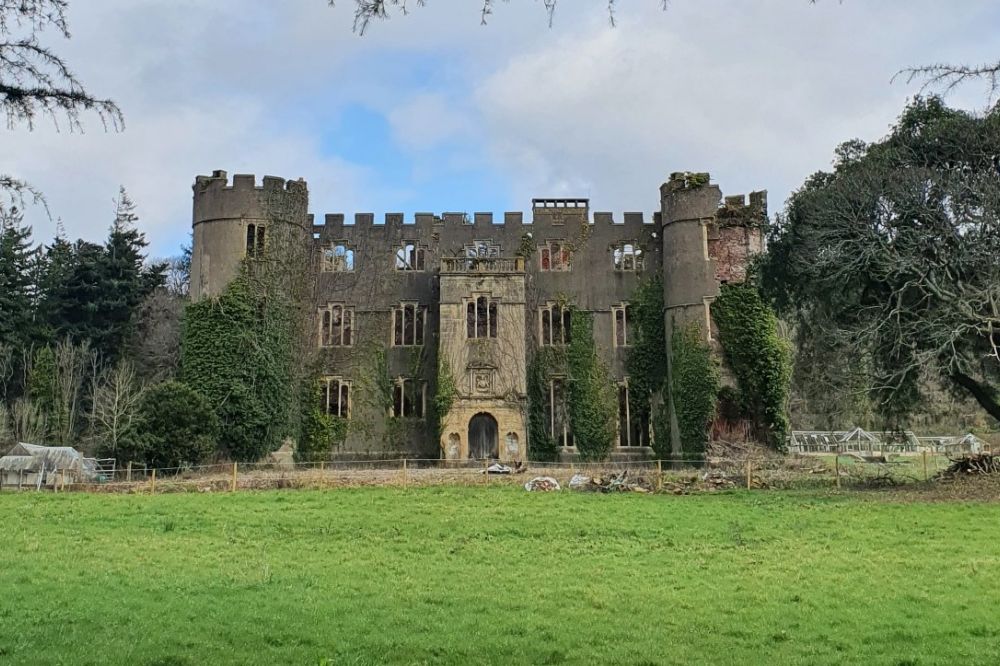 Emily Price 
A petition calling on the Welsh Government to save a castle at risk of collapse has one day to gain the signatures needed to trigger a debate in the Senedd.
Ruperra Castle Preservation Trust (RCPT) created the petition asking that the Welsh Government make it a compulsory requirement for scheduled monuments to have a Conservation Management Plan (CMP) in place in order to protect and preserve historic sites.
The petition has gained more than 6000 signatures and has less than one day left to reach the 10,000 signatures needed to be considered for a Senedd debate.
The petition will close tomorrow (18 July).
Built in Caerphilly in 1626, Ruperra Castle is a significant part of Welsh history and is one of only a handful of pageant castles left in the UK.
The Grade II* listed building is privately owned and has gradually deteriorated since an accidental fire gutted the site in 1941.
RCPT say the castle is now at risk of collapse and the group have been campaigning to secure the castle and the surrounding buildings and gardens as a heritage site for public benefit.
They say that a long-term plan for the castle – which is privately owned – is urgently needed before it falls into complete ruin.
Scheduled monuments are protected to preserve archaeology and buildings and RCPT have warned that many sites need managing to slow or avoid the effects of natural deterioration.
The Welsh Government's historic environment service, Cadw suggests that owners of scheduled monuments should draw up a CMP in order to protect a site – but, this is not compulsory.
The petition by RCPT asks that the Welsh Government to make CMPs compulsory for scheduled monuments at risk, to avoid neglect and subsequent loss.
A spokesperson from the RCPT said: "Recent figures from Cadw show around 14-14.5% of nationally important scheduled monuments are at risk in Wales.
"Ruperra Castle, in south east Wales, is an example of the poor management of our historic environment.
"It is architecturally unique and historically significant as the only pageant Castle in Wales, built for show and not defence.
"In December 1941 it was gutted by fire and is still a ruin at risk having deteriorated in the intervening years.
"One of the towers has fallen and without considered intervention it will deteriorate further and soon be lost. We want future generations to be able to enjoy and learn from theses special places"

Future
Senedd Member for Caerphilly, Hefin David said he would be "delighted" for the petition to be debated in the Senedd but "absolutely understands" that it is a decision for the petitions committee.
He added: "I met with the Ruperra Castle Preservation Trust last Monday, together with Cllr Jamie Pritchard, deputy leader of Caerphilly Council.
"We discussed ways in which we could positively engage the owner. We just want to discuss ways in which the castle can be protected and find a way to secure its future.
"Collectively we are open to ongoing discussion and I really appreciate the support of Cllr Pritchard. The work goes on."
The petition has also gained support from the Welsh Conservatives, with MS for South East Wales, Natasha Asghar backing campaigns to save Ruperra Castle.
She said: "Ruperra Castle is a beautiful historic site in my region which has been left to crumble – and that's utterly heartbreaking.
"I have been working with the Ruperra Castle Preservation Trust for a while now and wholeheartedly support their mission to preserve the site for community benefit.
"The Trust's petition would help protect sites just like Ruperra Castle and I would encourage everyone to sign it so we can reach the 10,000 target, which would hopefully secure a debate in the Welsh Parliament."
---
Support our Nation today
For the price of a cup of coffee a month you can help us create an independent, not-for-profit, national news service for the people of Wales, by the people of Wales.