News
Petition to scrap 'no shorts' rule at south Wales school gains hundreds of signatures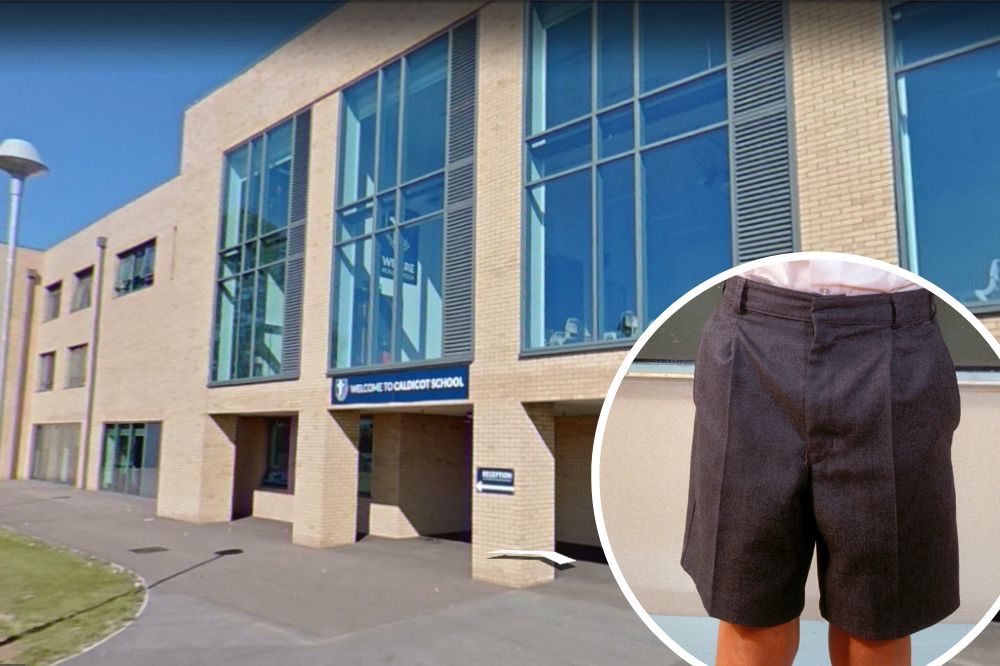 Hundreds of people have signed an online petition for a south Wales school to scrap their uniform policy which bans schoolboys from wearing shorts during hot weather.
Despite the temperature reaching the high twenties across Wales this week, pupils arriving at Caldicot Comprehensive School wearing shorts are being forced to sit in "isolation".
According to the Eko.org petition, the school has declined previous requests for male pupils to have the option of wearing shorts instead of trousers during spells of hot weather.
Some boys have begun wearing skirts to the school in protest against the no shorts rule.
Nation.Cymru understands that pupils arriving to school wearing shorts are isolated from classmates and their parents are notified that they cannot rejoin other pupils until the shorts are swapped for "standard uniform school trousers."
Last week pupils took stands against uniform policies in schools in Llanelli and Carmarthenshire as schoolboys wore skirts to keep cool during the scorching temperatures.
The petition to change the the uniform policy at Caldicot Comprehensive School – which states well being and fairness is at its heart – has so far gained almost 400 signatures.
One signatory said: "This biased uniform policy has been ongoing for many years at Caldicot school, with my second son now being affected. Surely it's time for someone to listen so overheating and frustration is minimised. With pupils sitting GCSE exams in extreme temperatures is this affecting the boys vs girls results? I wonder! Where is the equality?"

Skirts
Caldicot Castle County Councillor, Rachel Garrick – who's own sons attend Cadicot school – told Nation.Cymru the school needs to "pull its socks up" on its current uniform policy.
She said: "The school has struggled to adapt its approach to come in line with the Welsh Government statutory guidance on school uniforms which is designed with both pupils and families in mind.
"It had challenges with gender neutral uniform and multiple high cost items which it now appears to be phasing out several years late."
Cllr Garrick said consistent and compelling arguments had been made at the school council to do away with the no shorts rule as many boys who are not prepared to wear skirts have no option in hot weather for clothing to keep them cool.
She added: "We need to understand that our climate is changing and hot summers are affecting our children's learning.
"Putting a child in isolation, as has been reported to me by parents for wearing shorts, so they can regulate their body temperature and concentrate better is not a solution I would expect from a school committed to learning, especially one that has consistently heard from it's student body that it's current policy is not working for them.
"I've offered to provide kilts for my sons, who are pupils at the school. They have a strong Scottish heritage from Orkney and Glasgow on their dad's side but apparently, they don't feel comfortable with the solution in Wales!"
Justifiable
Welsh Government school uniform guidance states that governing bodies should consider altering uniform policies during periods of extreme weather.
Current guidance states: "School governing bodies who stipulate or who are considering different uniforms for summer and winter should consider whether it is proportionate and justifiable to do so.
"School uniforms should be as economical as possible and summer uniforms are only worn for a matter of weeks. For example, governing bodies could consider trousers for students in the winter or periods of very cold weather, shorts in the summer or during periods of very hot weather and; students not having to wear woollen tights in warm weather."
Caldicot Comprehensive School has also been criticised for other aspects of the school's uniform policy such as the requirement for different ties for some year groups and a compulsory blazer via a single supplier contract which parents say is costly.
Caldicot Comprehensive School was contacted for comment.
---
Support our Nation today
For the price of a cup of coffee a month you can help us create an independent, not-for-profit, national news service for the people of Wales, by the people of Wales.