News
Plaid Cymru accused of not implementing recommendations on sexual harassment and bullying quickly enough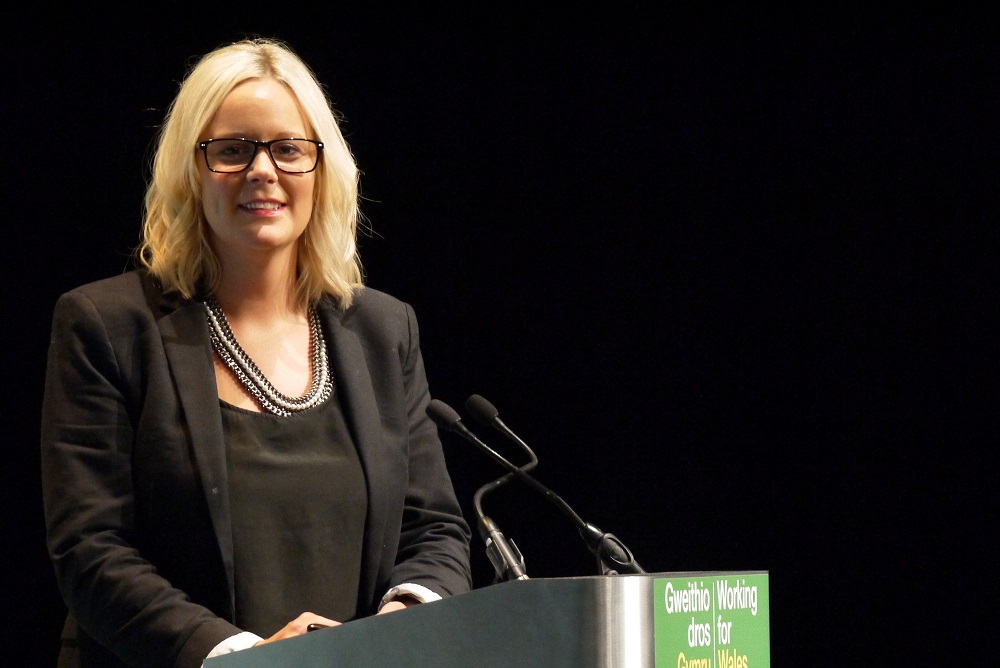 Martin Shipton
Some Plaid Cymru activists have expressed concern at delays in implementing recommendations made following a review of sexual harassment and bullying within the party.
A summary of findings made by lobbyist Nerys Evans, a former Plaid Assembly Member who was tasked to investigate the issue, was released in May. She agreed with those who argued there was a toxic culture within the party's workforce at the Senedd that had not been addressed seriously enough by the leadership.
Party leader Adam Price came under pressure to resign, which he did later in May. Ynys Mon MS Rhun ap Iorwerth was elected unopposed as his successor.
Nation Cymru has obtained a copy of the full report by Ms Evans, which has not previously been published. Its narrative is even more damning than the summary released in May.

Misogyny
The report, written in the first person by Ms Evans, states: "As an avid campaigner against sexual harassment, misogyny, sexism and bullying in public life for over 20 years, experiencing these issues at first hand as the majority of women in politics have, I was reluctant to take on this task as the challenge is grave and needs a fundamental and wide-reaching change within Plaid Cymru, and politics more widely.
"It has also been traumatic to listen to people's experiences and distressing to see the lack of progress in challenging and stamping out poor behaviour. Policies and procedures to look after staff are patchy, inconsistent and not followed nor widely known.
"Despite having robust party complaints system in place, administered by a committed group of party volunteers, there is a lack of policies and procedures in place to deal specifically with sexual harassment, and there is lack of faith and trust in the policies we do have in place due to a variety of reasons – lack of leadership in challenging poor behaviour, inconsistencies in how our policies and procedures have been implemented which has exacerbated the situation, and a system and culture which has allowed perpetrators to have positions of power within the party.
"There are widespread rumours and open secrets regarding the behaviour of other prominent elected politicians within Plaid Cymru and wider Welsh politics. Members of the media in Wales have themselves witnessed incidence of sexual harassment and no doubt of other unacceptable behaviour too.
"Years ago, after witnessing an incidence of sexual harassment by a Plaid Cymru politician against a Plaid Cymru staff member, a journalist contacted the party to complain, without having to obtain the consent of the victim. The poor behaviour was not adequately dealt with and the behaviour continued.
"In 2019, the then Director of Equalities, Sian Gwenllian MS, looked into the experience of women in the party and conducted a survey to hear directly from women. The report is clear that many women in the party have and continue to experience misogyny within the party.
"The behaviour outlined in this report has historically been tolerated even though it goes without saying that it has never been acceptable. Treating people with respect should be the basic expectation of any workplace and of every organisation.
"There is at the heart of our work a fundamental question – how has a culture been allowed to develop where we as a party have allowed bad behaviour to too often go unchallenged, and how have we created a party where a small minority of perpetrators have gained positions of power and influence?
"Those in leadership positions within the party need to accept that this has been a traumatic experience for many, and there has to be, at the outset, an honest and open acknowledgment at a senior level of the failings of the past and of the need to rebuild trust and restore the confidence of all those who work for the party, and within party membership, and an apology to all those the party has failed."
Unacceptable delay
Ms Evans' report made a total of 82 recommendations, but some party activists believe that despite the urgent need for change identified in the report, there has been an unacceptable delay in implementing some of them.
After speaking to a number of concerned party activists, we put a number of questions to Plaid Cymru: "Recommendation 61 states: 'Review and strengthen the code of conduct for elected members. Our party representatives should be held to a higher standard and expanding on Nolan principles [relating to standards in public life]. The Behaviour Code should also cover bullying and harassment and sexual harassment.'
"What is the progress on Recommendation 61? Has the party strengthened the code of conduct specifically for elected members yet? And does this include all the things that the recommendation proposes – i.e. does it also cover bullying, as well as sexual harassment? Who is responsible for doing this work? Is there a member of the party's staff PCS branch (crucially, one without any managerial/supervisory roles) involved in this work? If not, why not?
"Recommendation 1 states: 'Review HR policies and procedures surrounding harassment, sexual harassment, dignity and respect in the workplace to ensure consistency. Ensure that they are communicated across the party regardless of employer, and all staff, new employees and elected members should be made aware of them.'
"Has this been communicated across the party regardless of employer? Are all staff aware of this?
"Recommendation 42 states: 'Training for all managers including politicians, Councillor groups and line managers in constituencies in management processes, approaches and requirements. The personnel committee to ensure that this is implemented and maintained.'
"What has come out of this? Have any changes been made by any managers/employers following this training? Any lessons learned? Is training ongoing? How does the party ensure that it's not just a tick box exercise?
"Recommendation 28 states: 'In light of the reported incidences of bullying and discrimination in the workplace, Plaid to continue to engage with external HR specialists to support and offer advice to staff regardless of employer.'
"Has this happened? Have staff been made aware of this? How do staff go about requesting advice?
"Recommendation 40 states: 'The staff liaison committee or personnel committee to ensure that an audit of all HR policies and procedures across all employers [i.e. those employed directly by the party, by the Senedd group and by those employed by individual Senedd Members] takes place to ensure they are complete and up to date, with improvements linked to current practice and party values.'
"Has this happened? And crucially, how is this being enforced?
"Recommendation 46 states: 'Staff wellbeing policy to be developed.'
"Has this happened? And crucially, how is this being enforced, especially across different employers? Have staff been given a copy of the new policy?
"Recommendation 49 states: 'The personnel committee to look at developing wellbeing and pastoral care approaches and ensure that they are embedded across the party including in our disciplinary processes, and to designate one member with responsibility for staff welfare.'
"Has this happened? And crucially, how is this being enforced, especially across different employers? Have staff been given a copy of the policy?
"Recommendation 50 states: 'Develop a Plaid Cymru staff handbook for all staff, regardless of employer. High level document to share values, ways of working, details of policies and procedures, etc. And to ensure clarity in complaint processes and policies.'
"Has this happened? And crucially, how is this being enforced, especially across different employers? Have staff been given a copy of the policy?
"It has been suggested that one of the recurring themes here is the difficulty in enforcing the report's recommendations in workplaces that don't directly fall within central party responsibility. But there are ways around this – taking the whip away from any elected politicians that fall short of expected standards in professional conduct, and when necessary even looking into the possibility of kicking them out of the party more broadly. Is the party willing to show some bravery and initiative on this or just take an 'oops sorry, there's nothing we can do about that' approach?
"It has also been suggested that it's important that 'elected members' also include councilors (at all levels) and council groups (at all levels) of the party. How have the county council groups implemented the recommendations? It's been suggested that sharing good practice across the party is important, in that for example the party in the Senedd might have something to learn from some of the council groups."
Respected
A Plaid Cymru spokesperson responded: "Earlier this year, Plaid Cymru published the findings of our Prosiect Pawb report, which included clear recommendations on how we lead a change of culture within our party where everyone feels valued and respected.
"Fifteen of the key recommendations have already been implemented including re-establishing a union branch among staff; reforming the central process around discipline and standards; and updating employment policies and complaints procedures to ensure the safeguarding of all staff.
"The NEC is meeting regularly to monitor progress and a task and finish group under the leadership of Equalities Director Lisa Goodier has been established to ensure that the governance and oversight of the NEC is robust and effective.
"We are on track to implement the longer-term recommendations including a brand-new training programme for all elected members and candidates alongside improving the way that the NEC communicates with grassroots members.
"We are grateful to staff and volunteers who are working diligently to implement the recommendations in full and remain committed to improving our internal structures and fostering a culture that is respectful, inclusive where our staff feel safe."
---
Support our Nation today
For the price of a cup of coffee a month you can help us create an independent, not-for-profit, national news service for the people of Wales, by the people of Wales.