News
Plaid Cymru Westminster leader criticises Andrew RT Davies for appearing on 'vile' GB News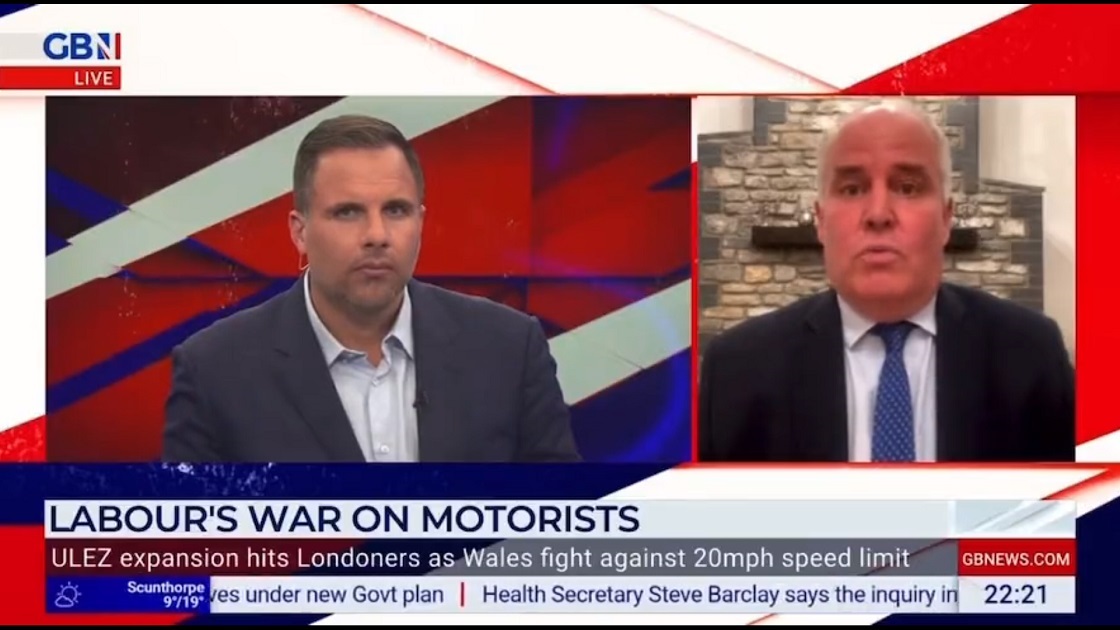 Martin Shipton
Welsh Conservative leader Andrew RT Davies is stoking division through his appearances on the right-wing TV channel GB News, according to Plaid Cymru's Westminster leader.
Liz Saville-Roberts posted a message on the social media channel X which said: "GB News is used as a stage by Welsh politicians including @AndrewRTDavies to stoke division. Plaid Cymru has refused invitations to appear on this extremist propaganda outlet. All politicians who respect women should sever ties with this vile excuse for a channel."
The Dwyfor Meirionnydd MP wrote her message after Laurence Fox, the actor and leader of the right-wing Reclaim Party, made a series of vile, misogynistic remarks on the TV channel about the journalist Ava Evans.
Both Fox and Dan Wootton, the presenter of the programme on which Fox made his comments, have been suspended by GB News, which is under investigation again by the communications regulator Ofcom.
Fox said on X: "I stand by every word of what I said. I am totally within my rights to say that I wouldn't want to s*** a hyper-offended 4th-wave feminist and not apologise."
Concern has been mounting about the output of GB News, which often screens programmes in which right wing interviewers nod in agreement with the right-wing commentators they are interviewing.

Impartiality rules
Recently GB News was found to have breached impartiality rules by Ofcom for the third time since its launch in 2021.
The decision related to an episode of Saturday Morning with Esther and Phil, a discussion programme hosted by the Tory MP husband and wife duo Esther McVey and Philip Davies. The show featured a pre-recorded interview between the pair and Chancellor Jeremy Hunt, talking about the government's economic policy ahead of the spring budget.
The programme received 45 complaints, and the investigation found that during the discussions "no real attention was given anywhere in the programme to the viewpoints of politicians, political parties, organisations or individuals that either, for example, criticised, opposed or put forward policy alternatives to the viewpoints given by the three Conservative politicians."
An investigation by Byline Times established that Conservative MPs have been paid nearly £350,000 for appearances on GB News since the start of 2023.
There are currently six further active investigations into the channel, including two further episodes of Esther and Phil, two episodes of Jacob Rees-Mogg's 'State of the Nation', and investigations into Laurence Fox's show – guest-presented by the party's former deputy leader Martin Daubney – and an episode of 'The Live Desk'.
Four of these investigations include possible breaches of rules limiting politicians acting as presenters, and three cover potential breaches of impartiality.
Since the channel was established in June 2021, three further investigations have concluded that GB News and one on 'To The Point' (GB News radio), have fallen short of expected standards.
The broadcaster was also found in breach of Ofcom regulations for a section on Mark Steyn's show, featuring anti-vaccine conspiracy theorist Naomi Wolf. During the broadcast, Wolf repeatedly made unopposed claims that the Covid-19 vaccine rollout amounted to "mass murder", as well as comparing it to "doctors in pre-Nazi Germany".
This was the second time the channel was found by the regulator to have pushed misleading Covid conspiracies.
Nigel Farage
Three GB News shows were the subject of around 400 complaints in a single week at the end of August this year, hosted by Nigel Farage, Dan Wootton, and Mark Dolan.
In a discussion on his show covering gang violence at the Kabaddi Tournament in Derby, Farage said – without evidence – that the "finger of blame" lay with people linked to the Khalistan separatist movement, which strives to create a homeland for Sikhs.
The Sikh Federation UK strongly criticised the segment, arguing that Farage's programme "was inaccurate and biased, misrepresented the facts, was offensive, misleading, discriminatory, spread hate, and was unfair".
A senior officer for the Sikh Press Association said: "The GB News piece may be the worst example of anti-Sikh reporting from a UK news org I have seen in nearly nine years of covering Sikhs in UK media."
In the same week, Mark Dolan's show was hit with 74 complaints when presenter Patrick Christys "joked" with a guest that "If you had one fake gun and one fake bullet and you lined up Harry and James Corden, I don't know which one you'd go for."
Complaints
In January, GB News said it was going to try and cut costs amid rows with Ofcom, with chairman Alan McCormick aiming to make the channel more "disciplined". Since then, it has been hit with over 1,000 further complaints to Ofcom concerning eight separate broadcasts, Byline Times' analysis of Ofcom's weekly complaint review has revealed.
The two most commonly complained about were Tonight with Dan Wootton and Neil Oliver Live. Oliver left his position at the Royal Society of Edinburgh (RSE) with immediate effect on September 6, after it became apparent that "his current views on various matters, widely aired on television, put him at odds with scientific and broader academic learning within the Society", a spokesperson said.
Oliver is frequently criticised for mainstreaming climate denialism and vaccine scepticism, both on GB News and on social media.
Research from the anti-fascist organisation Hope not Hate revealed that the frequent anti-migrant coverage conducted by GB News had led them to platform far-right supporters more than once. In one interview in July, they spotlighted Dan Morgan, co-leader of the far-right Voice of Wales outlet, and during another broadcast from Surbiton the same month hosted 'local resident' Janie Still, a conspiracy theorist and supporter of Britain First.
Former presenter Guto Harri left in 2021, after being suspended for taking the knee, an expression of his rejection of racism. GB News said he'd broken "editorial standards" by doing so, but didn't apply the same logic to Nigel Farage, who following Harri told viewers that he "will not be taking the knee for anyone".
Absurd parody
Writing in the Sunday Times, Harri described the channel as "becoming an absurd parody of what it proclaimed to be", adding that "taking the knee is now a simple, bold statement that you reject racism. And if that's an issue for a channel or government, it's a big problem for all of us."
After the departure of Mark Steyn following his penalties for breaking Ofcom rules earlier this year, the channel said that "GB News takes Ofcom compliance extremely seriously. All our presenters are expected to comply fully with the broadcast code and there are no exceptions."
However, it was announced earlier this month that GB News is planning to move some of its more controversial presenters to online streaming and away from traditional broadcast TV, bypassing Ofcom enforcement.
Meanwhile, Reform UK leader Richard Tice is moving over from TalkTV to GB News, the latest hard-right addition to the team.
Andrew RT Davies has been making regular appearances on the channel. Recently he attacked the 20mph speed limit on Dan Wootton's programme. Mr Wootton was allowed to continue broadcasting on GB News for many weeks after the Daily Mail suspended him on August 3 following an investigation by Byline Times into allegations that he pressured former colleagues to provide him with sexually explicit material.
On August 30 Mr Davies posted on X: "Labour's blanket 20mph speed limits are Wales' ULEZ. I told Dan Wootton on GB News that Welsh Conservatives would scrap them."
Mr Davies was invited to comment, but did not respond to our message.
---
Support our Nation today
For the price of a cup of coffee a month you can help us create an independent, not-for-profit, national news service for the people of Wales, by the people of Wales.