News
Plans for 'Greater Cardiff' hyper-region revealed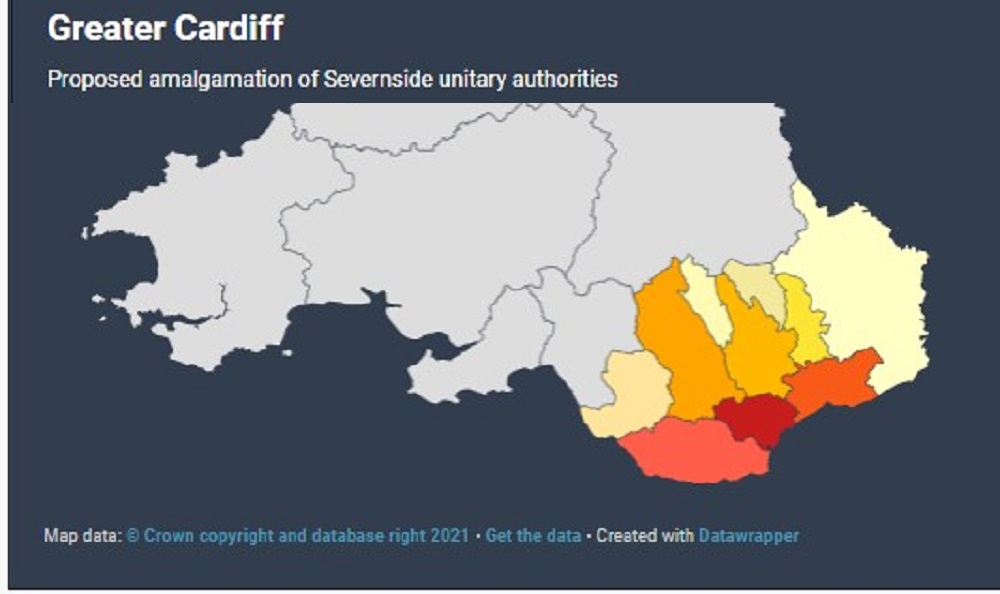 Plans to create a new city region called Greater Cardiff, which would subsume Pontypridd, Newport and even a significant part of the county borough of Bridgend have been drawn up, Nation.Cymru can exclusively reveal.
The proposed "hyper-region hub" is modelled on the so-called motor regions of Europe such as Lombardy and Baden Württemburg.
Greater Cardiff would stretch as far as the Severn Bridge to the east and include the southern parts of the Rhondda valleys as well as towns such as Pontypridd and also Maesteg on its north western edge.
It would include approximately half the population of Wales within its borders, in effect creating a single unitary authority.
The new hyper-region, which is expected to come into being on 1 April 2024, will be governed by an elected mayor with similar powers to Sadiq Khan in London or Andy Burnham in Manchester.
The consultants who have drawn up the plans claim it will create savings across the board from services such as refuse collection, however it has been estimated the cost of changing road signs alone could soar to £ 1.4 million per month.
Dangerous
Trade bodies in Newport had recently warned about the dangers of the city being swallowed up by a similar redrawing of the map to create the so-called Severnside Conurbation.
They warn these latest plans would lead to local identity being erased and the recent flow of inward investment in new technologies such as microprocessing being reversed.
Charles Smith from the Newport Business Association said: 'This has all the half baked thinking that saw them redraw the Welsh rugby regions – but it's much more dangerous. Look what happened to Neath.'

Riding roughshod
Mr Smith added: 'Cardiff already has too much clout. People in Newport are proud to live in the 'Port and many of them would rather move to Ulaanbaatar in Mongolia than suffer the indignity of living in a Cardiff post code area.
This isn't just a matter of local pride. It's about a deep, deep allegiance to a local identity. It seems that some Welsh politicians, backed up by a poorly argued report from a think tank, are happy to ride roughshod over the past, present and even the future of Newport.'
People on the streets of Pontypridd expressed very strong opinions about the formation of the new hyper-region.
Trainee butcher Darren Winters, 23, from Cilfynydd said: 'I'm happy to have a strong capital but this is like creating a city state. Think of what happened to the Borgias in Italy.'
Hairdresser Myfanwy Davies, 22, from Rhydfelen said: "It's been Cardiff this and Cardiff that for years but this really takes the biscuit, the biscuit tin and even the bloody biscuit factory. It's a land grab, that's what it is."
The deputy mayor of Pontypridd, Ron Chambers also condemned the push to create Greater Cardiff: 'Enough is enough. This time they've gone too far. I've lived in this town too long to see it swallowed up by Cardiff.
"In my day small was beautiful but now it seems it's all about the numbers, about how many people live in a place, how few buses you can put on to help them move around!
"This is governing by decree not by consent."
We approached the Welsh Government for a comment but they declined, saying they couldn't comment on leaks today.
---
Support our Nation today
For the price of a cup of coffee a month you can help us create an independent, not-for-profit, national news service for the people of Wales, by the people of Wales.