News
Plans for solar farms pose devastating threat to unique Welsh wetlands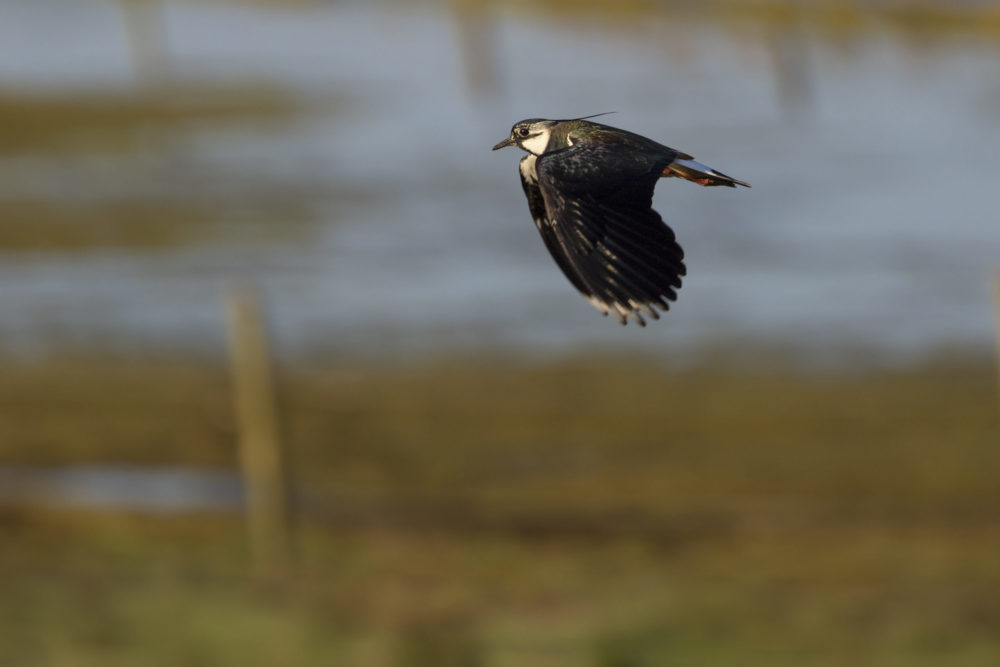 Martin Shipton
Large-scale solar farm developments in one of Wales' most sensitive wetland landscapes are threatening an endangered bird species, according to conservationists.
Gwent Wildlife Trust (GWT) says it is deeply concerned at the impact on the lapwing or peewit of a number of proposed Developments of National Significance (DNS) at Gwent Levels, to the east of Newport.
Also known as the peewit in imitation of its breeding display calls, the lapwing's proper name describes its wavering movement through the air. In flight, the bird's iridescent plumage and distinctive crest cannot be seen, and it appears black and white. A flock of lapwings in the sky is regarded by ornithologists as a truly impressive spectacle, but though once common, such numbers are now rare.
This once familiar breeding bird is now conservation red-listed in Wales and the UK.
Mike Webb, planning manager for GWT, said: "Lapwings are in massive and potentially catastrophic decline. They are ground-nesting birds, so a solar plant, or any other development, is a no-no for them. If you take away the habitat for rare ground-nesting birds, then they simply cannot produce any young – with obvious consequences for their future.
"The existing solar plant in Llanwern has already had a devastating impact on the lapwings that used to breed there. Llanwern's published post-construction monitoring documentation states that lapwings have left the development site and have not moved to the compensation site.
"This is not surprising, as lapwings show a very high degree of site faithfulness to the birth area. Compensation sites can be very difficult to deliver, and their success is low, especially where the breeding population is precarious, as it is on the Gwent Levels."
"The birds return to the general breeding area each year, but only an extremely small proportion of birds will search beyond the birth area, especially in situations like in Gwent, where breeding sites are shrinking. Furthermore, lapwings are loosely colonial, so any harm to a breeding area is disproportionately damaging, because it reduces the ability of the colony to defend itself against predators."

Solar plants
Mr Webb added: "The seemingly unstoppable march of huge solar plants across our Levels landscape serves to remind us of the enormity of threats facing Gwent wildlife. This is why we have launched a petition calling on the Senedd to halt significant new development on the SSSI. I need to stress that we are not opposed to solar plants, but simply demand that they are not located where they will damage nationally important wildlife habitats and scarce and vulnerable species like lapwings."
Referring to the devastating impact he believes huge solar plants would have on the landscape, Mr Webb said: "These power stations cannot be built without significant damage to the landscape. They involve miles of underground cabling dug into our fragile wetlands, kilometres of fencing, lighting, noise, and ongoing maintenance that causes disruption to wildlife.
"For the spectacularly beautiful lapwing, it could mean that this bird disappears from the Gwent Levels landscape. That's why, in defence of the Gwent Levels and the vulnerable wildlife they support, GWT is calling for a halt on all significant development in the region. If you love the Levels, please sign our Senedd petition: https://petitions.senedd.wales/petitions/245508
Redwick
In June Rural Affairs Minister Lesley Griffiths turned down an application for a solar plant with a design capacity of around 75MW at land near the village of Redwick on the Gwent Levels from Rush Wall Solar Park Ltd. It had been recommended for approval by a planning inspector.
The decision notice stated: "I agree the scheme would generate significant benefits in terms of reducing reliance on energy from fossil fuels and helping to meet the Welsh Government's renewable energy targets. However, I do not consider the proposed development accords with the section 6 duty in the Environment (Wales) Act 2016 or the requirements in Planning Policy Wales to maintain and enhance biodiversity."
Ms Griffiths concluded that the threats to biodiversity outweighed the scheme's benefits.
Other applications for solar plants close to GWT's nature reserves are pending.
---
Support our Nation today
For the price of a cup of coffee a month you can help us create an independent, not-for-profit, national news service for the people of Wales, by the people of Wales.