News
PM backs Met Police over coronation arrests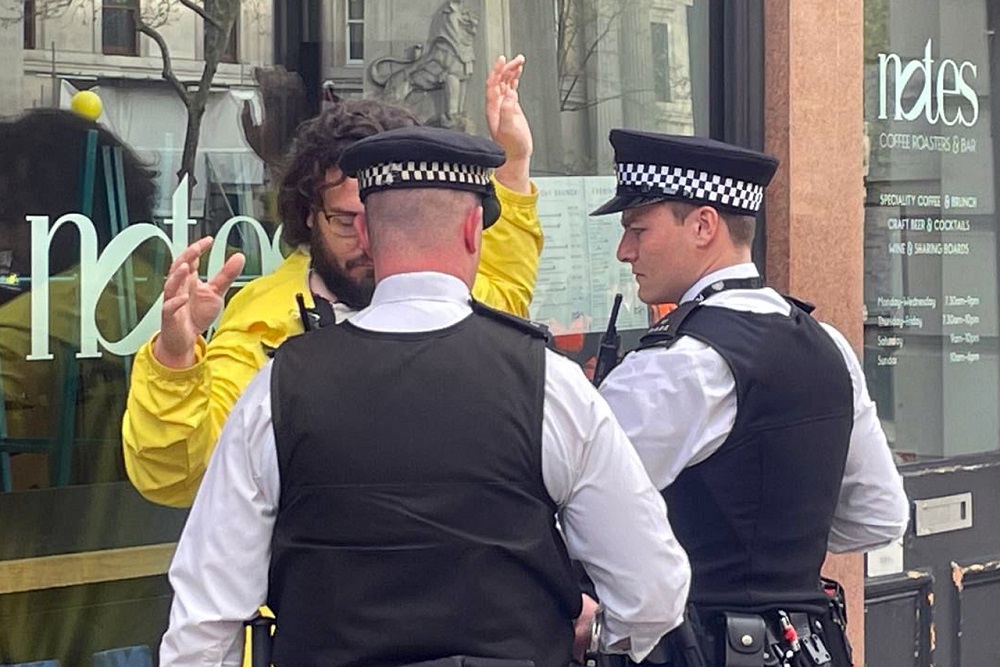 Rishi Sunak has backed the Metropolitan Police amid accusations that the arrests of protesters were a deliberate attempt to "disrupt and diminish" dissent during the King's coronation.
The Prime Minister insisted on Monday that officers act independently of government based on "what they think is best" after claims they were cracking down at the behest of politicians.
Graham Smith, chief executive of the anti-monarchy Republic campaign group who was detained on Saturday, accused Scotland Yard of having "every intention" of arresting demonstrators.
The force made 64 arrests on coronation day, with 46 people bailed after being detained on suspicion of causing a public nuisance or breaching the peace.
Mr Sunak backed the force's efforts during the "dazzling spectacle", after volunteering at a lunch club during the national Big Help Out drive on the coronation bank holiday.
"The police are operationally independent of Government, they'll make these decisions based on what they think is best," he told broadcasters in Hertfordshire.
"Actually I'm grateful to the police and everyone who played a part in ensuring that this weekend has gone so well, so successfully and so safely, that was an extraordinary effort by so many people and I'm grateful to them for all their hard work."

Public Order Act
Mr Smith raised fresh concerns about the Public Order Act signed into law last week, which tips the balance against protest, including by lowering the definition of "serious disruption".
Culture Secretary Lucy Frazer had defended the Met as having got the "balance right" and said arrests were necessary during the "international event on the world stage".
But Mr Smith told BBC Radio 4's Today programme: "That's a disgraceful suggestion and quite frankly this is a political issue and therefore obviously it's going to face protest.
"You cannot say that they have to enjoy a party and therefore other people should be arrested."
He said he was arrested on Saturday unloading placards on the suspicion of being equipped to "lock-on" to an object or building, which the Public Order Act made a jailable offence.
Mr Smith denies this was his intention and believes the Met had lied about their plans, had "every intention" of arresting them and used some unfeasible straps as a "pretext".
"The whole thing was a deliberate attempt to disrupt and diminish our protest," he said.
"They stopped us because the law was introduced, rushed in last week, to give them the powers to stop us on any flimsy pretext.
"That law means we no longer in this country have the right to protest, we only have the freedom to protest contingent on the permission of senior police officers and politicians and it's my view that those senior police officers were under immense pressure from politicians.
"I understand the Labour Party said they wouldn't repeal this law, which is pretty disgraceful if true, this law needs to be repealed."
Disproportionate
Labour frontbencher Andrew Gwynne said the Act gave "disproportionate" powers to the police but the party was not committing the party to repealing it if it enters government.
Instead the shadow public health minister told Sky News: "I think the next Labour government will look very carefully at this legislation."
Mr Gwynne defended the right to protest and suggested revellers supporting the coronation should have drowned out the dissent.
"That would've been the appropriate approach, to drown out those that wanted to protest rather than maybe heavy-handed practice that some have suggested may have taken place," he said.
Ken Marsh, head of the Metropolitan Police Federation representing officers from the rank of constable to chief inspector, said police were acting both lawfully and "impartially".
"Protesting can take place in this country but it's the level to which you want to perform that protest that we have to balance and deal with what's put in front of us impartially. That's what was done," he told Today.
Rape alarms
Westminster City Council has raised concerns that women's safety volunteers were among those arrested after rape alarms were seized.
The Met said it had received intelligence that people were planning to use the devices to disrupt the procession.
Caroline Russell said the London Assembly's Police and Crime Committee that she chairs will be questioning the Met over the "worrying" arrests.
The Green politician told Today: "It felt like for someone who was trying to protest, and trying to do it by the book, it was very difficult to understand what the rules were.
"It seems absolutely extraordinary that those people who were volunteering, they were out there handing out flip flops to people who could no longer walk in their high heels because they'd had a bit too much to drink and handing out rape alarms. It just seems extraordinary that they got caught up in the Met's safety net. How? It just feels very odd."
In total the Met made 64 arrests during the coronation day.
Four charges have been brought, including over a religiously aggravated public order allegation and class A drugs possession.
London Mayor Sadiq Khan has demanded "clarity" from the force's leaders on the arrests.
---
Support our Nation today
For the price of a cup of coffee a month you can help us create an independent, not-for-profit, national news service for the people of Wales, by the people of Wales.