News
Police accused of bias after 'anti-trans' banners are seized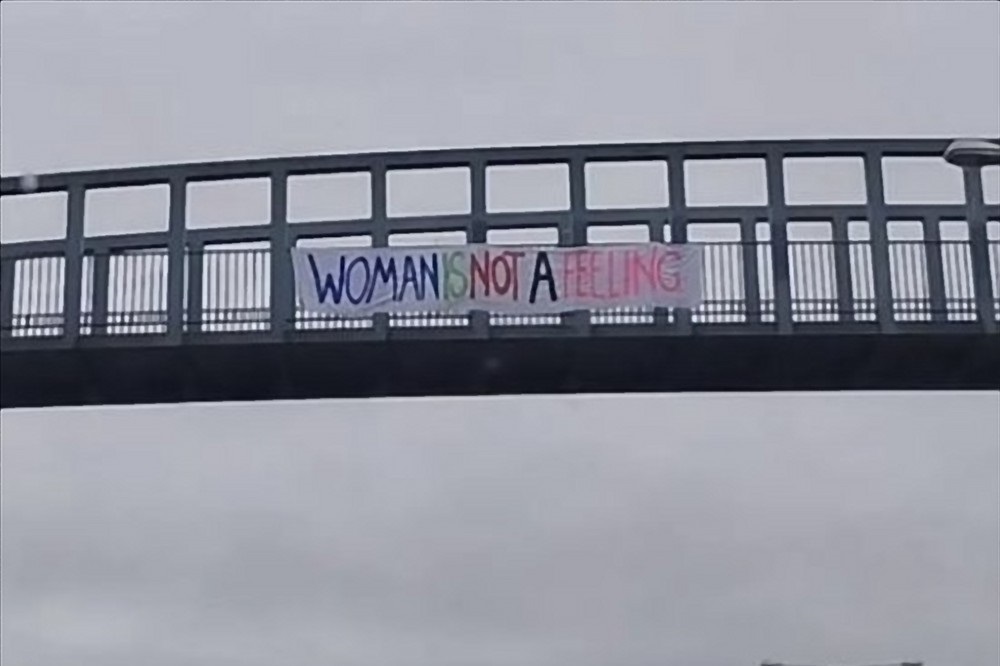 Martin Shipton
Feminist campaigners have accused Dyfed-Powys Police of political bias after protest banners they draped from road bridges were seized and removed.
The grassroots group Outspoken Women put up banners with messages that included "Transwomen Are Men" over bridges in south and west Wales.
Dyfed-Powys Police said they were responding to a report of a "hate crime".
The protest was timed to coincide with the Bank Holiday for maximum visibility. Temporary banners were hung on bridges and roadside barriers across south and west Wales, bearing slogans challenging gender ideology and its impact on women and children.
The banners were tied on securely using cable ties and eyelets in the fabric. The protesters said they remained in proximity to the banners to make sure they did not cause any problem to passing traffic and that they planned to safely remove them after a short period of time.
However, at one site a lone female protester was approached by a police officer from Dyfed Powys Police in a car displaying emergency blue lights. He was alone when he approached, his number was not visible, and he did not attempt to engage with her but instead tore her banner from the bridge.
The woman, a lesbian in her early 60s, claims she had already offered to remove it herself, but he said he would be taking it. After ripping the banner from its fixings, he bundled it up into the back of his car, where she saw he had banners confiscated from other bridges.
When she asked him on what grounds he was removing the banners, he said it was because they were potentially offensive. He then drove away with blue lights flashing.
1/4 Why are Welsh police trying to silence free speech? Banners stating women's reasonable and science-based opinions, legally protected under the Equality Act, were today deemed 'offensive', damaged and confiscated by police: pic.twitter.com/gIoiw76hKR

— Outspoken Women (@women_outspoken) August 25, 2023
The group said banners, placards and slogans were commonplace in the act of protest, and the right to peaceful protest was permitted under the law.
Article 10 of the European Convention on Human Rights, which applies in the UK, says individuals have "freedom to hold opinions and to receive and impart information and ideas without interference by public authority and regardless of frontiers".
Last year, police forces were told that people contributing to political and social debate must not be "stigmatised simply because someone is offended".

Thought police
In May 2022, Andy Cooke, chief inspector of constabulary for England, Wales and Northern Ireland, told police forces they are not the "thought police". He told The Times that chief constables needed to
"avoid politics with the small p", follow the law and remember that "different thoughts" were not an offence.
A spokeswoman for Outspoken Women said: "There is no provision under the law to protect people from being offended, nor should there be. Yet the police are applying this imaginary provision – and against only one side in this debate.
"Time and again, women who object to the ramifications of gender ideology, the presence of men in women's spaces and sports, and the medicalisation of children who are experiencing gender incongruence meet to discuss their concerns, hold events to hear speakers and share experiences.
"Almost without exception we are met with forceful resistance by gender ideology supporters, often including loud aggression and violent threats – for instance placards calling for our decapitation or our rape. Yet police officers at those events do not act to protect us against such intimidation – let alone against us being merely offended.
"This banner protest was another silent protest by Outspoken Women. We are simply stating facts, finding a way to reach as many people as possible without direct interference. But again, our voices are being silenced, this time by the very people who should protect us.
"If this was a member of 'the other side' then he simply would not have behaved in that way. The police show visible and vocal support for the LGBT community, so they say, but this protester, a lesbian, did not get any of that support. She found herself at the end of biased and misogynistic policing, and it is just not good enough."
'Astonishing'
Retired police superintendent Cathy Larkman, who heads Women's Rights Network Wales, said: "I've viewed the video and the actions of the officer, and the explanation provided for the removal of the signs is simply astonishing. There is no mention of any local byelaws or highway issues, nor of any offences alleged to have been committed.
"Instead, the reason provided is that the signs 'might' cause offence. The police tearing signs and seizing them because someone may or may not be offended should concern us all.
"Even if some unknown person decided that they disagree with the statements on the signs, it is not the role of officers to control what opinions women may or may express. This is a chilling suppression of freedom of expression.
"Many women feel strongly about the preoccupation of the Welsh Government with gender ideology and their determination to erase the rights of women, including our rights to single sex spaces in changing rooms, toilets, domestic violence services and rape crisis centres.
"Under Welsh Government proposals to introduce gender self-ID in law, women would lose any assurance of these areas and services being single sex, including any right to same sex intimate care.
"It is important that this is brought to the attention of the Welsh public and the women placing these banners up on bridges were clearly trying to do that. It is not the role of the police to police opinion or offence."
A spokesman for Dyfed-Powys Police said: "At around 2.30pm on Friday we received a report of a hate crime in Carmarthen, with people on Towy Bridge with banners and chanting what were reported to be anti-trans slogans. Officers attended but no-one was present.
"However, they then discovered banners on the Johnstown and Bolahaul Road flyovers, which were removed as they matched the description from the earlier report. Enquiries are ongoing."
---
Support our Nation today
For the price of a cup of coffee a month you can help us create an independent, not-for-profit, national news service for the people of Wales, by the people of Wales.