News
Policeman accused of abusing girl had 4,000 porn searches on phone, court told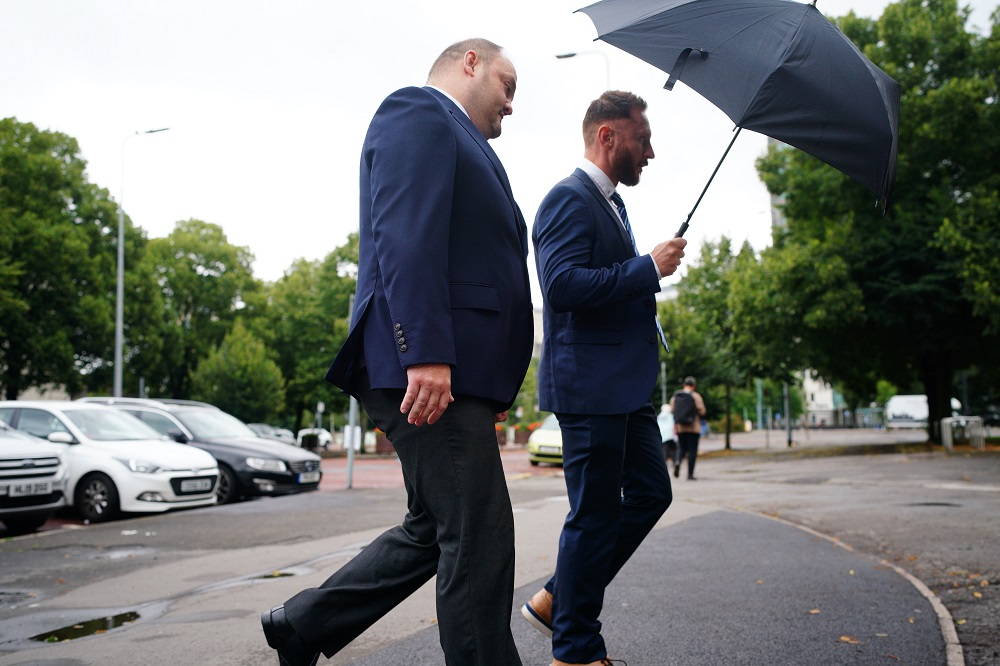 A Gwent police officer on trial for sexually assaulting a young girl and showing her inappropriate material had made 4,000 searches for porn websites on his mobile phone, a court has heard.
John Stringer, 41, from Cardiff, denies showing the victim a sexual video and forcing her to mimic the performer.
The child says Stringer insisted she went to another room on two occasions and carry out the actions seen in the video and that she felt like he was nearby watching her.
Cardiff Crown Court heard an examination of the defendant's iPhone 6, which he had bought second-hand in 2016, was carried out after it was seized following his arrest.
The analysis found that around one in every five internet searches on his phone over a five-year period was to access explicit images and videos.
According to the evidence, some of the categories of explicit material visited by Stringer included 'masturbation' and 'voyeur masturbation'.
On the third day of trial, Stringer said the material was "all legal adult porn" and that he would access such sites only while alone.
He also said he habitually cleared his search history of such material and would "absolutely not" have shown the girl such a video.
Ian Wright, prosecuting, told the jury there were no indecent images of children on the handset.

Professional rugby
Stringer told the court that as a sports science student he had played professional rugby in Wales and later in New Zealand.
He then returned to Wales and became a fitness instructor before being accepted into Gwent Police.
"Joining the police was something I always wanted to do and I got in in 2010," he said.
Stringer claimed he had "an immaculate record" over almost 14 years of service.
The court heard the defendant was suspended from duty following the allegations but is still technically a serving member of the police force.
Stringer repeatedly denied that he had been alone with the victim, and denied showing her the pornographic material or that she would have access to such material in his presence.
Under cross-examination by the prosecution, Stringer also repeatedly denied assaulting the girl under a blanket.
The court heard he had also accessed information pages on his mobile phone about the effects of masturbation on stress, anxiety, focus, concentration, mood, sleep and hormones.
In her police interview, the victim claimed that when the defendant was encouraging her to touch herself he said it would "calm her down" and help her sleep.
Mr Wright asked Stringer if the links between what he had searched for on his phone and the child's allegations were "a coincidence".
"Yes," Stringer replied.
Auto-immune condition
Stringer said he had been diagnosed with an auto-immune condition and had been researching online whether masturbating would help.
The court previously heard the girl claimed Stringer had told her he was lonely and wanted a girlfriend.
Stringer denied ever divulging those emotions to the victim or talking to her about his former partner.
Mr Wright asked: "Can you think of any reason she'd make it up?"
"No," Stringer replied.
During the trial, Stringer has claimed older girls had told the victim inappropriate information about sexual acts.
Mr Wright said: "As a police officer did you not think you should raise it with her parents?"
Stringer said: "I told her she should speak to her parents about things like that."
Mr Wright accused the defendant of "tailoring his evidence" to fit with what the investigation had uncovered.
Mr Wright asked: "Are you making it up as you go along?"
"No," the defendant said.
Stringer admitted he did not know what reason the victim would have to make the claims against him up, later adding: "I have no idea why she's making false allegations."
Not guilty
Stringer has pleaded not guilty to five offences including two counts of sexual assault by touching, two counts of causing or inciting a child under 13 to engage in sexual activity and one count of causing a child to watch a sexual act.
The offences are said to have taken place between December 2019 and July 2021.
According to the victim, the sexual abuse paused during two of the Covid-19 lockdowns and resumed when the restrictions eased.
At the end of the hearing on Wednesday, the jury were read four character references written by a primary school teaching assistant, secondary school mathematics teacher, a neighbour and a council worker.
In them, Stringer was described as a "caring", "trustworthy", "honest" and "genuine" man who would "do anything for anyone".
The trial continues.
---
Support our Nation today
For the price of a cup of coffee a month you can help us create an independent, not-for-profit, national news service for the people of Wales, by the people of Wales.