News
Prehistoric lock-ring discovered near Wrexham declared Treasure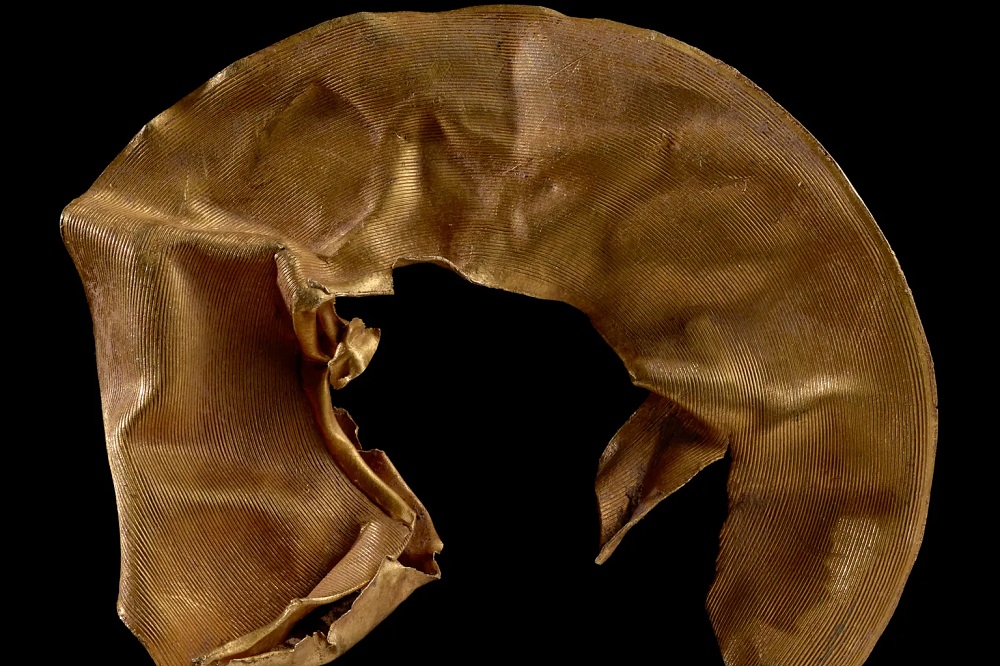 A Bronze Age gold lock-ring was among finds which have recently been declared treasure in Wales.
A 15th-century gold fede ring, a medieval silver buckle-plate, a silver James I coin, and a late 17th-century or early 18th-century gold posy-ring are also among the finds declared treasure by Kate Sutherland, Assistant Coroner for North Wales (East and Central).
The Bronze Age gold lock-ring was discovered by metal-detectorist Chris Wood in 2018 on a ploughed field in Holt near Wrexham. It dates back to the Late Bronze Age (1000-800 BC) and would have possibly been worn in the hair.
The high-status ornament is decorated with 79 concentric circles, which were hand-scribed on a gold sheet just four centimetres wide.
Adam Gwilt, Principal Curator for Prehistory at Amgueddfa Cymru – Museum Wales, described the the quality of the decoration as "impressive".
"The resulting visual effect, created across the surface of this golden ornament, suggests this was once a highly valued possession. It would have marked out the wearer, female or male, to be a well-connected person of high standing within their community," he added.
The 15th-century gold fede ring features white enamel decoration and two raised pelleted ridges spaced with a floral design. It bears an inscription reading 'de bon cuer' which translates as 'of good heart'.

Bronington Hoard
The ring belongs to the Bronington Hoard a medieval treasure trove discovered in the village outside Whitchurch near Wrexham.
This was the first hoard of its kind to have been discovered in the Wrexham area and is on permanent display at Wrexham County Borough Museum.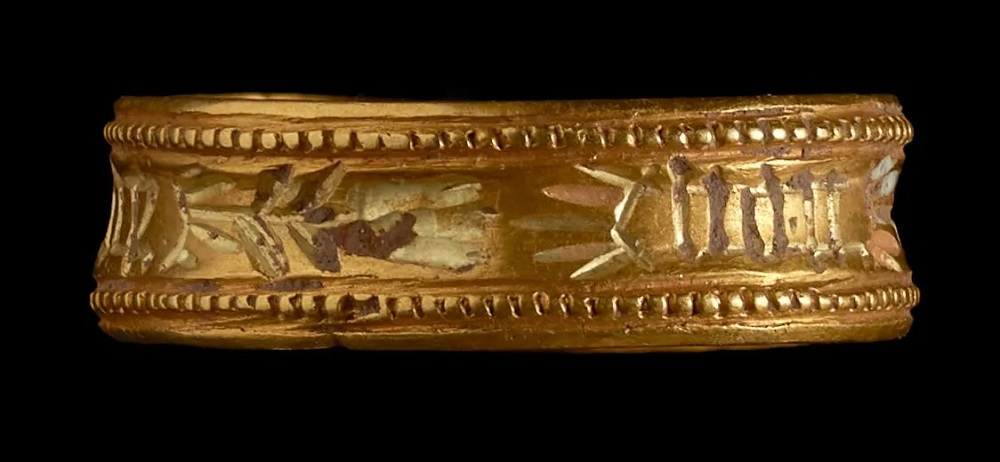 The medieval silver buckle-plate is intricately decorated with an openwork design of Gothic tracery.
It was found inserted into the open end of the buckle-plate, which would have been attached to the wearer's belt or a silk girdle.
The late 17th-century or early 18th-century gold posy-ring bears the inscription 'Gods providence is our inheritance'.
Posy-rings are rings that bear a short poem or motto, often on the inside of the band. They were popular in the 16th, 17th, and 18th centuries.
If a find is declared Treasure, it is then valued by an independent Treasure Valuation Committee and a value must be agreed by all parties, the reward being split between the finder and landholder.
Museums will then have the right to acquire the objects for their collections.
---
Support our Nation today
For the price of a cup of coffee a month you can help us create an independent, not-for-profit, national news service for the people of Wales, by the people of Wales.