News
Prime Minister promises freeports will 'turbo charge' growth in Wales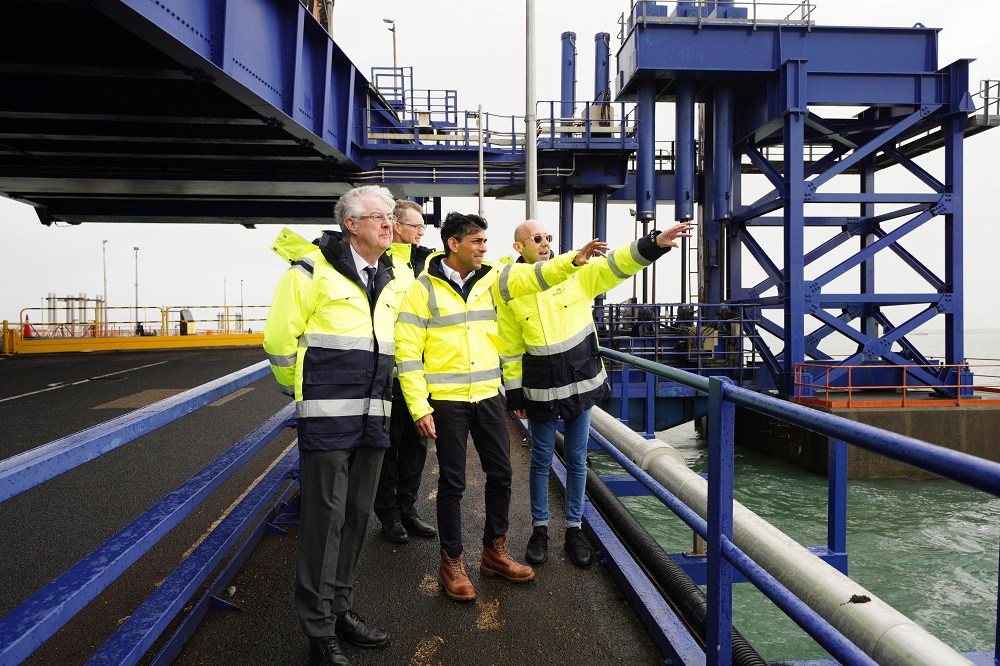 Prime Minister Rishi Sunak has visited the UK's newest freeport at Holyhead in Anglesey, promising it will "turbo charge" economic growth in Wales.
Mr Sunak, accompanied by Wales' First Minister Mark Drakeford, met port authorities in Anglesey, which along with Celtic Freeport covering Milford Haven and Port Talbot in South Wales, were announced as two new freeports which it is claimed will attract billions of investment and create 20,000 new jobs by the end of the decade.
The Prime Minister said the freeports were a "Brexit benefit" that would boost economic growth across the UK.
He said: "Now that we've left the EU we can create these turbo-charged freeports across the United Kingdom, they are special economic zones that are designed in a way to attract companies to invest there, to create jobs and opportunities for people.
"They're successful all around the world and I'm really delighted we are able to announce not one but two new freeports in Wales today, one in the north, one in the south, good example of us working co-operatively with the Welsh government to deliver for the people of Wales and drive growth, create jobs, spread opportunities."

Lost funding
Mr Sunak said lost funding for Wales after the UK withdrawal from the European Union would be guaranteed at the same levels as before with, "more on top" including £26m investment for each freeport created.
He said the closure announced last month, of the 2 Sisters meat processing factory in Anglesey with the loss of 750 jobs, showed the need for new economic initiatives in North Wales.
He added: "It illustrates why we have to keep investing in this area and other areas to create new jobs and opportunities and that's what this freeport will do.
"Good, well-paid jobs for local people as a result of this freeport, that's what's going to happen and actually talking to the Port today, they've already had inquiries from over 40 companies who are interested in coming and investing here in Anglesey because of the freeport status, I think that should give everyone a real sense of confidence and optimism about the future."
Freeports are special areas within the UK's borders where different economic regulations apply to incentivise investment and create global trading hubs.
Despite some economic analysis suggesting freeports displace rather than create new economic growth Mr Sunak said he was confident of their success in the UK.
He added: "We've seen hundreds and hundreds of thousands of jobs created across the world in freeports, billions of pounds of investments, they are proven to work.
"And now that we've left the EU we can really create a turbo-charged freeports programme here in the UK and that's what we're doing, we're rolling out in every part of the UK and I'm really pleased that the announcement of two freeports in Wales today has been made."
Blueprint
First Minister Mark Drakeford said the freeports are expected to be operational by the end of the year and will "transform the Welsh economy, creating a stronger, fairer and greener future".
"The joint working between Governments on the freeport programme should serve as a blueprint for future intergovernmental work on a whole range of issues."
Eight freeports have already been established in England and two green freeports in Scotland.
The Welsh freeports were decided on by both governments during a joint bidding process which ended in November last year.
Both sites are said to have been chosen to exploit opportunities from renewable energies, and are expected to make a significant contribution to achieving the UK's net-zero ambitions.
The Celtic Freeport plans focus on low carbon technologies, such as floating offshore wind (Flow), hydrogen, carbon-capture utilisation and storage (CCUS) and biofuels to support the accelerated reduction of carbon emissions.
Anglesey Freeport will focus on marine energy technology testing on the seabed, including tidal and wind.
The UK Government said its plans to create a low tax, investment zone in Wales, as announced by Chancellor Jeremy Hunt in his spring Budget, will work "hand in hand with the freeport programme to generate sustainable economic growth and level up communities in Wales and across the UK".
---
Support our Nation today
For the price of a cup of coffee a month you can help us create an independent, not-for-profit, national news service for the people of Wales, by the people of Wales.