News
Project manager who alleged institutional racism at museum was facing possible dismissal, says leaked report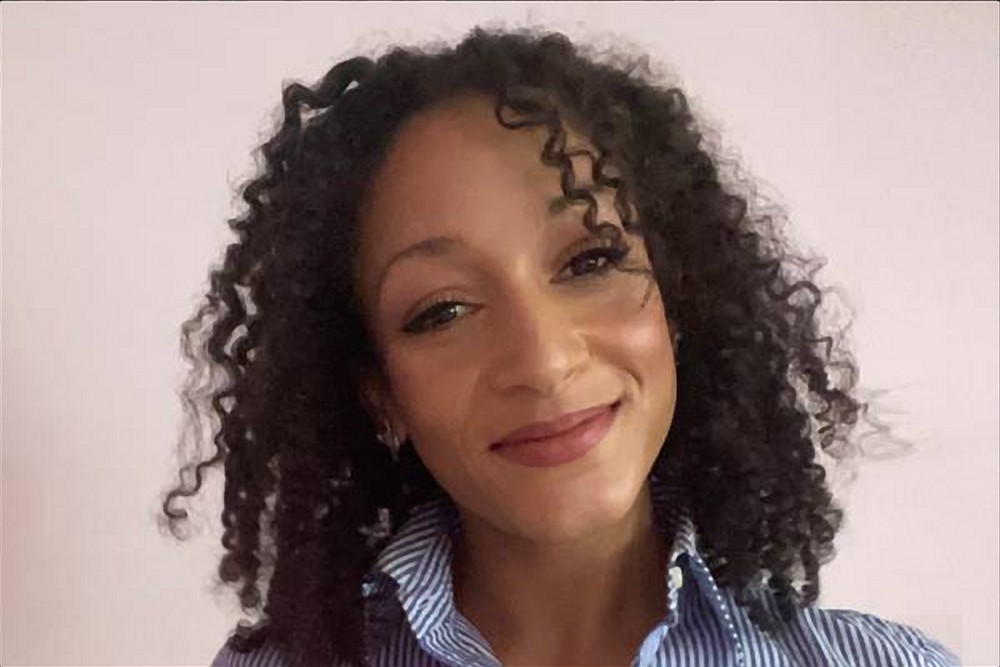 Martin Shipton
A "decolonising collections" project manager at Amgueddfa Cymru – Museum Wales who accused the body of institutional racism would have faced possible dismissal for bullying a colleague if she hadn't resigned last week, we can reveal.
Jessica Dunrod publicly criticised the organisation's "toxic working environment", claiming she had been effectively prevented from doing the job and was victimised after making complaints about racism and bullying following her appointment in March 2022.
Amgueddfa Cymru (AC) is a public body funded by the Welsh Government. It runs seven museums across Wales including the National Museum in Cardiff, St Fagans National Museum of History, the National Slate Museum in Llanberis and Big Pit National Coal Museum in Blaenafon.
It decided to employ a project manager to review its collections after reports commissioned externally following the Black Lives Matter protests and published in 2021 said AC needed to embrace diversity more widely.

White fragility
In Ms Dunrod's resignation letter she described AC as an institution with "unresolved racism and bullying", "white fragility" and a "know your place" culture. She claimed she was harassed outside of work and alleged that the body "coerced her into staying silent on institutional racism across Wales in general".
A 24-page investigation report into a grievance brought by Ms Dunrod against an AC manager she worked with has been leaked to Nation.Cymru.
The report rejected a series of allegations made by her, including that she had not been given the leadership and management responsibilities she needed for the role.
It said: "On the contrary the evidence supported the overall conclusion that the scope of the job description was thoroughly particularised and was appropriate for a junior level member of staff with no prior experience of museum work, or of project management in a highly structured public body such as AC."
The report also covered concerns about a series of tweets she made in May 2022. In one of them, Ms Dunrod criticised a call by then Plaid Cymru leader Adam Price for Wales to receive reparations from England in compensation for centuries of exploitation. She wrote: "I don't care how long ago it was. That level of ignorance, stupidity, entitlement and irresponsible use of language has no right leading a country. Some stupid things shouldn't happen. Luckily for Adam Price, Boris Johnson has set the bar very low."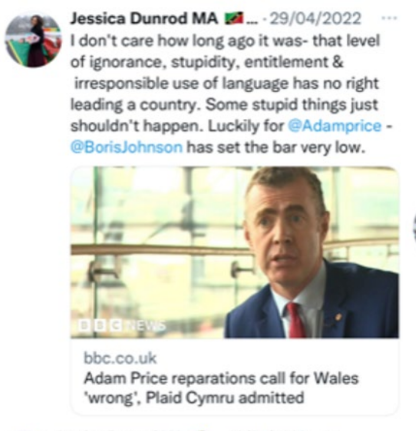 In another tweet she stated: "If @PrifWeinidog [First Minister Mark Drakeford] offered a referendum, imagine how well he would do in the next election. It's a shame he doesn't believe in an #indywales. I'd trust him to take care of us. I'm just not convinced about silly Adam Price. Plaid Cymru would do well changing the leader, I reckon."
Mr Price and Mr Drakeford were tagged in the tweets.
Legitimate concerns
Ms Dunrod complained about being taken to task over her tweeted comments.The report said: "By raising the legitimate concerns with JD [Ms Dunrod] informally, this was a minimal and proportionate response to what could be described as an error of judgement arising out of inexperience of the culture and expectations of the job. JDs reaction demonstrated a lack of appreciation of her role and the Museum's values in terms of mutual respect. We considered it noteworthy that JD has complained about being caused offence by some routine comments in communication to her while considering it acceptable to refer to others, and publicly, as stupid and not worthy of holding their office.
"Instead of taking responsibility and learning from this experience, JD responded aggressively and confrontationally and verbally attacked [a colleague] with allegations of lying, gaslighting, discrimination and having a mis-memory condition.
"The evidence also showed that JD reported this incident to her cohort in terms which misrepresented the nature of her tweets and caused her cohort colleagues to view [the colleague's] actions unfavourably. This was unfair and unjustified, particularly given [the colleague] had no opportunity to respond."
The report went on to catalogue a number of further incidents where it considered Ms Dunrod had acted inappropriately or had unrealistic expectations about what was reasonable. She had, for example, complained about not being allowed to visit a museum contact in Scotland during August 2022.
Misinterpreting
The report said: "We have concluded that there is no basis to uphold JD's grievance … in relation to this incident. The tension relates to JD misinterpreting a discussion that [her colleague] says referred to setting up a meeting sometime in the future as being a direct instruction to go ahead and arrange the meeting. JD cited this as another example of [the colleague] mis-remembering and forgetting instructions she had been given and described feeling undermined when [the colleague] required her to cancel the meeting.
"We considered it noteworthy that in summer 2022, the Welsh Government guidance to public bodies, which AC was following where appropriate, was to limit face-to-face meetings and business travel where practicable. This would inevitably have been a factor making it extraordinary to authorise a business trip to Scotland, involving several days travel (with associated expenses) for a non-urgent introductory meeting that could presumably have been held as effectively via Microsoft Teams or the equivalent."
Ms Dunrod complained about being required to make tea for external visitors at a meeting in June 2022. The report said: "At the time of the meeting we have confirmed that the catering facility was not operating. JD has taken offence at being asked to assist with making tea for the guests and has asserted that, as a person of colour with 'decolonising' in her job title, this was wholly inappropriate and offensive. [Her colleague] explained that she offered to assist JD and no offence was intended. We concluded there was no reasonable basis for this complaint. In our experience it is unexceptional for the most junior person in a meeting, regardless of colour, gender or other protected characteristic (other than a relevant disability which made the task impracticable) to be asked to assist with refreshments or other admin support tasks for a meeting."
White supremacy
On another occasion relating to whether someone should be invited to a meeting, Ms Dunrod was said to have become enraged, accusing a colleague of "white supremacy", which she found insulting.
The report said: "[We] concluded that such comments could be considered to align with the examples of upward bullying cited in ACAS guidance.
"The far greater issue, as we see it, is the breakdown of trust between the two grievance subjects and, to date at least, an absence of recognition by JD that the responsibility for this could be hers, wholly or partly. JD has demonstrated that she mishears or misunderstands what she is told but does not consider the possibility that she could be mistaken in framing her challenges."
Examples included alleging that one colleague had said he suffered under an individual's management and that she lied to him. The colleague denied saying that he had ever been lied to by [the manager] and asserted that [she] is the best manager he has had and is highly organised and does not forget things.
Ms Dunrod alleged that the external mediator had advised her that mediation was not appropriate as her concerns involved bullying and needed to be investigated. But the mediator told the report's authors that he did not and effectively would not provide such advice.
Ms Dunrod also alleged that the colleague she brought a grievance against had pressed her to reveal details of what was discussed at a confidential meeting she had with the Education Minister and had asked whether she attended in work time, yet the recording of the meeting confirmed neither was the case. The report said: "These findings, based on the evidence, do not reflect well on the reliability of JD's recollections and hence her credibility as a witness."
Turning to the concerns that the colleague had raised about JD's conduct towards her and the impact this had had on her personally and on trust and confidence in JD's suitability for the role, the report said: "JD has acknowledged that she considers [the colleague] to be biased in her approach to the role and allows seeking to uphold white supremacy to interfere with her commitment to the decolonising agenda. JD also alleged repeatedly that [the colleague] was suffering from a mis-memory condition.
"These are serious allegations to make about any colleague. If raised sensitively and confidentially, concerns of this nature, which raise issues of racism and under performance (albeit for potentially disability related reasons), can be raised legitimately with the employer.
"However, this should usually follow the grievance procedure or whistleblowing procedure, in which case the complainant is protected from suffering detriment in response. The moral high ground (and protection from detriment) can be lost if concerns are raised in a way that does not recognise the need to show respect and sensitivity, or approached in a way that involves behaviour that could be considered to amount to bullying in itself.
"The evidence in this investigation demonstrated that JD displayed behaviour towards [the colleague] which was unacceptable. It fell well below the standards of professional courtesy and respect that members of staff are expected to demonstrate to each other, and was often insubordinate in our view. We identified examples of behaviour that could be consider as amounting to bullying, as outlined in the Dignity at Work Policy and ACAS guidance."
Critical tweets
The colleague raised concerns about further critical tweets made by Ms Dunrod that she believed were meant to refer to her. The report says: "We have reviewed these tweets and can understand why [the colleague] feels she was the subject of these tweets. She told us how, as the tensions were unfolding, she started following JD's Twitter account and how she worried about what others would think. We have also concluded that, on balance, this could not have been unintentional on JD's part. If we are wrong about that we nevertheless believe that JD would have been aware of the risk that others could interpret those comments as being about [the colleague] and that it was foreseeable that this could be reputationally damaging to [the colleague] and the Museum as well as personally upsetting and insulting to [the colleague]."
In conclusion, the report said: "In the light of our findings in this investigation, we recommend that those receiving this report will need to consider what further action is appropriate. In this regard it is noteworthy that our findings of inappropriate conduct by JD, including bullying and potentially discriminatory conduct, raise a disciplinary case to answer on grounds of misconduct; and our findings that there has been a breakdown of trust and confidence, in JD by [the colleague], on reasonable grounds, raises a potentially substantial reason to consider the termination of JD's employment.
"Both of these issues would ordinarily require further consideration under the disciplinary procedure. However, we note that JD is still within the probationary period of her employment. Those receiving this report will therefore need to give careful consideration to JD's probationary status in determining the appropriate process for addressing our findings and recommendations."
So far as Ms Dunrod's colleague was concerned, the report said: "[We] were concerned to observe the extent to which [the colleague] was upset and shaken by the experience of managing JD and her complaints. She told us she is receiving counselling. However further ongoing support may need to be considered.
"Secondly, notwithstanding that we have not upheld JD's complaints, we are conscious that the evidence showed that JD has communicated what we found to be misrepresentations of events and circumstances to colleagues, including but not limited to her cohort. They have inevitably been influenced by hearing only JD's side of the story.
"Of particular concern is that the view, known to be held by JD, that someone who is white is not well placed to lead a decolonising agenda because of potential bias, was expressed by another of the cohort and was seemingly genuinely held and said not to be racist. Those receiving this report should consider whether and if so how these influences might be addressed as part of the measures needed to address [the colleague's] grievances."
---
Support our Nation today
For the price of a cup of coffee a month you can help us create an independent, not-for-profit, national news service for the people of Wales, by the people of Wales.