News
Prominent Young Conservative claims Welsh people have lower IQ's in social media post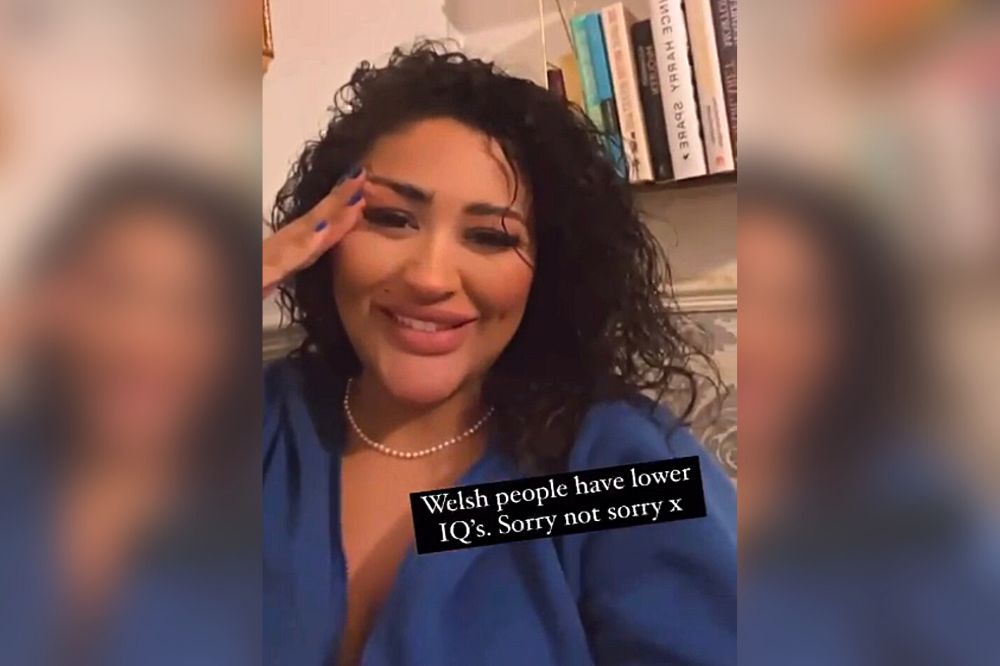 A prominent Young Conservative who tried to become a Cardiff councillor last year has posted a video on social media in which she launches a condescending attack on the people of Wales and its capital city.
Jasmin Cogin, who stood unsuccessfully in the Cyncoed ward in the 2022 Cardiff council election, is seen sitting in a living room with bookshelves behind her and a caption on the screen which reads: "Welsh people have lower IQs. Sorry not sorry x"
Ms Cogin, whose account name ladyjasminzara is at the top of the screen, introduces herself, saying: "So, this is me in my most natural form, with curly hair."
Looking directly at the camera, she continues: "Does anyone get really frustrated at how uninspiring and how uncreative and how boring people are generally?
"I'm just … I don't understand. I mean, obviously I predominantly spend all of my time – the majority of my time in Cardiff now because of my job – and I find it so tough to find someone who is intellectually on my level and who is actually witty and inspired and incredibly driven.
"Like, people are just so OK with mediocrity in Wales and it's vile to be around. It's disgusting."
Last year all three council seats in Cyncoed were won by the Liberal Democrats, but at the previous election in 2017 the Lib Dems won two and the Conservatives one.

Out of touch
Cardiff council's Liberal Democrat group leader Cllr Rodney Berman said: "The fact the Tories selected someone like this as a candidate standing in a ward where she might feasibly have been elected shows how out of touch they are with people in our capital city.
"I'm sure the people of Cyncoed will be grateful to know that they rejected someone who clearly sneers at them as one of their elected representatives.
"Cardiff is in desperate need of an effective opposition to Welsh Labour, but it is abundantly clear that won't come from the Conservatives.
"The Liberal Democrats are proud to serve the people of Cardiff and these derogatory attitudes towards the people of our city deserve a full public apology from the Conservative Party."
A spokeswoman for the Welsh Conservative Party declined to comment.
Ms Cogin, 23, was listed as the sole director of a company registered at a Cardiff address called Cart and Event Couture Ltd.
Incorporated in September 2020, the nature of its business was described in a filing to Companies House as "event catering activities".
Ms Cogin's occupation was given as shop assistant.
The company filed no accounts and was dissolved via compulsory strike-off in February 2022.
Underwhelmed
Last August the PoliticsHome website quoted Ms Cogin in an article about the attitude of Young Conservatives to the party leadership contest between Liz Truss and Rishi Sunak, which was then ongoing and which Ms Truss won.
Ms Cogin said she was still undecided about her vote, and that she had been "underwhelmed" by both Sunak's and Truss' offerings.
"I think ultimately I am looking at the long term picture," she said.
"The elected membership certainly don't represent the paid membership, and the paid membership certainly do not reflect your general Tory voter. That's how I'm looking at it.
"Both candidates are far too associated – sort of tainted – with their association with Johnson and that current inner-circle.
"In order for us to win new elections … I think it was really important for us to have a new face, for someone to have no association with the current Cabinet."
Cogin told PoliticsHome that she had found Kemi Badenoch "really interesting" but that it was not yet "her time" to take the top job.
"I don't think that's necessarily a bad thing because I think that whoever does win this leadership election is going to get annihilated over the next couple of years," she said.
---
Support our Nation today
For the price of a cup of coffee a month you can help us create an independent, not-for-profit, national news service for the people of Wales, by the people of Wales.