News
Protesters take to the streets of Cardiff in pro-Palestinian march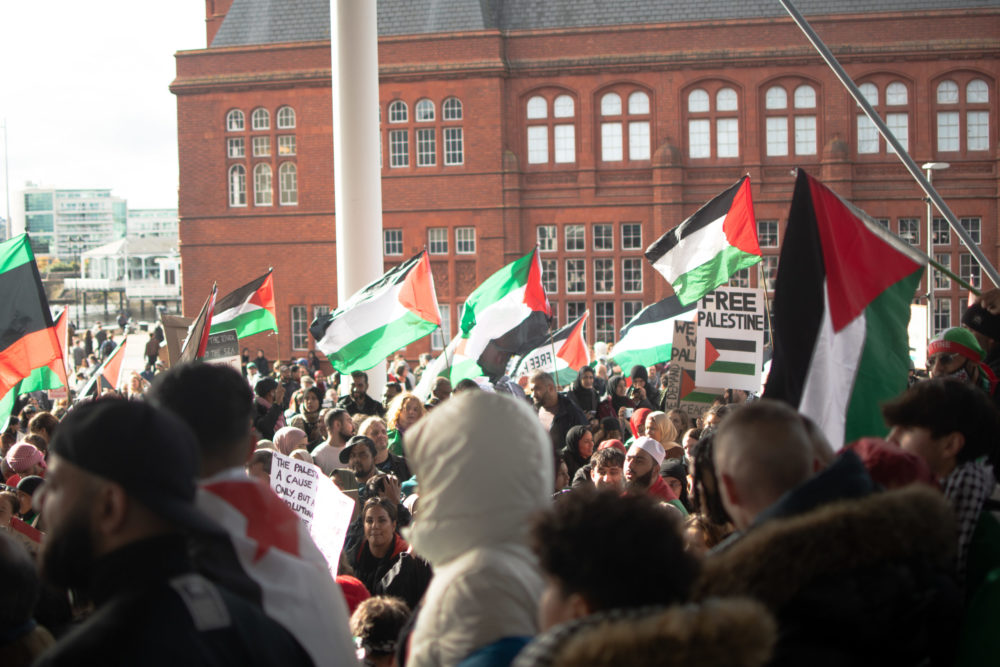 More than a thousand protesters took to the street of Cardiff in a pro-Palestinian protest today.
Waving Palestine flags and supportive placards they marched towards the Welsh Parliament.
The protest was organised by several groups who are calling on the British and Welsh governments to insist on an immediate ceasefire in Gaza and for "full humanitarian aid" to be sent in.
Maggie Morgan, from the Palestinian Solidarity Campaign Cardiff, told the BBC: "We are taking to the streets as a show of solidarity to the people of Gaza, to show our support for them, but also to make the government listen, and say 'not in our name, we're not having this.'"
The Cardiff protest was one of many around the UK has thousands of people protested in support of the besieged Gaza Strip in London and other UK cities.
Gallery of pro-Palestine march in Cardiff

This slideshow requires JavaScript.
The Metropolitan Police said "up to 100,000" took part in a pro-Palestine march in central London on Saturday, with other rallies in Cardiff, Glasgow and Birmingham.
Others protested outside the BBC's MediaCity headquarters in Salford, Greater Manchester, over its reporting of the Israel-Hamas conflict.
The Gaza Strip has been blockaded and bombarded by Israel after its Hamas rulers launched a series of terrorist raids on October 7.
More than 1,400 people in Israel have been killed, mostly civilians attacked in the October 7 incursion. Over 4,100 people have been killed in Gaza, according to the Hamas-run health ministry.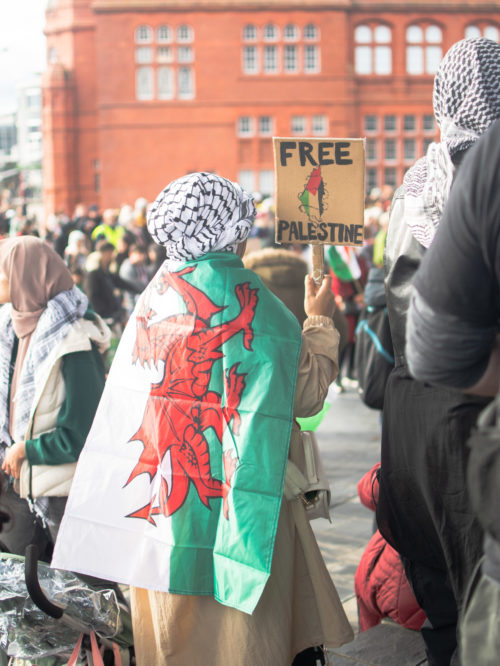 Thousands gathered at Marble Arch in central London for Saturday's march, clutching signs emblazoned with "Freedom for Palestine" and "Stop Bombing Gaza".
Chants included "Judaism yes, Zionism no, the state of Israel must go", and "5, 6, 7, 8, Israel is a terrorist state".
Protesters also chanted "from the river to the sea, Palestine will be free", despite controversy around the slogan's meaning.
Home Secretary Suella Braverman has previously branded the slogan antisemitic and claimed that it is "widely understood" to call for the destruction of Israel.
Jewish groups including the Board of Deputies of British Jews, Jewish Leadership Council and the Community Security Trust have asked prosecutors to clarify if chanting the slogan is a criminal offence.
However, those who defend the slogan describe it as a "long-standing protest chant" that calls for a homeland for the Palestinian people.

Bias
A small group of pro-Palestinian protesters held a separate demonstration in central London on Saturday calling for "Muslim armies" to rescue the people of Palestine.
The group of around 100 people stood on Balfour Mews, just off the street from the path of the main protest.
Speakers addressed the crowd in Arabic and a large banner read "Muslim armies, rescue the people of Palestine".
In Salford, the BBC was accused of "bias" in its coverage of the conflict.
Martin Odoni, from Eccles, who attended the rally, said: "I'm Jewish and every time Israel commits an atrocity it claims it's doing it in the name of Jewish people.
"I think it's my duty to come out here and show, actually, a lot of Jews do not support what Israel is doing. An awful lot of us are not Zionist at all.
"When they're massacring Palestinians I more than don't approve, I utterly condemn it."
On his criticism of the BBC, he added: "Well, look at the headlines they put up.
"When Israelis are killed they say these Israelis were killed by Palestinians.
"When Palestinians get killed, it's Palestinians died when Israel attacked.
"There's a blatant bias in the way the BBC reports these events and somebody's got to tell them."
The BBC has also been been criticised over its use of language to describe Hamas and its coverage of the immediate aftermath of the bombing of a hospital in Gaza City.
BBC director general Tim Davie met the Board of Deputies of British Jews president Marie van der Zyl and its chief executive Michael Wegier on Friday to discuss their "outrage" at Hamas being described as militants instead of terrorists.
---
Support our Nation today
For the price of a cup of coffee a month you can help us create an independent, not-for-profit, national news service for the people of Wales, by the people of Wales.