News
Radio Aryan host claims podcast 'not racist'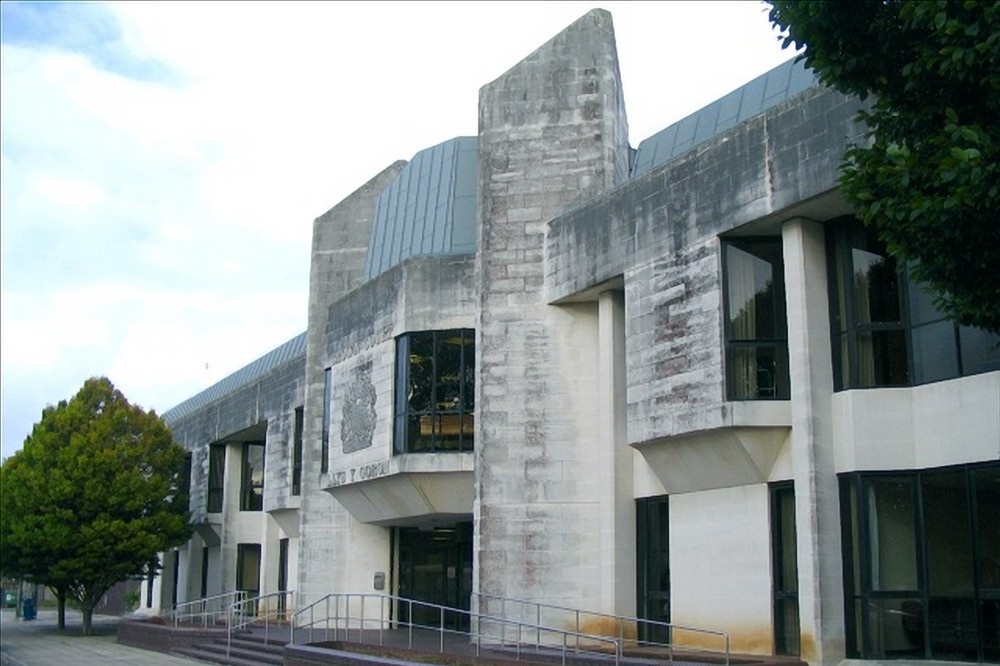 A podcast host on trial accused of stirring up racial hatred has claimed the content of his show was not racist.
James Allchurch, 51, from Pembrokeshire, is on trial at Swansea Crown Court charged with 15 counts of distributing audio material to stir up racial hatred over a two-year period.
Radio Aryan, since renamed Radio Albion, was described as "highly racist, antisemitic and white supremacist in nature" by prosecutors.
Giving evidence on Friday, Allchurch said he disagreed with the term racist and told the court he thinks "we should celebrate our differences".
Allchurch claimed his use of racial slurs was not intended to cause offence, and said he believed he was using "accurate terminology".
Dressed in a dark suit and tie, and wearing glasses and his hair tied into a ponytail, Allchurch told the court he is disabled and unable to work, and spends around 12 hours a day creating podcasts and maintaining his website.
The court has heard previously that Allchurch accepts donations via a Bitcoin link on his website, but the defendant said he does not receive a formal salary from the platform.

Ethno-nationalist
Describing himself to the jury as an ethno-nationalist, Allchurch said: "Essentially I'm a British nationalist but I am also a European, that's my wider family. I have sympathies with my wider family in countries like America, Australia who share the same ancestry with me."
Allchurch said race and ethnicity was "central" to his world view and stood by his belief that there are "measurable, statistical differences" between races.
His defence barrister Emily Baxter said: "Some people might say that talking about differences between races in that way is racist, would you agree with that term?"
Allchurch replied: "I would not. I think we should celebrate our differences."
Fifteen episodes of the podcast published between May 17 2019 and March 18 2021 have been played to the jury in which Allchurch can be heard discussing topics such as grooming gangs, immigration, crime, film and other subjects.
In the recordings, Allchurch is often joined by guests including the now jailed National Action co-founder Alex Davies and American neo-Nazi Daniel Kenneth Jeffries, who went by the nickname Grandpa Lampshade.
Jonathan Rees KC, prosecuting, said the defendant used discussions on news and current affairs to "espouse his hateful views on racial supremacy, black people, other non-white people, Jewish people and the race war".
Under questioning by his own counsel, Allchurch claimed he did not intend to spread hate and only advocated for "non-violent protest against multiculturalism".
Sven Longshanks
Allchurch, who on the podcast went by the alias Sven Longshanks – a reference to King Edward I, who was also known as Edward Longshanks and was responsible for expelling Jews from England in 1290 – said he did not think his "stage name" was antisemitic.
He added: "I don't consider King Edward I to be antisemitic. He cared about the Jews."
Allchurch said he took a different name to avoid becoming the target of what he called "the opposition" who he explained were members of the far-left or anti-fascist groups, often referred to as Antifa.
He claimed not to have known about the negative connotations associated with the name until after he had chosen it.
Allchurch, who has been described as a National Socialist by the prosecution, admitted in police interviews to being a supporter of Adolf Hitler.
Continuing his evidence, Allchurch told the court he is not a member of any proscribed far-right organisation, although the jury has heard how Allchurch was associated with members of such banned groups, including Davies, through his podcast activities.
He said he parted ways with American neo-Nazi Andrew Anglin, on whose website The Daily Stormer he hosted his first podcast, because he felt Anglin was "too extreme".
Allchurch said he did not advertise the podcast except on the podcast Twitter account which was suspended but then reinstated after billionaire Elon Musk bought the social media company.
---
Support our Nation today
For the price of a cup of coffee a month you can help us create an independent, not-for-profit, national news service for the people of Wales, by the people of Wales.