News
Residents fear toxic waste is spilling past Caerphilly village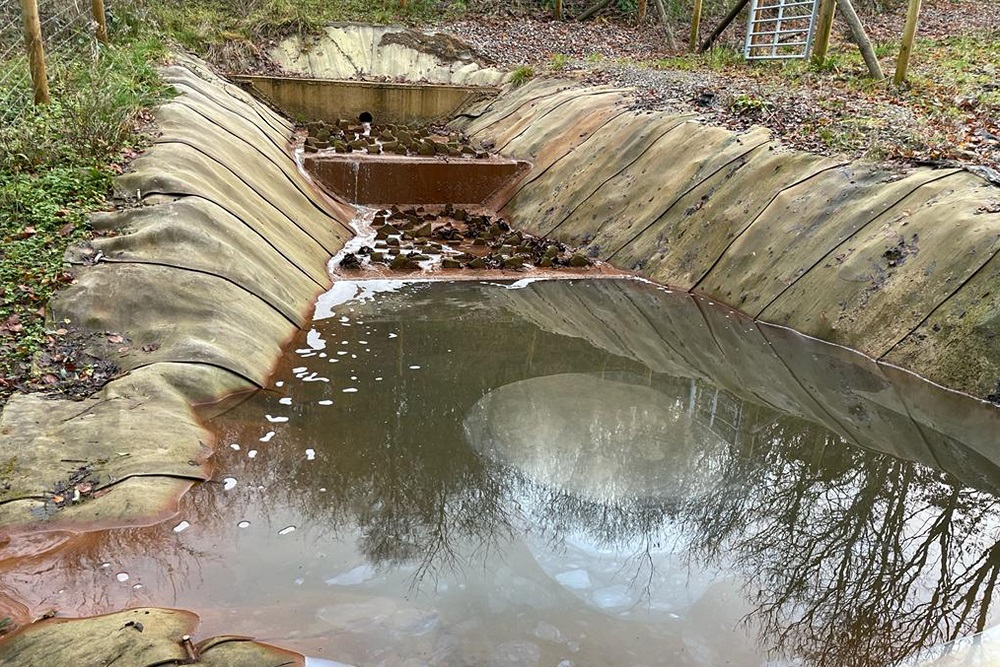 A landfill site may be leaking toxic chemical waste through a forest where children play, local residents believe.
The Ty Llwyd Quarry in the Welsh village of Ynysddu, near Caerphilly, South Wales, is believed to contain highly carcinogenic PCBs and other pollutants which were dumped there decades ago from chemical company Monsanto's now-defunct Newport factory, some 12 miles away.
Manufacturing of PCBs, which were widely used in electric equipment, was banned in the UK in 1981 after tests revealed them to be deadly to humans and wildlife.
Those who live in the area below the council-owned quarry say that after heavy rain a potent-smelling brown foamy liquid flows from the site down through woodland and past homes.
Many remain concerned the substance is potentially harmful to inhabitants and that it could be entering the Sirhowy River and eventually spilling into the Celtic Sea.
The local council claims the liquid is "normal surface water" but has urged people to stay away from the quarry and surrounding area during periods of heavy rainfall.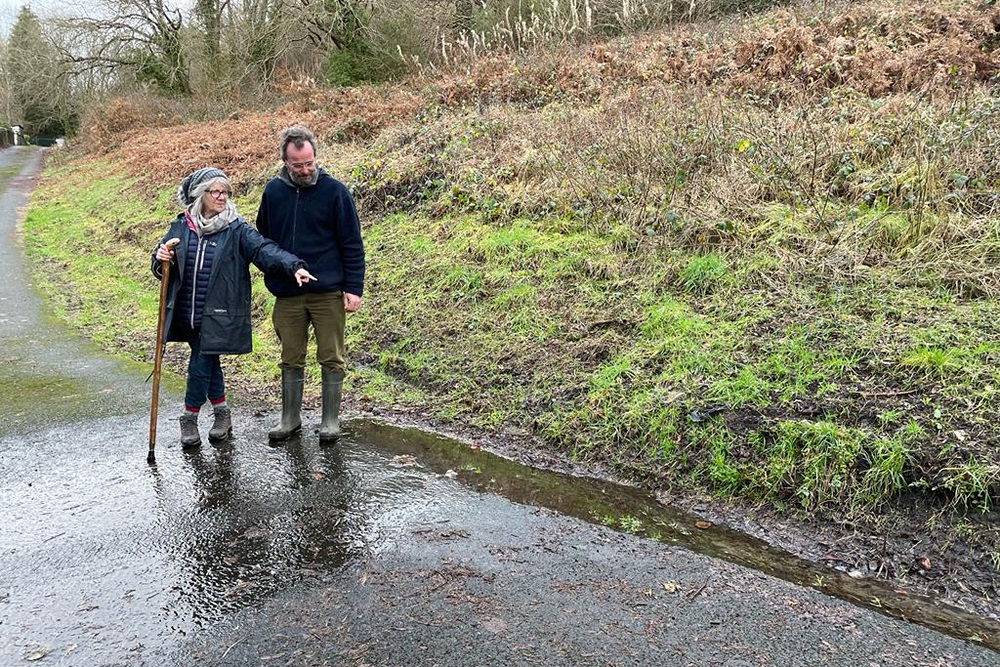 Independent councillor for Ynysddu Jan Jones said she has raised the issue a number of times with Caerphilly County Borough Council (CCBC), which owns Ty Llwyd, and the Welsh Government.
She said: "When it comes off (the quarry) it stinks. And that's something you won't experience by looking at the photographs – it's absolutely stinking."
Olwen Williams, whose brother's farm next to where she lives was bought out under compulsory purchase because of contamination, said people are no longer allowed to grow vegetables or keep chickens in the allotments that used to sit on that land which lies in the path of the water flowing down the mountain.
She added: "It's concerning that there are no signs to warn people because we've seen children making dens in the forest, people walk their dogs there, teenagers having parties up there and people also go around (eating) the hazelnuts from the trees that were planted on that contaminated ground."
Colin Prosser, a lifelong resident of Ynysddu, said the council was not taking concerns seriously enough.
The 77-year-old said: "This has been going on for 20 years, at least 20 years, and the council have been fobbing us off time and time again and it's only recently they have said they are going to do something about it.
"I was part of a subcommittee of local people – there was one of us from each village around here – who the council were supposed to keep informed about what they were doing to try and make it safe.
"We were supposed to hear from them every six months but that fell by the wayside, and we ended up not hearing anything from them for years at a time."

Drainage system
In May 2021 the council had a drainage system installed which it said was designed to keep surface run-off separate from any contaminated liquid, also known as leachate.
It claims the leachate does not leave council-owned land, with a spokesperson adding: "The improvement works have been designed to collect as much of the leachate as possible from the site and from the woodland below the site and encourage it into one location.
"Following its collection, the leachate and any surface water (from rainfall or from the cap drainage) from the site is naturally agitated to encourage some of the contamination to turn into a vapour, therefore improving the water quality before it is sent back into the ground."
However, photographs taken by the PA news agency show a brown foamy liquid overflowing from the drainage system and spilling through a fenced-off area down the mountainside towards the village.
Standing by the quarry, amateur chemical pollution investigator the Rev Paul Cawthorne said: "Where we're standing here, I would probably say it's about the fifth or sixth most chemically contaminated site in the UK. And, as you can see, it's just running straight down the hillside into the local village.
"It's not just that it smells, it's the fact it's chemical vapour which is a potential danger to health."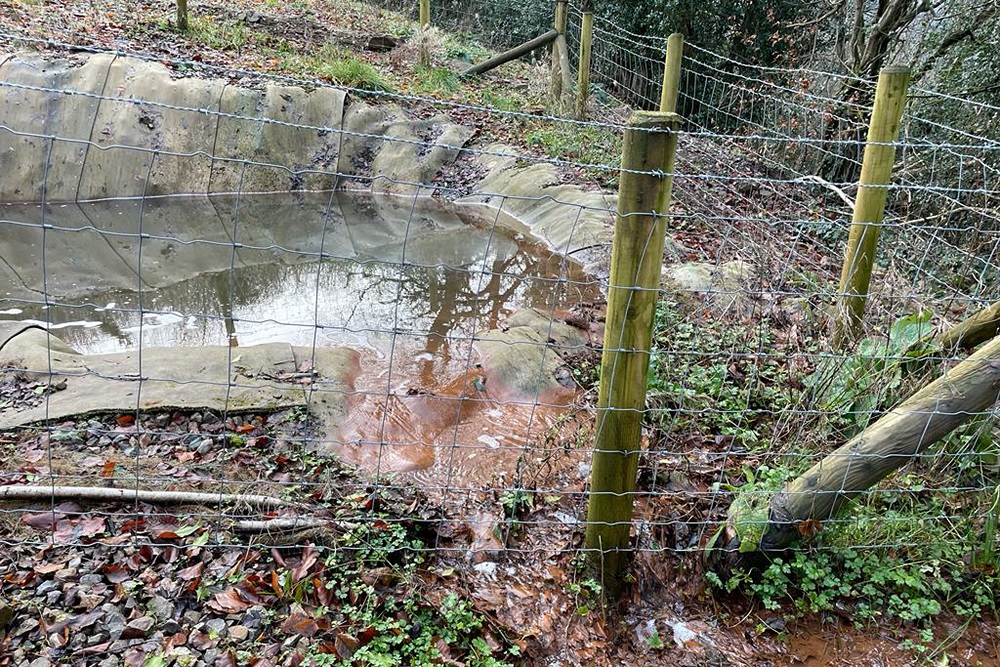 The council said it plans to "undertake sampling of various springs and water courses around the site over the coming weeks", but did not specify where.
Natural Resources Wales said it has also collected samples following complaints, but the results from that analysis have not yet been published.
Ty Llwyd is one of a number of suspected Monsanto dump sites across South Wales but so far only one has been designated as contaminated land and remediated – Brofiscin Quarry, in Groesfaen near Llantrisant.
Monsanto, BP and Veolia agreed on a settlement with the Welsh Environment Agency in 2015 to clean up the site after it was found to be contaminating local water supplies with PCBs, dioxins and Agent Orange derivatives.
PCBs
A new study published by scientists from the Zoological Society of London (ZSL) found that overall concentrations of PCBs are higher in the Celtic Sea – which neighbours the since closed Monsanto plant – than in other waters around the country.
Rob Deaville, a ZSL researcher who studies stranded marine mammals, said such toxic manmade chemicals have pushed the UK's orca populations to the brink of extinction.
Only one pod of whales remains, off north-west Scotland, but it has not had a calf for more than 20 years because of PCB contamination.
Nicknamed forever chemicals because their strong molecular structure makes them hard to break down, PCBs have been shown to affect the immune and reproductive systems of marine mammals and are devastating for apex predators because they accumulate up the food chain.
Mr Deaville said: "If you look at the historical distribution they used to be within the Mediterranean, they've pretty much disappeared apart from one small population around Gibraltar. We know we used to have killer whales around many parts of the UK. We've got one small, local population, the west coast community.
"We make the point that within those killer whale populations we're looking at a low-level extinction event. We don't have them where they used to be for centuries and we make the contention that it's because of what we put in the water."
---
Support our Nation today
For the price of a cup of coffee a month you can help us create an independent, not-for-profit, national news service for the people of Wales, by the people of Wales.