News
Residents oppose plans to give English speaking school in Pontypridd a Welsh name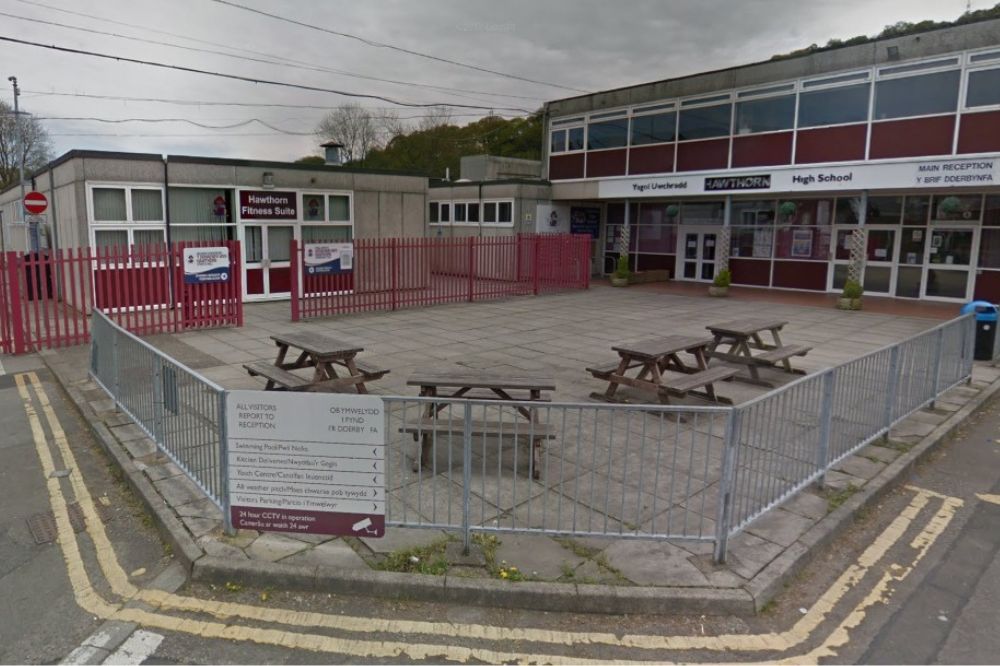 Anthony Lewis – Local Democracy Reporter
Residents in Pontypridd have opposed plans to give an English-speaking school a Welsh name because "many people don't come back to Wales after completing university and get jobs elsewhere instead".
Rhondda Cynon Taf Council began planning for two brand new super schools and a new Welsh medium school in Pontypridd last year.
One of the schools would welcome current Hawthorn High School, Hawthorn Primary and Heol y Celyn Primary pupils from the English medium stream in 2024.
But there have been calls from residents to keep the name Hawthorn after concerns were raised regarding proposed name options.
The potential names for the new school at Hawthorn are:
Ysgol Afon Wen/White River School
Ysgol Glan Dwr/Waterside School
Ysgol Cae Celyn/Hollyfield School
Ysgol Coed Ilan/Ilan Woods School
Work on the branding including signs and logos, school uniform choices and school colours depends on the school names being approved.
A decision was due to be made by cabinet on Tuesday, February 28 but the report was deferred and another consultation will now take place ending on April 4.
Each headteacher carried out consultations on the new name choices with the pupils and staff of the schools that will close to create the new schools.
For the new Hawthorn school, 'Ysgol Afon Wen' received the highest number of votes (35%) in the initial consultation.
But some residents in Hawthorn are against the new school's name being Welsh.

"tick box"
Local resident Christine Thompson attended Hawthorn as a child as did her mother and now her own children.
She said she can't understand how, if the children were involved in bringing the names forward, they decided on four Welsh names for English medium schools.
She described it as a "tick box exercise" in terms of meeting the Welsh Government's targets for the number of Welsh speakers and said it could be "undermining" the English language which is "more beneficial to children in the wider world."
She said: "The emphasis should be on education rather than rebranding."
She went on to say that the Welsh Government are being "too insular" and "not thinking about the wider impact."
She said: "If you want a house, a car and holidays, you need to be earning good money. You need a career, transferable skills, so that employers want you and will pay the salary you need. I doubt you're going to get it in Wales."
She claimed that many people don't come back to Wales once they've completed university and get jobs elsewhere instead.
Referring to the proposed name 'Afon Wen' (White River) she said there's "no white water in the river and no rapids".
She said: "It has always been Hawthorn because there have been Hawthorn trees. Why are they so adamant about ditching it? Why are we getting a new logo?"
She also complained about the funding of the rebranding coming out of the school's budget and said "shouldn't that be going on education?"
Community
Hawthorn resident Denise Morgan, who went to the school, said she can understand trying to bring in the Welsh language but not the name change.
She said: "Hawthorn school has been part of the community for many many years."
She added that it's easy to find it locally and said the name 'Afon Wen' "means nothing at all to the school for me and many other people".
Ms Morgan said she understands that they are "trying to establish the Welsh language" but said that most people in the area are English speaking.
She said: "Why do they want to take the name away from our locality when we are building links? It would be a shame to see the name gone. It's got historical links."
A spokesman for Rhondda Cynon Taf Council said: "A shortlist of potential names for each of the six schools directly involved in the £75.6m investment across Greater Pontypridd have been put forward by the staff and pupils of the affected schools.
"The pupils have played an important role in determining a suitable school name and have been able to have their say prior to a wider public consultation.
"While it is not a statutory requirement to engage in a public consultation, the temporary governing bodies of the three new schools agreed to this element in the process – ensuring that the process has been as open and transparent as possible.
"The public consultation has also provided an opportunity for stakeholders to put forward other names for consideration, beyond the names suggested by learners and school staff.
"The wider consultation has ensured that the process has gone further than any previous Council consultation for naming a new school, which in itself is not a statutory requirement.
"This has allowed headteachers, staff, pupils and the community to have their say, before the consultation outcomes are considered by the Temporary Governing Body of each school, and approval is sought by the Council's Cabinet."
The closing date for the consultations on the school names is Tuesday, April 4.
---
Support our Nation today
For the price of a cup of coffee a month you can help us create an independent, not-for-profit, national news service for the people of Wales, by the people of Wales.