News
Retired dairy farmer's mission to support charities as tribute to his late wife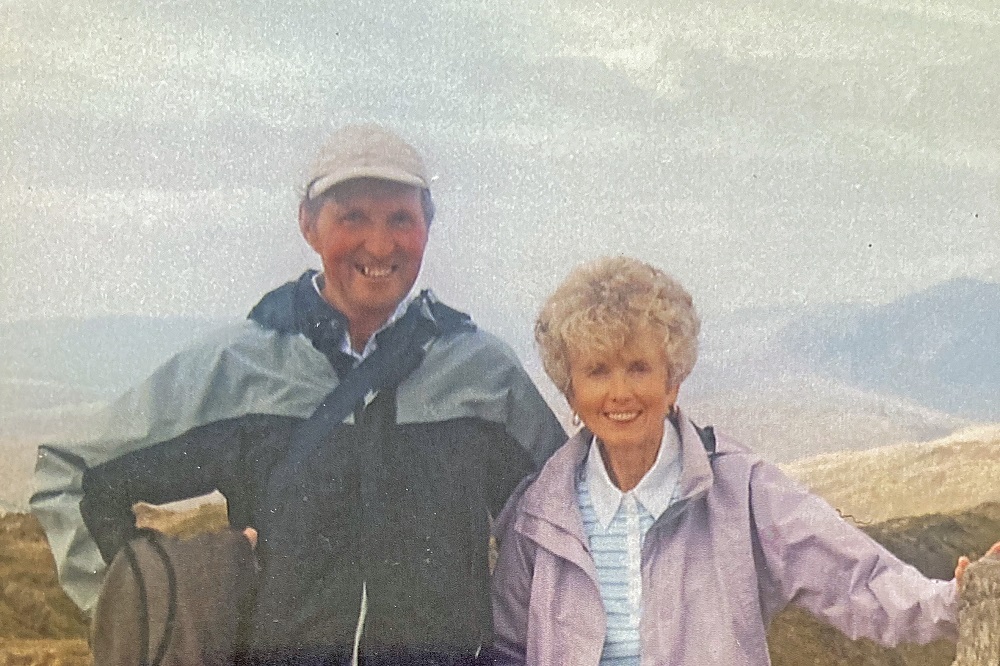 When dairy farmers Emyr and Evelyn Wigley retired, they planned to travel, spend holidays in their caravan and go on walking adventures in the British countryside, all things they had put off whilst devoting their time to farming.
Tragically, soon into their retirement, Evelyn was diagnosed with ovarian cancer and she passed away aged 69 in 2015.
Emyr, who lives at Deytheur, Llansantffraid, on the Powys-Shropshire border, immediately pledged to do something positive to combat ovarian cancer, which he describes as an "evil disease", as a tribute to her.
Because of the couple's long connection with the farming community, he also wanted to support farmers in need.
As a result, Emyr established The Old Stackyard British Blues, a small, closed breeding herd of pedigree British Blue cattle, in 2016. It's the only charity herd of its type in the UK, as all the money raised from the sale of the cattle over the past seven years has been shared between Ovarian Cancer Action and the Royal Agricultural Benevolent Institution (RABI).
To date, Emyr has raised more than £121,000 for the charities by selling cattle from the herd and books he has written, thereby raising awareness and educating people about ovarian cancer and supporting farmers in their time of need.

Seriously injured
Sadly, in another cruel twist of fate, 78-year-old Emyr was seriously injured by one of his bulls whilst preparing it for a sale in Carlisle last month.
He is lucky to be alive after the "spooked" bull crushed and trampled him, leaving him with a badly injured leg and broken ribs. His niece, Laura Pritchard, who has helped with admin since the herd was established, rescued Emyr from the pen where he was attacked.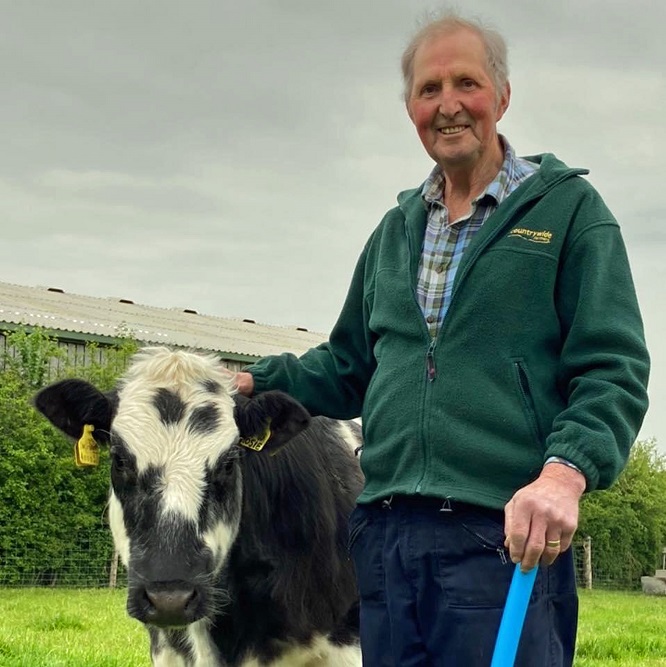 Due to his injuries, Emyr has now decided to sell his herd of 33 cattle. What started as "a small Initiative with a big ambition to fulfil a dream" will end at Shrewsbury Auction Centre on March 4 when auctioneers Halls sell the herd in the company's annual sale of British Blue Cattle Emyr hopes to raise £100,000 for the charities.
Emyr says his charity project has exceeded his expectations. "Evelyn and I built up a dairy herd and we managed to be successful only by hard work and much self-sacrifice, with the business needs always coming first," he explains.
"Our plans to travel and to enjoy caravan holidays and walking in the beautiful British countryside, which we both loved, were put on hold until our retirement. It was a devastating blow to learn in the first few years of our retirement that Evelyn had ovarian cancer.
"She was a very special lady, kind, caring and multi-talented. After a lifetime of work, the majority of her retirement years were stolen from her. Whilst tragically too late to help my dear Evelyn, I had to do something to help combat this evil disease, as a tribute to my wife."
Generosity
Both Ovarian Cancer Action and RABI have paid tribute to Emyr's "exceptional" generosity and the "astounding" sum of money raised for the charities.
Claire Lubbock, Ovarian Cancer Action's community and events manager, said: "At Ovarian Cancer Action, we are extremely grateful for the incredible funds Mr Wigley has raised for our charity with over the years, all in memory of Mrs Dilys Evelyn Wigley.
"As the UK's leading ovarian cancer research charity, this amazing and generous support has allowed us to focus on fuelling the breakthroughs we need in order to save the lives of more women – mothers, daughters, sisters and wives.
"Mr Wigley is possibly our first and last supporter who has sold pedigree cows to raise funds, but his incredible inventiveness, enthusiasm and sheer hard work has made a big difference to what we do at Ovarian Cancer Action.
"To have raised £122,000 to support both our charity and RABI is exceptional, and it is with sadness and huge gratitude that we approach this final sale. This sale is hoped to raise enough to fund a specialist researcher for an entire year.
"This represents a big step closer to our goal of making ovarian cancer survivable for all women. We cannot thank Mr Wigley enough for everything he has done for us."
Farming communities
RABI is a national charity that provides local support to farming communities across England and Wales. Established in 1860, the charity offers guidance, financial support, practical care to farming people of all ages for generations and mental health counselling either face-to-face or over the telephone.
Confidential support is available to those who currently work in agriculture as well as those who are no longer able to work in the sector due to ill-health, accident or age. RABI's freephone helpline is available 24/7 on 0800 188 4444.
Kate Jones, RABI's regional manager for the West Midlands, said: "RABI is so fortunate to have such wonderful supporters, especially Emyr Wigley. The money Emyr has raised is being used to support the farming community when they need it most.
"Representatives from the Montgomeryshire and Shropshire RABI committees will be present at The Old Stackyard Blues dispersal sale on March 4 and we wish Emyr and Laura all the best.
"The sale will mark the end of an astounding chapter – such an amazing achievement. The positive impact the money he has raised has made and will continue to make on those struggling in the farming community is beyond comprehension."
To make a donation to Ovarian Cancer Action, go here……..
To donate to RABI, go to: https://rabi.org.uk/donate/ 
---
Support our Nation today
For the price of a cup of coffee a month you can help us create an independent, not-for-profit, national news service for the people of Wales, by the people of Wales.