News
Revealed: the appalling state of one of Wales' most historic buildings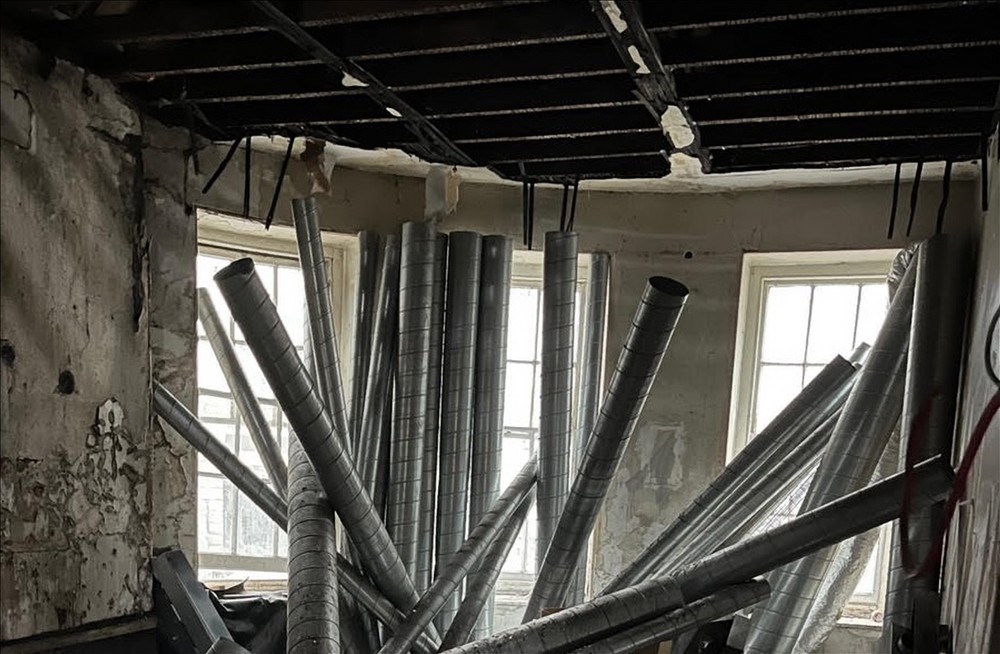 Martin Shipton
Shocking pictures taken inside one of Wales' most iconic buildings show the extent to which the fabric of Cardiff's Coal Exchange has been allowed to deteriorate.
At one time the hub of the city's coal export trade, our photographs show from the inside how part of the building is literally falling apart.
Much of the Coal Exchange has been turned into a hotel, employing around 80 workers, but some of the rooms are uninhabitable and there are sections where the roof has disintegrated. During our visit to the building this week, a dead bird was on a corridor floor.
Located in the Butetown district of Cardiff, the Victorian Coal Exchange is a Grade 2* listed building. More recently it was a music venue, but was forced to close in 2013 because the building's structure was no longer considered safe.
In 2016 it was bought by the Liverpool-based hospitality firm Signature Living, with financial assistance from Cardiff council. Ownership was passed to a newly created subsidiary company called Signature Living Coal Exchange, which devised an ambitious renovation programme and turned part of the building into a hotel.
However, the Signature Living group effectively went bust during the Covid-19 pandemic, leaving the Coal Exchange in limbo.
Its ownership is now complicated. A company called Eden Grove Developments, whose sole director is former Cardiff Labour councillor Ashley Govier, stepped in to rescue the building but a lease on it is held by a limited liability partnership headed by businessman Anil Rai, of Eastbourne.
Mr Rai, of Cardiff Exchange Hotel LLP, was previously a designated member [equivalent to director] of Focus Wealth Management LLP, whose licence to operate was revoked by the Financial Conduct Authority in 2015 after the firm failed to meet its financial commitments.
Focus Wealth Management LLP was struck off the Companies House register in 2019 after failing to file its accounts.

HMRC
Other documents show that earlier this year HMRC was pursuing the Exchange Hotel for unpaid VAT totalling more than £160k and unpaid employer national insurance contributions of more than £132k.
A further document shows that in April this year an insurance policy on the building was cancelled because the insurer had not been made aware that it was in a poor state of repair.
Mr Rai's LinkedIn profile states: "Anil has over 24 years experience in Wealth Management. During this time Anil has developed a business that offers a highly personalised service to high net worth individuals, helping them to understand complex issues in a way that is easy to understand.
"Over the past two decades Anil has developed relationships with many companies and individuals who offer professional services within the finance, accounting, law and tax sectors. Anil can draw on their knowledge and experience to help solve complex issues for his clients.
"In recent years Anil has developed bespoke investment solutions for high net worth individuals in order to maximise their tax position and to enable them to achieve higher returns. He works closely with HMRC to make sure the investments are in line with the Government's expectations."
We can, however, reveal how anger is mounting among Coal Exchange investors who thought they would receive a guaranteed return for participating in a scheme that saw them become the owners of hotel rooms they bought for up to £110k. The payments have now dried up, yet the firm leasing other parts of the hotel has in some cases been letting out their rooms to paying guests.
Shocking
One room owner, who did not want to be named, said: "What's going on is shocking. I decided to buy a room because it seemed an easy investment, but also because I thought my money would go towards restoring the Coal Exchange to its former glory. It's a beautiful building and I was excited to be part of it. I don't know what's going to happen now."
Another room owner, who in the same way spoke on condition that they weren't identified, also stated they had wanted to help the project to restore the Coal Exchange. But they added: "This has become a complete nightmare. There's no revenue coming back and I certainly don't want my room let out simply for the revenue to go into the leaseholder's bank account."
We have seen evidence of many thousands of pounds being transferred to Mr Rai's company.
We have also seen a court summons issued to Mr Rai's Coal Exchange Operations Ltd on September 4 for unpaid business rates and costs totalling £81,690.94.
This slideshow requires JavaScript.
Scandal
Nerys Lloyd-Pierce, chair of Cardiff Civic Society, said: "The condition of the building exceeds my worst nightmares. The damage is so extensive.
"This is so awful. The poor Coal Exchange is in an appalling state. It's terribly, terribly sad. I have never been able to understand why one of the most significant buildings in the history of Wales has been totally side-lined. In practically any other city in the world, the Coal Exchange would be seen as a building to cherish. Instead, here in Cardiff, it's been shunted from one disreputable operator to another.
"It really is a scandal on all fronts: the shocking state of the building, the people who invested in good faith and lost money, the inertia of the council and the Welsh Government, the indifference to its future."
Mr Govier said: "We are very concerned and are monitoring the situation closely."
Mr Rai did not respond to a detailed message.
---
Support our Nation today
For the price of a cup of coffee a month you can help us create an independent, not-for-profit, national news service for the people of Wales, by the people of Wales.