News
Starmer as PM could be a boon for Plaid Cymru says new leader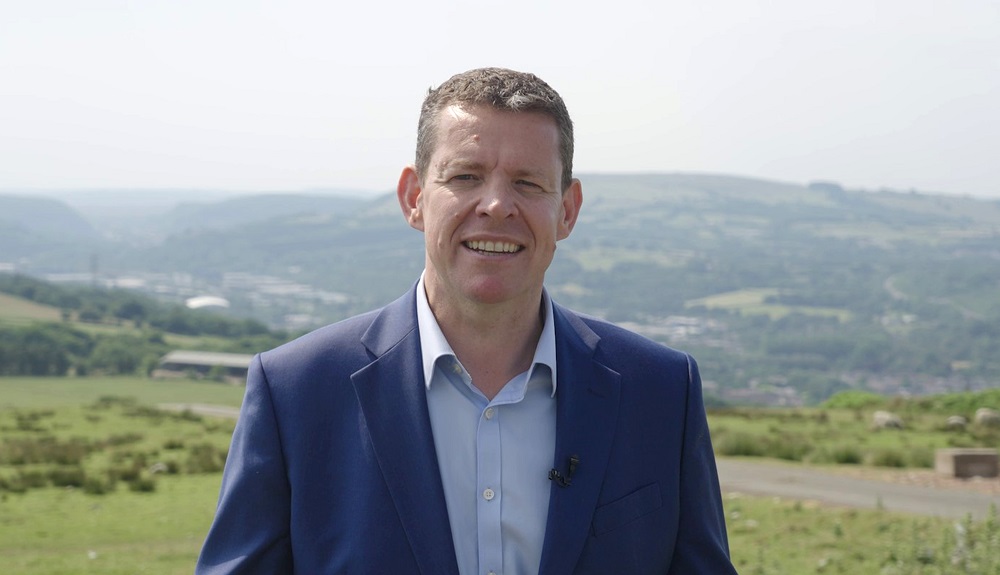 Martin Shipton
The likely victory of Labour at the next general election will change the dynamic of British politics and could provide Plaid Cymru with an opportunity to increase its support in Wales, according to Plaid's new leader Rhun ap Iorwerth.
Speaking to Nation.Cymru after the announcement that he had been elected unopposed, the Ynys Mon MS said: "Looking ahead to the impact of UK politics on us in Wales and in Plaid Cymru, we have had a disgraceful succession of Conservative governments. Boris Johnson's lies we all knew about anyway – it so happens that has come into a sharper focus than we could ever have imagined this week.
"But at the same time, we have a Labour Party that I don't think people yet understand what they actually stand for.
"We have to build a new trust in Plaid Cymru, in what our vision is for Wales and how determined we are to deliver that vision in an inclusive and ambitious way. Yes – I think there could be an opportunity for us. But having said that, let's not kid ourselves. The next general election could also be very difficult for us as a party, where you do have that polarisation of UK politics around red and blue and boundary changes as well."
When it's put to Mr ap Iorwerth that the opportunity could arise out of voters' estrangement from the Tories and quick disillusionment with an incoming Labour government that failed to deliver the improvements people wanted, he said: "I think that's right and it's part of why I am positive about the next few years for us as a party.
"People say this is a very difficult time to take over as a party leader and in some ways yes it is. But then again we do have on that political horizon opportunities open to us. But they're not just going to land on us. We can only turn those opportunities into actual benefits for Wales by securing more representation for Plaid in the Senedd, maximising our influence here if we go out and do that work. That's what I start doing today."

Stitch ups
It was also suggested to Mr ap Iorwerth that Plaid could increase its membership by appealing to current and former members of the Labour Party who are unhappy with the party's drift to the right under Keir Starmer's leadership and the belief that stitch-ups are taking place to eliminate candidates whose faces don't fit. He responded: "Of course. When I set out to win in Ynys Mon in 2013, I wasn't limiting who I wanted to appeal to. I have my values that are unswerving, but I believe they are values that can be attractive to people across a broad spectrum. I'm a politician on the left of politics, but within that left we have many other elements.
"What's key for me is that whatever people's views are around those core values, I want them to feel they have a home in Plaid Cymru. When I talk about the unity that I'm looking for in the party, it is that unity where everybody knows their ideas are valuable, that they feel empowered to contribute to the work of the party and you're always looking to bring new people in. That is literally what it is all about."
Previous Plaid leader Adam Price's route map to Welsh independence entailed leading a government after the 2021 Senedd election, proving it could run Wales competently and having a referendum towards the end of a second term in power. That clearly didn't work. What's Rhun ap Iorwerth's plan?
He said: "I've always been driven by a vision I have very clearly of what Welsh independence could be. I don't think we will ever come close to reaching our potential as a country until we become independent. And let me be clear – I would be independent tomorrow because I have that confidence in Wales. But I'm a pragmatic politician as well. I want us to be a home and we are for so many of the people who are as confident as I am in independence.
"I want us to be home and we are for so many who are curious about independence, who can see that there might be something in this. But whenever we talk about independence, describing that vision of an ambitious and a green and a fair and an equal Wales, we have to remember that we need more people, and we need to spark that curiosity in others. It means us putting on the table what people can believe in, which is why I'm not talking about a timetable in quite that way. It doesn't mean that my ambition is any different to Adam – there's nothing between Adam and myself on our ambition for independence. But I do absolutely believe in, you know, putting our hand around people's shoulder, holding hands or just listening, whatever it is, and bringing them with us on that journey."
Asked what he made of the idea put forward by another of his predecessors, Leanne Wood, that Plaid should have a woman leader, Mr ap Iorwerth said: "Of course. And in particular around the Nerys Evans report [into sexual harassment and bullying in the party] a number of people voiced their opinions that now would be a good time to have a woman leader. We've had in Leanne a wonderful party leader. We will have other leaders of Plaid Cymru who are women in the future.
Powerful women
We already have incredibly powerful women leaders of Plaid Cymru in Liz Saville Roberts at Westminster and in Llinos Medi at Anglesey council. I genuinely believe that Plaid is about collective leadership anyway. What I want to do is empower women and to ensure that they feel empowered to take on those leadership roles at all levels, be that as a leader among community activists or on a local council, in the Senedd or Westminster or as the party leader, we absolutely have to do that, yes."
Told that some party members were concerned about factionalism in Plaid Cymru, with supporters of Leanne Wood referred to as "Leannistas", for example, as well as quite a bit of antagonism between individuals and factions, Mr ap Iorwerth said: "It's called politics! I had a very, very good relationship with Leanne when she was leader of the party. There was a difference of emphasis on some policies. Goodness me – show me any party where there's total unity on every policy. I'm serious about unity and I think the party is serious about it. And I do want us to talk about values – the values that join us.
"There's nothing between Leanne and myself in terms of our values: the need to make sure that we create an equal society where opportunity is levelled for everybody, where life chances are the same and that we redistribute wealth and opportunity, that we build a strong economy that's strong and fair. These are the values and what I will always do is ask us as a party to remember those values and work together, while celebrating in many ways the differences of opinion. That's how ideas are created. That's not something that scares me, it's something that shows I'm in a serious political party."
Economic policies
Asked whether Plaid was likely to put forward new economic policies, Mr ap Iorwerth said: "Absolutely. I'm passionate about it. We're not reaching our potential in any way as a country and I do believe we have so much more to offer .In economic terms – I'm not going to talk about who's going to be in the team and doing what, but I have already had conversations about my determination and their determination to have a very clear economic policy in place taking us forward.
A strong economy means equality of opportunity, it's part of the anti-poverty agenda, it's at the heart of the new Wales I want to build."
Asked whether he could possibly be thinking of Adam Price, a trained economist, for such a role, Mr ap Iorwerth chuckled, paused and said: "I haven't made decisions on who takes what brief and that kind of thing yet. I became leader an hour ago. Give me a little bit of time.
"Adam has and will play a hugely important role in the future of Plaid. My guiding principle in having a look at how we work together as a team in the Senedd is to ensure that everybody feels that they have a role to play. That clearly includes Adam and all the others who are a team."
---
Support our Nation today
For the price of a cup of coffee a month you can help us create an independent, not-for-profit, national news service for the people of Wales, by the people of Wales.