News
Richard Madeley tucks into squirrel burger as Welsh Game Fair row reaches Good Morning Britain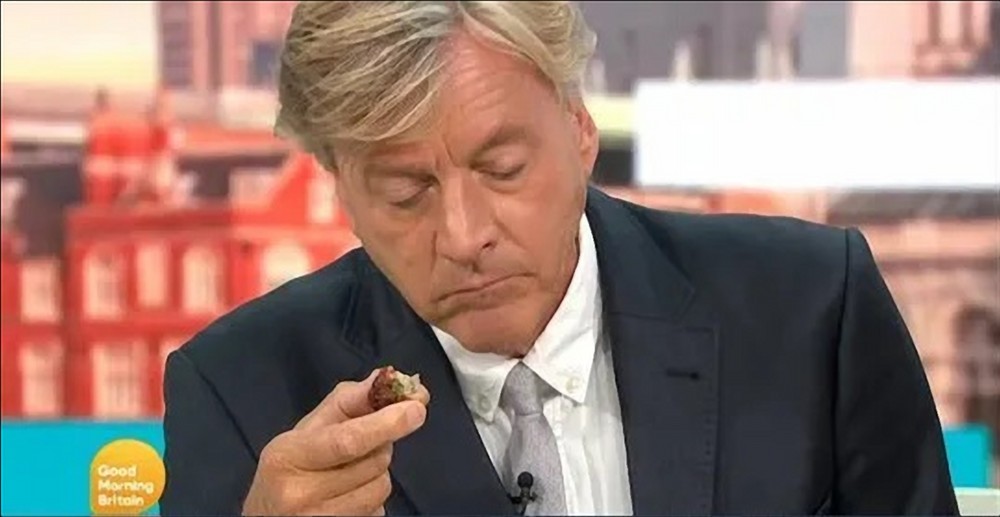 TV presenter Richard Madeley ate a squirrel burger live on air during Good Morning Britain during a debate on the idea of serving the patties made with grey squirrels at the Welsh Game Fair at the Faenol Estate in Bangor next month.
They will be served by celebrity farmer and influencer, Gareth Wyn Jones, in the pop up restaurant, Cwtch Kitchen, at the event that's expected to attract 20,000 countryside lovers.
They featured the story after Gareth suffered a huge online backlash over the idea.
Richard Madeley's verdict was "It taste not unlike a chicken burger, actually."
He was co-hosting the show with Kate Garraway, who was wary of trying the burger because of her fondness for Beatrix Potter's character, Squirrel Nutkin.
'They don't need to be culled. There is a humane solution to every problem, there are vaccines and oral contraceptives'

'The greys are carrying a pox which are killing the reds. They're killing a lot of little birds and song birds'

Is it wrong to eat squirrel burgers? pic.twitter.com/k8bNSmckVP

— Good Morning Britain (@GMB) August 28, 2023
The burger was made up of 80 per cent squirrel and 20 per cent pork with three squirrels needed per burger, with the squirrels being supplied by Willo Game in Norbury in Shropshire.
The tasting was part of the debate between Gareth, a star of the television series, The Family Farm who farms at Ty'n Llwyfan in the foothills of the Carneddau Range above Llanfairfechan, in Conwy, and Eliza Allen, from the animal rights organisation, PETA.

Grey squirrel
Gareth said: "It's a grey squirrel, it shouldn't be in this country and it's causing our red squirrels to be taken out of the equation.
"Every single one of these grey squirrels we're eating is going to give room to the red squirrel.
"We've got a big game fair coming to North Wales and my mate James (event organiser James Gower) said 'come up with an idea' to promote it.
"So by promoting shooting and taking grey squirrels out of the equation we're going to help the reds but as well we're going to have a tasty little meal.
"We're going to have a burger that's very healthy and it's going to be very nutritious.
"There's three squirrels in that ( the burger) so it's 80 per cent squirrel and 20 per cent pork because we need the fat because it's a very lean meat."
Eliza Allen from the animal rights organisation, PETA, said: "Most of us love seeing squirrels in trees at the park not on a plate.
"What Gareth is talking about involves quite literally blasting the brains out of these animals or trapping them and bludgeoning them to death.
"No matter how you slice it or dice it, that's cruel. It's totally unnecessary. We don't need to kill animals in order to eat them. Animals are not burgers or sausages. They're living beings that deserve to live."
When she suggested that grey squirrels should not be culled and that vaccination or oral contraception should be used instead, Gareth hit back: "That is the biggest joke I've ever heard. We've got to protect our red squirrels. They're beautiful. They're in danger Come to Anglesey, come to see them.
"I've got a million people following me on my social media, so there is people going to against it. But don't mislead people into saying that we're just blasting them out of the trees. They're being caught as well in traps.
"You can call them anything you want but we have to take them out of that equation. They carry the pox, the greys, that are killing the reds.
"These grey squirrels are killing lots of little song birds, they are chewing saplings in forestry."
Activities
Apart from the culinary delights of the Cwtch Kitchen, there is a full programme of activities over two days at the game fair on famous estate above the Menai Straits which hosted the Royal Family for the Investiture of King Charles as Prince of Wales at nearby Caernarfon in 1969.
At the heart of the event is the main arena which will stage a rolling programme of events and displays including demonstrations by the Clwyd Axemen and wildfowler Chris Green, the Cornish Countryman, and teams of spaniels and retrievers battling it out in the Four Nations International.
Angling is well represented and compered by world champion Hywel Morgan, son of the legendary Moc Morgan, and an internationally recognised expert in his own right who will also be hosting the UK Casting Championships.
Rural issues of the day will be addressed in the Countryside Conversations Theatre while there's also the chance to get hands-on at a range of activities including archery, fishing, airgun shooting, clay pigeon shooting and gundog handling and to learn how to survive in the wild with bushcraft master Huw Jones of Ynys Twca.
The event is also an important fund-raiser for countryside charity the Game and Wildlife Conservation Trust – a 92-year-old charity that conducts vital research into Wales's most vulnerable species and a major retail event with 150 stands including major clothing and equipment brands alongside small independent retailers and artisans.
Celebrate
James Gower, chief executive of Stable Events which organises the show, alongside The Game Fair and the Scottish Game Fair, said they're aiming to double last year's attendance figures and get 20,000 people through the gates this time.
He said: "Our aim is to celebrate everything that is best about the countryside and rural pursuits, including the wider benefits of conservation and field sports.
"We'll have gundogs, clay shooting, archery, fishing, food and falconry – not to mention the amazing shopping at the wide range of stalls.
"Over the two days we have a jam-packed itinerary of displays, demonstrations, have-a-go attractions and exhibitors."
The Welsh Game Fair is open each day from 9am to 5.30pm with free parking and children under eight admitted free. For more on the Welsh Game Fair go to https://www.welshgamefair.org/
---
Support our Nation today
For the price of a cup of coffee a month you can help us create an independent, not-for-profit, national news service for the people of Wales, by the people of Wales.