News
Right-wing extremist groups plan march through Swansea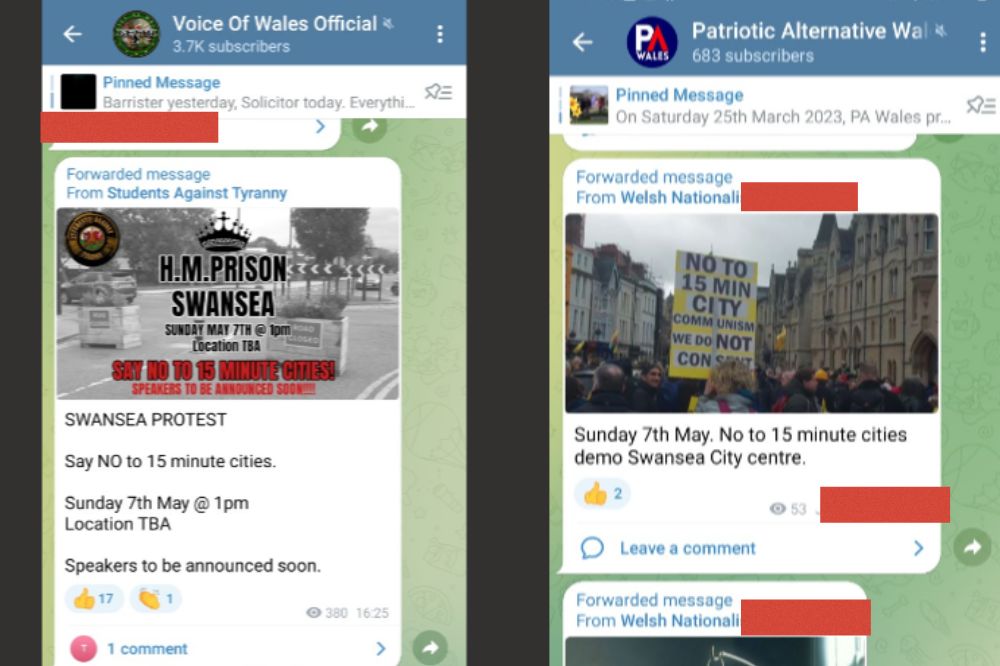 Leaked messages have revealed that multiple far right extremist groups will come together to march through Swansea in a protest against '15 minute cities'.
Voice of Wales, Welsh Nationalists, Patriotic Alternative Wales and Students Against Tyranny have all sent invitations via an encrypted messaging service to their members about a planned protest in Swansea town centre on May 7.
The leaked messages reveal the demonstration will be in support of the 'No to 15 minute cities' conspiracy theory and will begin outside Swansea Prison.
The '15-minute cities' concept has gathered pace in recent years as local governments try to find ways to cut down on carbon emissions and traffic with some people believing it is a plot to remove rights and stop people from leaving their neighbourhood.

Banned
Far right media outlet, Voice of Wales sent details of the protest to their members via their Telegram group chat channels.
Voice of Wales had its YouTube channel permanently banned in 2021 for breaching terms of service following accusations of racist and unacceptable language.
The group's leaders, Dan Morgan and Stan Robinson were arrested earlier this year for aggravated trespass after staging an anti-vaccine protest at a vaccination centre.
The group strongly opposes the net zero target and have more recently focused heavily on asylum seeker accommodation in Wales, regularly publishing footage of hotels housing migrants.
Students Against Tyranny also posted the Swansea protest invitation to its members indicating the rally would include guest speakers.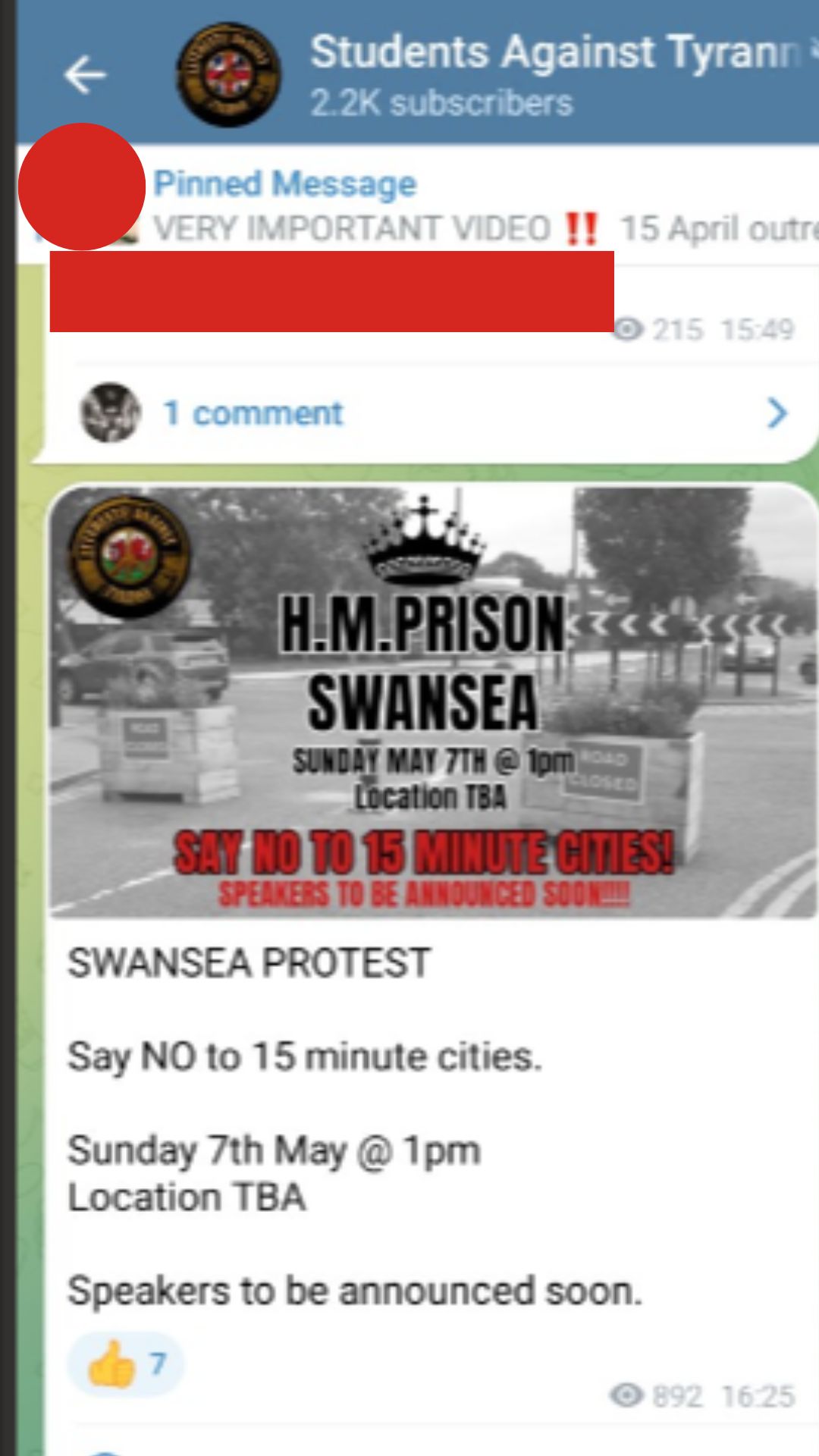 Network
The group has been involved in organising university demonstrations across the UK with topics that include climate change denial and support for the supposed "victims" of vaccination.
Although small in size, the group has been backed by Voice of Wales and its network spans Telegram channels across the UK.
Patriotic Alternative Wales is also planning to take part in the Swansea protest and has been described at the UK's most active fascist organisation, infiltrating Facebook community groups, staging anti-migrant protests and leafleting communities that provide asylum seeker accommodation.
The group recently sent leaflets to a community in Llantwit Major in February after Vale of Glamorgan Council announced that temporary houses for refugees would be built on the site of a closed-down primary school.
The leaflets promoted a protest against the development and read: "Llantwit says no to a migrant camp" and: "No more migrants – Wales is full".
David Lawrence, Senior Researcher at Hope Not Hate said: "Patriotic Alternative remains small, with an active membership in the low hundreds, and is desperate for relevance. As a result, it downplays its extremism when dealing with the public and tries to co-opt existing local concerns as their own.
"Because Patriotic Alternative is highly active and relatively well organised there is a risk it may succeed in inflaming local tensions, growing its brand in the process. However, the large majority of the public would run a mile if PA was honest about what it stands for – crank conspiracy theories and a fetish for the Third Reich."
Far right extremist group the Welsh Nationalists also sent an invitation to the Swansea protest organised for May 7.
Above the invitation, an image of a white child sat amongst black children can be seen in the thread with the caption: "If only you knew how bad things really are."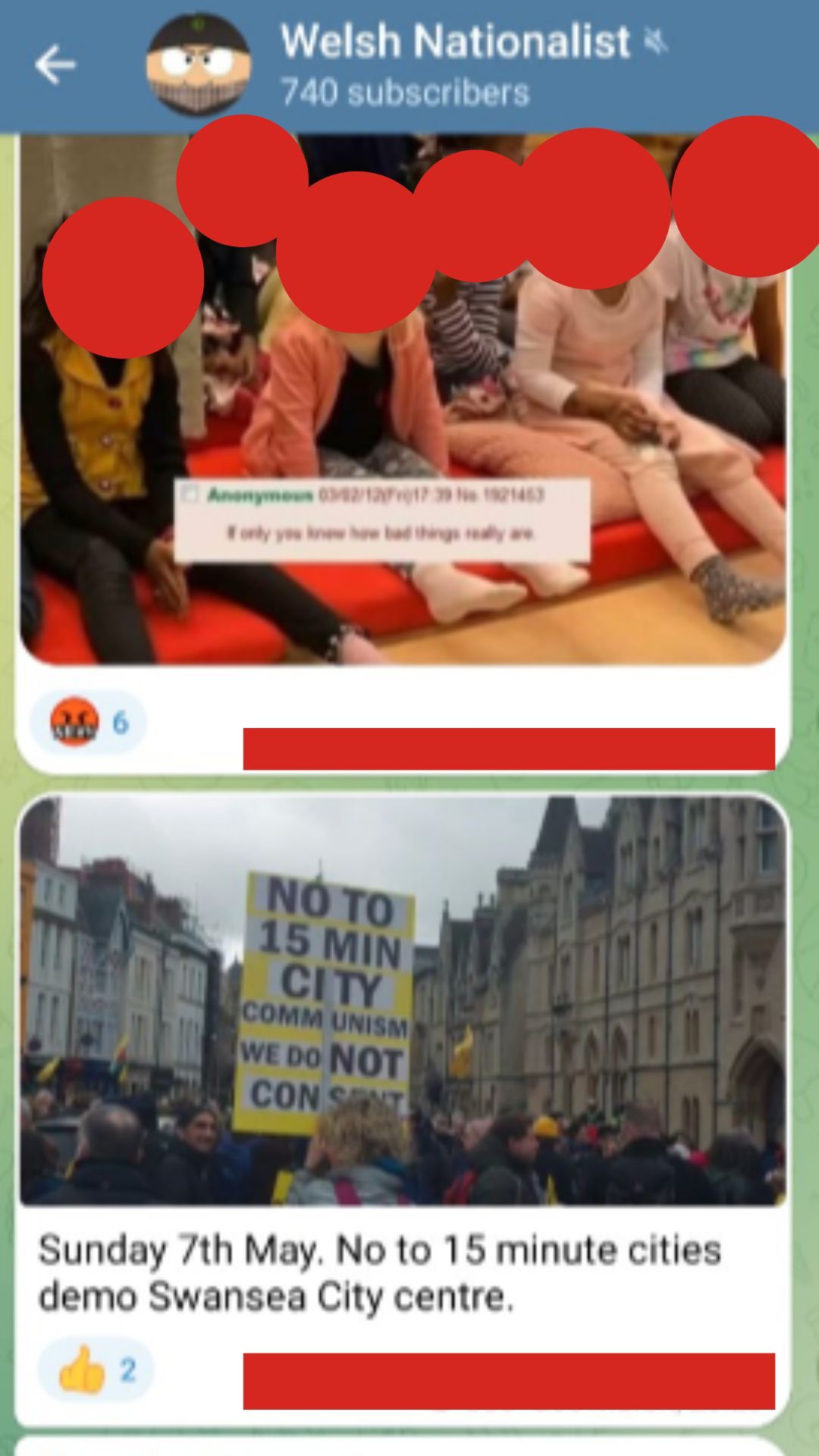 Protest
David Lawrence, Senior Researcher at Hope Not Hate said: "Campaigning against 15 minute cities is proving to be another avenue for far right activity.
"The majority of people campaigning against new traffic measures don't step into harmful territory and would be appalled to discover the hateful motivations behind fellow protestors.
"However, the far right and their conspiracy theorist friends base their arguments on fundamentally antisemitic ideas of shadowy global elites controlling events from afar."
Chief Inspector Declan Cahill of South Wales Police said: "We are aware of a demonstration which is planned to take place in Swansea City Centre on Sunday 7th May.
"Officers will be on duty to facilitate a peaceful demonstration and prevent disruption to the wider community."
Swansea Council declined to comment.
---
Support our Nation today
For the price of a cup of coffee a month you can help us create an independent, not-for-profit, national news service for the people of Wales, by the people of Wales.