News
Rival groups prepare for dogfight over the future of Swansea Airport
Richard Youle, local democracy reporter
Rival groups prepare to battle over the future of Swansea Airport.
The airport is owned by Swansea Council and currently operated by a company called Swansea Airport Ltd, which wants to renew its lease.
But two groups have come forward with proposals to take over the running of the airport, claiming it  could be operated differently and that they believed they could make it more viable.
Swansea Airport Ltd said it subsidised the airport and that significant improvements have been made following management changes.
Meanwhile the Local Democracy Reporting Service has been told that another group of individuals has instigated a legal challenge seeking to prevent the council issuing a new lease to Swansea Airport Ltd.
The council said it would not comment publicly due to ongoing legal matters.
The airport, which dates from the Second World War, has been used by private aircraft pilots, flying schools, air cadets, sky-diving operators and Wales Air Ambulance – now based in Dafen, near Llanelli – over the years.

Safety concerns
Its operating licence was suspended in 2019 following an inspection by the Civil Aviation Authority (CAA), which identified safety concerns. Specialist aviation consultants were brought in.
A group called Swansea Airport Stakeholders Alliance, representing users of the facility, was set up in 2021. It said it was disillusioned with the airport and that it wanted to run it as a not-for-profit venture for the wider benefit of Swansea. It said investment was waiting in the wings.
The alliance has raised concerns over the closure of the airport's cafe and the airport being open for five instead of seven days a week. It has urged the council not to renew the lease with the current operator and make a fresh start instead.
"The alliance wants the opportunity to enter meaningful discussions with the council about its vision for the future and to work in partnership to achieve it," it said. "Swansea Airport should be a jewel in the crown of Swansea."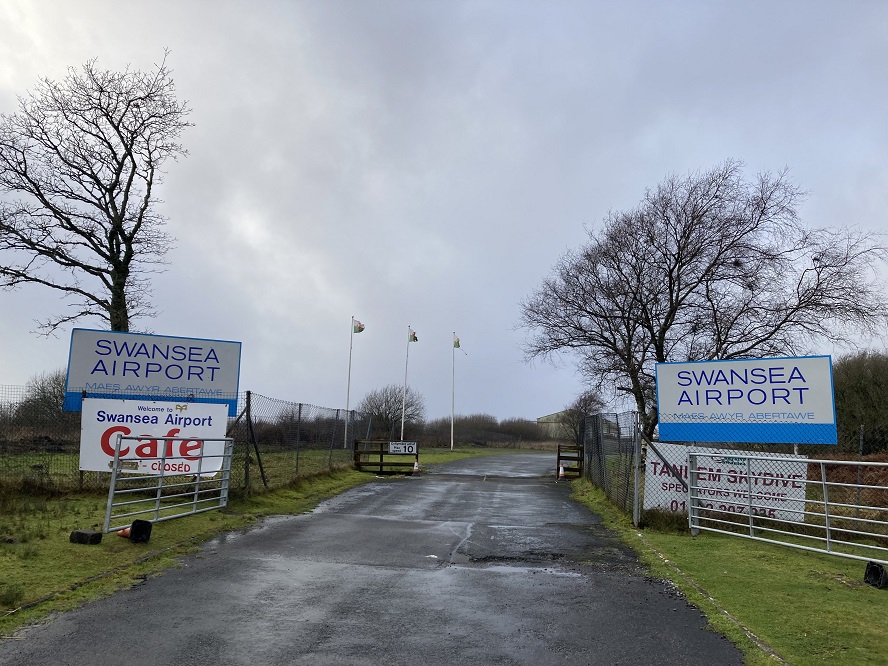 Separately, a businessman called Jim Blyth, who leases aircraft at the airport, said he has presented alternative proposals to the council. He said he felt his commercial plans were more viable than the alliance's not-for-profit approach.
He said he'd helped the alliance draw up their proposals, and that he'd resigned from it because he wanted a free hand to develop and submit his own. Mr Blyth also said he was disillusioned with the airport and that he felt a lease should be given to a new operator.
The director of Swansea Airport Ltd, Roy Thomas, said he had sunk a lot of money into the facility, which has two runways and is currently licensed by the CAA , since taking over the lease.
He said: "The airport has been substantially upgraded during the last two to three years."
Mr Thomas said there had been management changes, and that he was working on proposals which could result in scheduled passenger flights. He said the cafe would reopen by the end of March, and that he planned to open a new cafe-bar with a balcony for the public on the first floor of the airport tower. Longer term he said he would like to add log cabins for tourists on land at the airport.
Maintenance
Mr Thomas, who also runs Bay Studios, off Fabian Way, said maintenance was carried out at the airport on the two days of the week it wasn't open, but that it would open for seven days if there was demand.
He said Swansea Airport Ltd had lease renewal rights, and questioned whether those bidding to take the airport over would gain a licence to operate it.
An aviation industry group called the General Aviation Awareness Council, said it was concerned about a reduction in use of Swansea Airport and called on Swansea Council to award a lease to a new operator.
Meanwhile, the All Party Parliamentary Group for Aviation, which represents general and business aviation, said airports like Swansea were essential for flight training, connectivity, engineering skills and economic growth and that they had to be improved and upgraded, particularly with the growth of unmanned aerial vehicles.
A spokesman for Swansea Council said: "We don't plan to comment publicly about this matter at present due to ongoing legal matters."
---
Support our Nation today
For the price of a cup of coffee a month you can help us create an independent, not-for-profit, national news service for the people of Wales, by the people of Wales.