News
Roads facing speed limit cut 'already have average driving speed of just 21.5mph'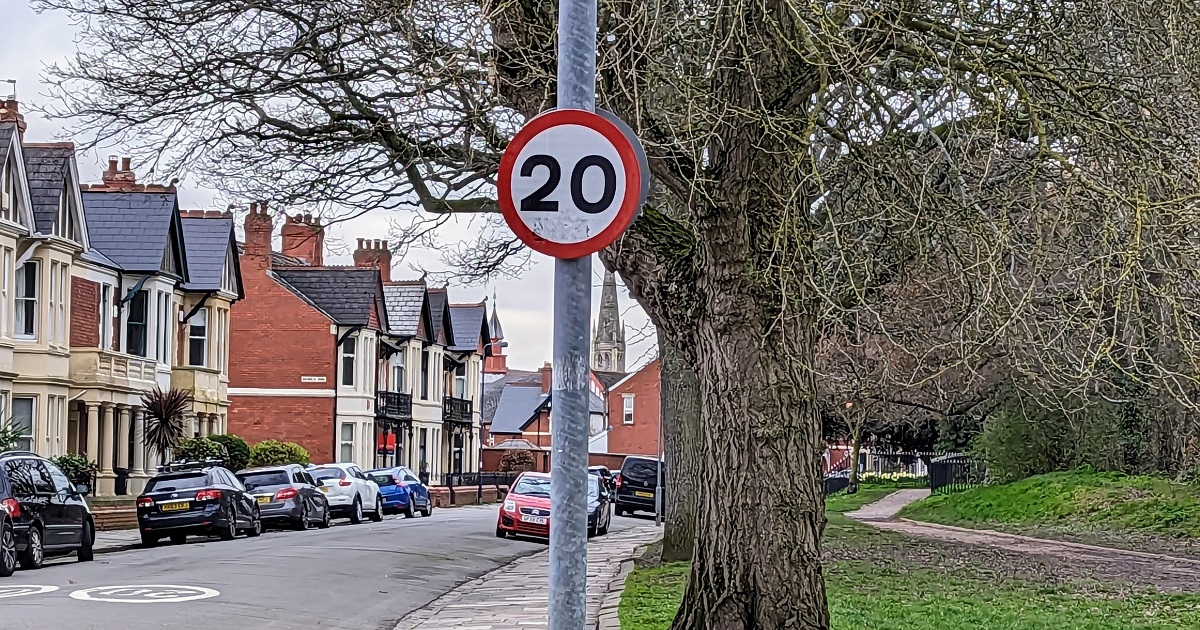 Martin Shipton
An analysis of traffic movement on Welsh roads earmarked to have their speed limit cut from 30mph to 20mph from September 17 has concluded that the current average driving speed on them is as low as 21.5mph.
The Welsh Government's policy change has proved highly controversial, with First Minister Mark Drakeford defending it as a major step forward for road safety, while opponents have suggested it will be unworkable and will cause serious damage to the Welsh economy, with deliveries of goods and services being held up.
The survey findings throw new light on the row.
Independent research undertaken by Agilysis, a leading transport safety consultancy, involved examining data from millions of journeys taken in September 2022 on nearly 500km of roads in 10 towns and cities across Wales. Data was collected automatically from new cars whose movements are monitored by manufacturers and shared with location technology firm TomTom.
Further data is being collected this week, the last one with the speed limit still at 30mph, as well as next week, when the lower limit comes into force. An updated report will be published once the results have been analysed.
Richard Owen, the CEO of Agilysis, told us: "We are focussing on busier roads, rather than residential streets to detect any changes in speed profiles and median speeds.
"Our analysis of 72 million traffic counts in September 2022 has shown that average speeds on the 492km of 30mph roads in the study area are 21.5mph.
"Only 2.9% of roads, by length, have speeds at or above the current speed limit, which may be a surprise to many. Average speeds on 43.2% of roads by length are already at or below 20mph.
"Journey times in our towns and cities vary according to traffic, and along a single stretch of road speeds will go up and down. The average of these speeds is therefore much lower than many people would expect."

Transport data
Agilysis are experts in the analysis of transport data and have carried out many research reports for clients such as the World Bank, World Health Organisation, National Highways, and local authorities in the UK. As TomTom's UK partners the company says it is in a unique position to provide analysis which will precede the official Welsh Government report by several months.
Mr Owen said: "On September 17 the default urban speed limit in Wales will change to 20mph from the existing 30mph on 'restricted' roads – usually those with streetlights. Although many towns and cities have introduced 20mph limits on a case-by-case basis, this is by far the most widespread change seen on a single day in the UK.
"The success of this legislation will be judged in many ways including long-term casualty reduction, increases in cycling and walking, and reduced vehicle emissions. There are also potential negative influences including increased travel times.
"Critical to the potential for success is an observed change in vehicle speeds, with drivers reducing speeds to match the new limit. Evidence from the Department for Transport shows that, on free-flowing roads, 84% of cars exceed the limit, although it is recognised that the roads surveyed are not representative of most 20mph roads in the UK.
"Previous analysis of vehicle speeds following a change in speed limit showed a 0.7mph drop in vehicle speeds post-implementation. Recent schemes, notably that in Scottish Borders, illustrated much greater reductions of around 3mph in mean speeds.
"Our analysis combines speeds on roads throughout the towns and cities, some of which may be slower and others faster. That's what brings the average down. Also, remember that we are including time spent turning at junctions and waiting at traffic lights, which means it's a fairer representation of true travel times around Wales. The idea that everyone is currently going around at exactly 30mph everywhere is misleading.
"These reductions may seem small compared with a speed limit of 20mph, but the reality is that driven speeds on most 30mph roads are already well below the limit. In the Scottish Borders example, speeds were a little over 25mph prior to the change. On free-flowing, wide urban distributor roads traffic speeds are expected to be higher, although many of these roads will remain at the 30mph limit following reviews by individual highways authorities in Wales, which have the powers to set limits higher than the new default 20mph."
Weekdays
Mr Owen said speeds had been analysed on weekdays only between 6am and 6pm. He said: "It would have been possible to define alternative periods but we felt that this selection most closely represented drivers' experiences of road traffic.
"We wanted to select parts of larger towns and cities that will provide a good sample of roads. Roads have been selected based on the speed limit stated in the TomTom database, which has been cross-referenced against other sources including DataMapWales and www.speedmap.co.uk. Only roads that are changing from 30mph to 20mph will be included in the data.
"Minor local roads including quiet residential roads have been excluded from the analysis as there will not be sufficient sample sizes for the time periods selected.
The roads included in the survey are in Cardiff, Newport, Swansea, Wrexham, Rhyl / Prestatyn, Merthyr Tydfil, Lampeter, Bangor, Haverfordwest and Newtown.
"It would be considered unlikely that speeds on these roads will change significantly following the move to 20mph. Reviewing changes in speeds and the percentage of roads at the higher end of the scale will form an important part of the analysis.This allows us to observe if there have been any changes in speeds in the period running up to the change. It is possible to review the speeds by location. Speeds in Bangor and Newtown are already below 20mph for the majority of roads by length. Haverfordwest and Newtown are the only places where those speeds are above 22mph."
Asked whether reducing the speed limit was worth it, given that average driving speeds on the roads affected were only 1.5mph above the new limit, Mr Owen said: "Even a reduction of 1mph makes the roads safer, increasing people's chance of survival if they are hit by a car."
---
Support our Nation today
For the price of a cup of coffee a month you can help us create an independent, not-for-profit, national news service for the people of Wales, by the people of Wales.