News
'Rogue builder' UKIP chairman is now a magistrate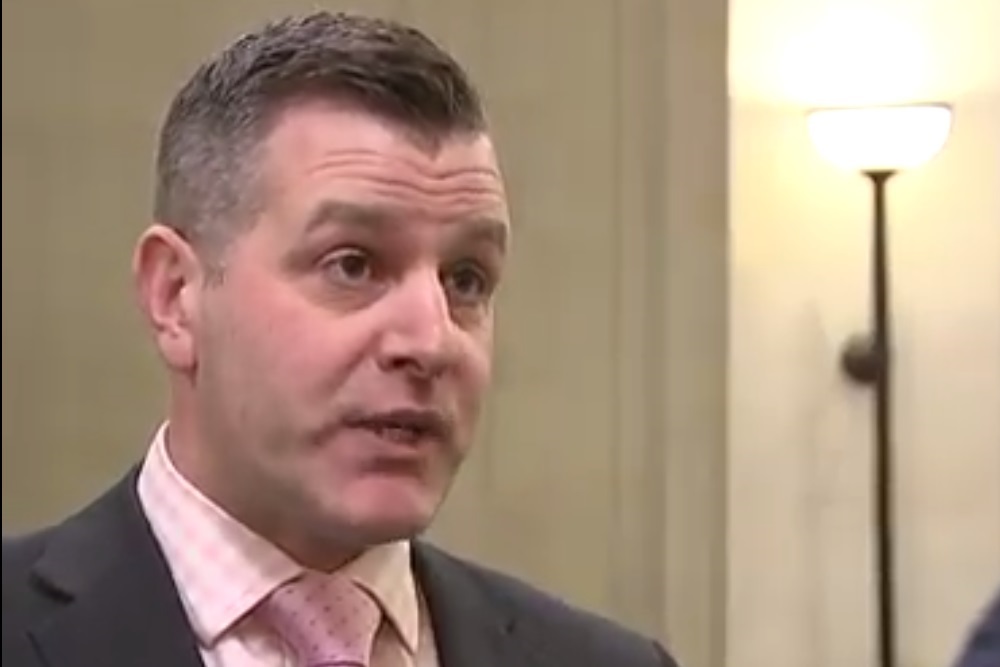 Martin Shipton
The national chairman of UKIP – the UK Independence Party – which is holding its annual conference in Newport, is a convicted "rogue builder" who now sits as a magistrate in the west of England, we can reveal.
Ben Walker, a former member of South Gloucestershire Council who also stood unsuccessfully as a Parliamentary candidate in the 2015 general election, was ordered to pay more than £11,000 after being found guilty of five breaches of building regulations at Bristol Magistrates Court in 2019. He was fined £2,000 for each conviction and in addition had to pay costs of £1,519.18 and a victim surcharge of £170. The case went ahead in his absence.
South Gloucestershire Council prosecuted Mr Walker – a builder trading as Monkeyfist Construction of Bradley Stoke, near Bristol – after he was found to have ignored building regulations and carried out unsatisfactory work at a property in Yate, South Gloucestershire.
The court heard that Mr Walker carried out building work to extend a property in Yate and had assured the homeowners that he could deliver the project within their budget before Christmas 2017. However, after some months, the homeowners noticed little progress given the length of time that had passed and the amount of money paid by them to the builder.

Serious failures
The homeowners sought the advice of an independent builder, which ultimately led to alerting South Gloucestershire Council's building control team that no application had been made for the work. A number of serious failures were found with the construction design and build, which required significant remedial work to ensure the stability and weather resistance of the building.
Cllr Paul Hughes, South Gloucestershire Council's cabinet member responsible for Communities and Tourism, said at the time: "This case demonstrates the importance of ensuring the correct route is followed when undertaking any building work. Construction is a complex arena where unscrupulous individuals can take advantage of customers' unfamiliarity with legislation, and profit from cutting corners. If a contractor, homeowner or member of the public are not sure of their responsibilities then they should contact our building control team and we will offer help and guidance to all of our residents."
It has emerged, however, that Mr Walker has since been appointed as a magistrate.
Justice of the Peace
A source contacted us with details of his convictions and the fact that he was now putting the initials JP after his name, indicating that he was a Justice of the Peace, an alternative title for a magistrate. The source questioned how an individual who had been convicted of offences in court could become a magistrate.
In an email to party members headed Ben Walker JP, National Party Chairman, Mr Walker wrote: "Despite the 'loony left' trying to cancel our party conference, UKIP members are invited to descend on Newport, Wales on Saturday October 14 2023. This is our 30th anniversary conference and we need as many members as possible to attend and celebrate with friends and be part of what will be our best conference yet."
Among the speakers will be party leader Neil Hamilton, a former MS who represented Mid and West Wales from 2016 to 2021.
When we asked the Ministry of Justice to comment, we were sent a lengthy official document covering issues like the appointment of magistrates. It included a section which said: "The Senior Presiding Judge will not appoint anyone in whom the public would be unlikely to have confidence.
"When considering candidates who have been the subject of any order of a court, whether civil or criminal, Advisory Committees need to consider the nature of the matter; how long ago it occurred; any penalty or order; the seriousness of any offence; and any subsequent behaviour or further offences.
"If the Advisory Committee decides to recommend a candidate with convictions … it must set out its reasons in the appointments' submission. A candidate who shows a disregard for the law must not be recommended for appointment."
When we sought further clarification relating to Walker's appointment, a Ministry of Justice spokeswoman sent us a statement which said: "People applying to become a magistrate are rigorously assessed before being appointed by the Senior Presiding Judge.
"Anyone with a previous conviction faces additional robust scrutiny but it is right that people who have long turned their backs on crime have an opportunity to pay society back by volunteering as a magistrate. Applicants will not be appointed if their offence impacts public confidence in their work."
The following points were also made:
* If the Advisory Committee – which manages the recruitment of magistrates – does consider recommending the appointment of a magistrate with a previous offence, they have to look carefully at the nature and seriousness of the offence and any subsequent behaviour.
* Any applicant who has a previous offence must disclose this to the Advisory Committee. If they decide to recommend the applicant, any offences will be flagged to the Senior Presiding Judge, who makes the final decision on appointment.
* Having been convicted of a previous offence does not automatically exclude someone being appointed as a magistrate.
* Following a specified period of time – which varies according to the disposal administered or sentence passed – all cautions and most convictions resulting in custodial sentences of up to and including four years, may become spent, which means the individual is treated as rehabilitated in respect of that offence. For those receiving fines (as in this case), their conviction becomes spent after one year if they are over 18.
* When working, all magistrates are supported by trained legal advisers.
When we asked Mr Walker to comment, he took issue with the use of the word "convicted", despite the fact that it was used by the local authority which prosecuted him.
He said: "I was fined. Never convicted. If I was convicted, I would have a police/court record. I don't. I certainly don't advertise my position."
---
Support our Nation today
For the price of a cup of coffee a month you can help us create an independent, not-for-profit, national news service for the people of Wales, by the people of Wales.