News
Scotland can be independent in five years, say SNP leadership candidates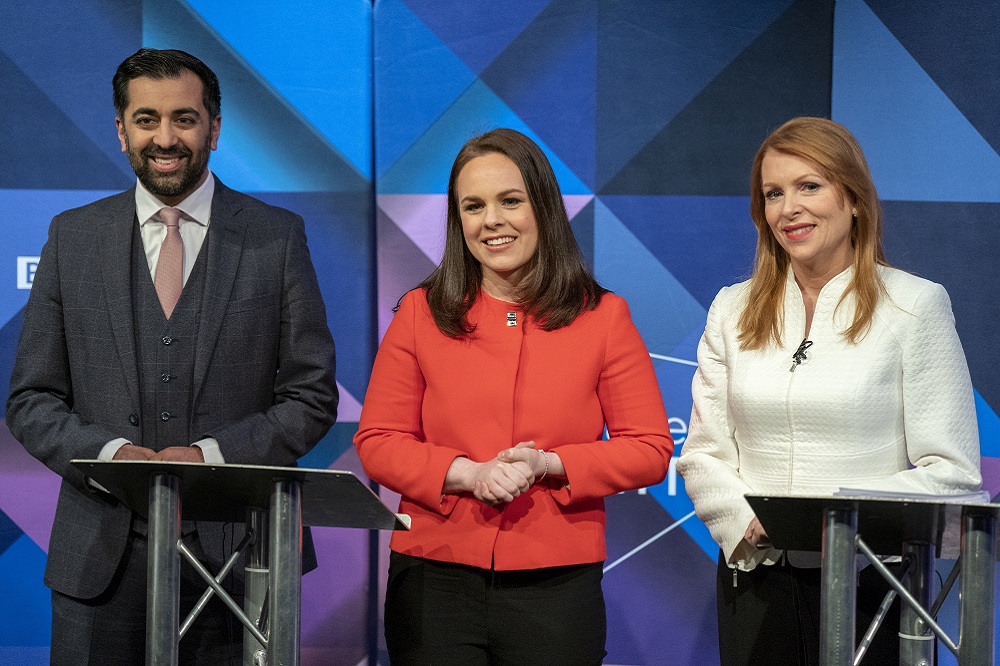 The candidates to replace Nicola Sturgeon in Bute House have agreed that Scotland could be independent in five years.
In a wide-ranging debate on the BBC – the last televised event before the winner is announced on March 27 – Kate Forbes, Ash Regan and Humza Yousaf all agreed the country could leave the UK by 2028.
Ms Forbes and Ms Regan were unequivocal in their answer while Mr Yousaf said he believes "it can be".
Ms Forbes said: "Yes. I think it starts with us making the case that I talked about before."
Ms Regan said: "I believe if I'm first minister, Scotland will become independent within five years."
The former minister went on to say she believed independence to be "urgent" because of issues like Brexit and rising energy costs.
Mr Yousaf said: "I believe it can be and I would want to be the one who delivers independence."
Mr Yousaf went on to say the SNP should "stop talking about process and talk about policy" in a bid to "inspire people with a vision for independence".

Referendum
Both Ms Regan and Ms Forbes, when asked by an audience member, said they were not in favour of a confirmatory referendum to approve a final deal on independence while Mr Yousaf indicated he was not fully against the idea – which became part of the Brexit debate in the years after the vote to leave the EU – but was interrupted by the host before he was able to complete his answer.
The candidates were also quizzed on the Scottish Government's deposit return scheme (DRS), which has come under fire over its delivery in recent weeks.
Ms Regan and Ms Forbes have both said they would pause the scheme while the Health Secretary has pledged to create an exemption for small businesses.
Ms Regan said: "We can't be putting too many burdens on small businesses.
"We need to look again at this, we need to involve small business, to come and talk to us about where it needs changed, get it right and then implement it."
Ms Forbes also said small businesses needed a "bit of breathing space".
Mr Yousaf said he would not "slag off" Lorna Slater, the Scottish Green minister responsible for bringing in the initiative.
He said small firms, such as craft breweries and gin makers, should be excluded from it for its first year but added: "I can't see any point in pausing the scheme when the big boys, the Coca Colas, the Pepsis of this world, they are already taking part in about 40 DRS schemes across the world.
"So, let's not let them off the hook."
However, the Finance Secretary accused Mr Yousaf of "pretty desperate spin" in labelling her position on the scheme to "letting big business off the hook".
"I think it's perfectly progressive to represent small businesses, because small businesses are indeed the backbone of our Scottish economy," Ms Forbes said.
"That is not a lurch to the right, that is pretty desperate spin."
Climate
Responding, Mr Yousaf said: "I think you're appealing to big business by letting them off the hook in a really important scheme, because climate is so important to all of us."
Elsewhere, Mr Yousaf and Ms Regan clashed over transgender prisoners.
Humza Yousaf declared to the live audience that Isla Bryson – a transgender rapist housed for a short time in Scotland's single female-only prison – was "at it".
Asked during the BBC's SNP leadership debate by former minister Ash Regan about the issue, Mr Yousaf said: "Isla Bryson should not be in a woman's prison.
"Isla Bryson is a rapist who's completely at it, I don't think they're a genuine trans woman, I think they're trying to play the system.
"What we should never do is because we have a despicable individual like Isla Bryson who plays the system, we shouldn't roll back the rights of 99.9% of trans women who commit no crime whatsoever."
Ms Regan resigned from the government last year over planned gender reforms, although Mr Yousaf – a former justice secretary when his rival was community safety minister – said he had no record of her raising an issue with the legislation before she resigned.
According to the former minister, she raised her concerns directly with the Cabinet Secretary responsible for the legislation.
---
Support our Nation today
For the price of a cup of coffee a month you can help us create an independent, not-for-profit, national news service for the people of Wales, by the people of Wales.