News
Seals in danger from council coastal works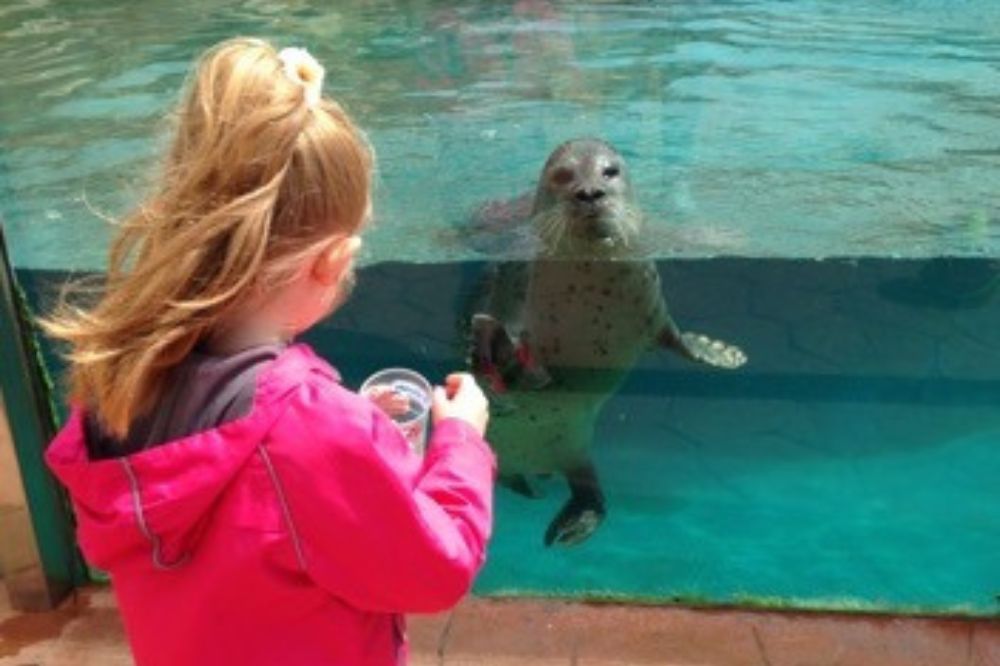 Richard Evans – Local Democracy Reporter
Six seals at an aquarium could become chronically ill due to ongoing noisy coastal defence work on the town's promenade, says a marine wildlife centre.
Rhyl's SeaQuarium says the council's coastal defence works are threatening both the safety of animals and the future of the visitor attraction.
The centre has been popular with Rhyl residents and visitors for over 30 years, employing 20 staff and attracting 80,000 visitors every year.
But SeaQuarium says the Central Rhyl Coastal Defences Scheme could harm the hearing of its six seals, causing a chronic stress response in the animals.
Staff at the aquarium fear the noise and vibrations from the work could also affect other animals housed at the sea centre. 
The SeaQuarium has two Harbour Seals, Ina, who is 20 years old, and Pamina, 18, and four African Fur Seals: 10-year-old Nelly, and Flo, Gina, Bubbles, who are all five.

Welfare
The centre also has 30 exhibits featuring over 100 different species and the only underwater tunnel in north Wales, home to native British Sharks, Rays, and other marine life.
"Our seals, just like lots of different animals, have their own unique personalities. We are very lucky that we have a brilliant bunch here at SeaQuarium. The seals are incredibly intelligent," said aquarium director and co-owner Collette Macdonald.
"They can be playful, mischievous, and sometimes a little stubborn. With each seal having their own personality, this means each seal could be affected differently throughout the works.
"We support the sea defence, but we cannot accept the coastal defence works that have commenced without sourcing a resolution for animal welfare.
"All our animals and especially the seals are at serious risk of harm. We are pleading with local people and all our past and present customers to support SeaQuarium with our quest to get Denbighshire County Council and their advisors to make our animals welfare a priority and to stop ignoring our request to help in rehoming the seals.
"The coastal defence works are putting everything at risk. The noise and vibrations from the drilling works are already having a harmful effect.
"As everyone will be aware, the construction workers will have protective equipment to protect their hearing from noise and vibrations, but our animals won't.
"The animals may suffer permanent physical damage to hearing and eyesight and so much more. Ethically, neither we nor the public can allow that to happen.
"There are lots of ways in which the seals' behaviour could be affected. This could present itself in ways such as an increase in vigilant behaviours, a decrease in the seals finding rest, the refusal to eat, aggression towards their group or trainers, and even a drop in their playfulness, to name but a few.
"Our team is working hard to monitor the seals and their behaviour, but there have already been instances where the seals have reacted in a negative way towards the noise, and this is only at the start of a course of work scheduled to span over the next two years.
"With the work taking place on a schedule to fit around the tides, the sleep schedules of the seals have already been affected when the work goes on throughout the night.
"We mustn't allow further disturbances to the seals in order to protect their mental wellbeing and their physical health. We're concerned a build-up of psychological distress will result in a physical manifestation and potentially lead to injuries or chronic illnesses."
Colette added: "The aquarium and the Seal Cove is a popular attraction and much-loved by so many families, including my own.
"I have been involved with SeaQuarium for over 30 years as I grew up in Rhyl and have worked in my family's tourism business on the North Wales coast,  providing a venue for locals and visitors to Rhyl and the surrounding areas.
"We support the sea defence, but we cannot accept the coastal defence works that have commenced without sourcing a resolution for animal welfare. We need an urgent plan to help rehouse our seals and are calling on Denbighshire County Council and their advisors to help us."
The coastal scheme will improve flood defences in central Rhyl, protecting both homes and businesses from flooding and coastal erosion.
Requirement 
A spokesman for Denbighshire County Council commented: "As the council's contractor needed to work alongside the Sea Life Centre (SLC), it was a statutory requirement for a party wall award to be in place.
"That party wall award was agreed by two independent surveyors working on behalf of Denbighshire County Council and the SeaQuarium respectively. Balfour Beatty is working in accordance with the requirements of the party wall agreement.
"The party wall award allows for an independent expert to monitor the welfare of the seals. This monitoring is ongoing, and the independent expert has access to CCTV cameras to observe the seals whilst work continues. There are also other instruments in place monitoring noise and vibration levels.   
"If the independent expert determines that the seals are in distress as a result of the work, they can ask for noise levels to be reduced or for the work to be halted. To date, no such request has been made. Animal welfare is a matter of great importance to the council, which is why the steps to monitor the noise and vibration levels have been taken.
"The current sea defences in Rhyl must be upgraded as they are deteriorating, and we also need to improve the level of protection from coastal flooding due to the impact of climate change. This work is essential to protect homes, businesses, and the tourist economy from flooding events and coastal erosion well into the future.
He added: "Ten years ago, Rhyl suffered serious flooding which led to 400 people being evacuated from their homes. Currently, without this essential work, 548 residential and 44 non-residential properties are predicted to be at risk from flooding in central Rhyl."
---
Support our Nation today
For the price of a cup of coffee a month you can help us create an independent, not-for-profit, national news service for the people of Wales, by the people of Wales.