News
Secretary of State accused of lying about Welsh Government payments to refugees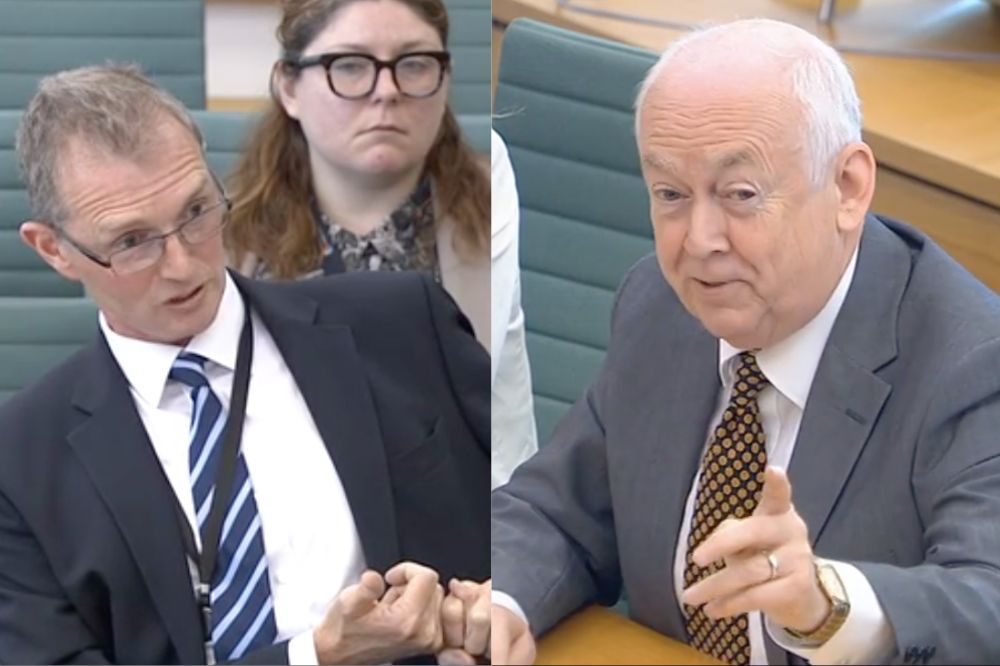 The Secretary of State for Wales has been forced to correct the record after he was accused of lying about the Welsh Government and a scheme for young care leavers.
During the Welsh Affairs Select Committee in the House of Commons on Wednesday (June 21), Welsh Labour MP for Caerphilly, Wayne David accused the Tory MP for Monmouth of "following the bad example of Boris Johnson" when speaking about the Welsh Government and refugees.
"Surprised"
The heated exchange happened as Cynon Valley MP, Beth Winter was questioning the Secretary of State in a session looking at how effectively Welsh issues are advocated for within the UK Government.
Ms Winter asked Mr Davies about the Home Office's decision to place over 200 asylum seekers in a hotel in Llanelli and asked him to shed a light on the decision making process which would allow "a large number of vulnerable people" to be housed in one institution without services or amenities.
The Secretary of State for Wales hit back that he was "surprised' by Ms Winter's question as the Welsh Labour Government have repeatedly said they are a nation of sanctuary and want to "welcome asylum seekers in from all over the world."
Mr Davies said: "In some instances, and this is factually correct, they want to pay them a salary of £1,600 a month. Frankly, it is very surprising that when the UK Government do try to place asylum seekers in Wales there is suddenly this outcry from local MPs.
"The problem that we face is that we are getting around 40,000 to 50,000 or whatever arriving here illegally on small boats from a safe country namely France and they have to be accommodated … that's why we brought in the
Rwanda scheme to make sure that people, rather than go to Llanelli, go to Rwanda."
Wayne David cut across Ms Winter to accuse of the Secretary of State for Wales of telling "lies" and "following the bad example of Boris Johnson".

Care leavers
The Welsh Government launched the Basic Income for Care Leavers scheme in July 2022 and it offers young people leaving the care system a £1,600 a month payment for the first 24 months of leaving care.
The pilot focuses on the category of care leavers but does include a small number of unaccompanied asylum seeking children who were looked after by a local authority up until the age of 18.
Objecting to being called a liar, Mr Davies said he wanted to make a point of order: "I'm not prepared to have any member of this committee saying that I'm telling lies and I want him to justify that.
"I'm quite happy if he were to change that to 'I disagree fundamentally with what the Secretary of State has just said' or similar but I can't accept him calling me a liar."
Chair Stephen Crabb MP asked Mr David whether he wished to withdraw his remark and told him that accusing a Minister of lying was "un-parliamentary language".
"I certainly will address the point" Mr David said, "Secretary of State you said on more than one occasion that the Welsh Government would like to give £1,600 to migrants, and they're not, that is untrue and that is a lie."
The Welsh Secretary said: "They're doing that, they're giving £1,600 a month to a number of underage asylum seekers."
Mr David said he was glad the Secretary of State for Wales had clarified they were underage: "If you clarify that and say you didn't lie deliberately, you made a mistake then I'm prepared to accept that."
Attack
The Secretary of State for Wales confirmed he was willing to accept that and Mr David said as far as he was concerned that was the end of the matter.
The care leaver pilot is an attack line regularly used by the Welsh Tory leader, Andrew RT Davies who appeared as a guest on GB News in April to give his views on the scheme.
During the interview, the leader of the Welsh Conservatives claimed that the Welsh Government was "dishing out £1,600 a month to anyone who wants to rock up and claim it crossing the Channel illegally."
Wayne David and David TC Davies had also clashed earlier in the Welsh Affairs Select Committee during a debate on sewage discharges when the Secretary of State for Wales was accused of politicising the argument.
It began with Simon Baynes MP for Clwyd South saying that sewage discharges are worse in Wales than in England and therefore the Welsh Government is presiding over, "a significantly worse situation in regards water pollution than
the Westminster Government."
Mr Davies said the current situation is that the Welsh Government decides on water cleanliness and water quality levels and added that there was no evidence that Natural Resources Wales is doing a "better job as a result of being devolved."
Shocking
He said: "It was quite shocking when after the Environment Bill passed and government brought about and demanded improvements to the system in England, the following day activists from one political party stuck up pictures, including of me and other Conservative MPs saying: 'this man has just voted to pump shit into your water'. We voted to bring in restrictions …"
Wayne David interrupted him to say that he was "making a political point" and the Secretary of State for Wales should "stick to the facts."
Answering him back, Mr Davies said it was a "disgraceful" matter to which Mr David replied: "You're disgraceful, it's disgraceful what you're doing."
Mr Davies criticised the Labour Party in Wales when Mr David interrupted again to say: "A Conservative Government could be doing a heck lot more than what they are doing."
Mr Davies said, "The Conservative Government is doing more than the Welsh Labour Government," and Mr David
replied, "absolute nonsense."
---
Support our Nation today
For the price of a cup of coffee a month you can help us create an independent, not-for-profit, national news service for the people of Wales, by the people of Wales.