News
'Selfish' drink driver who killed devoted couple is jailed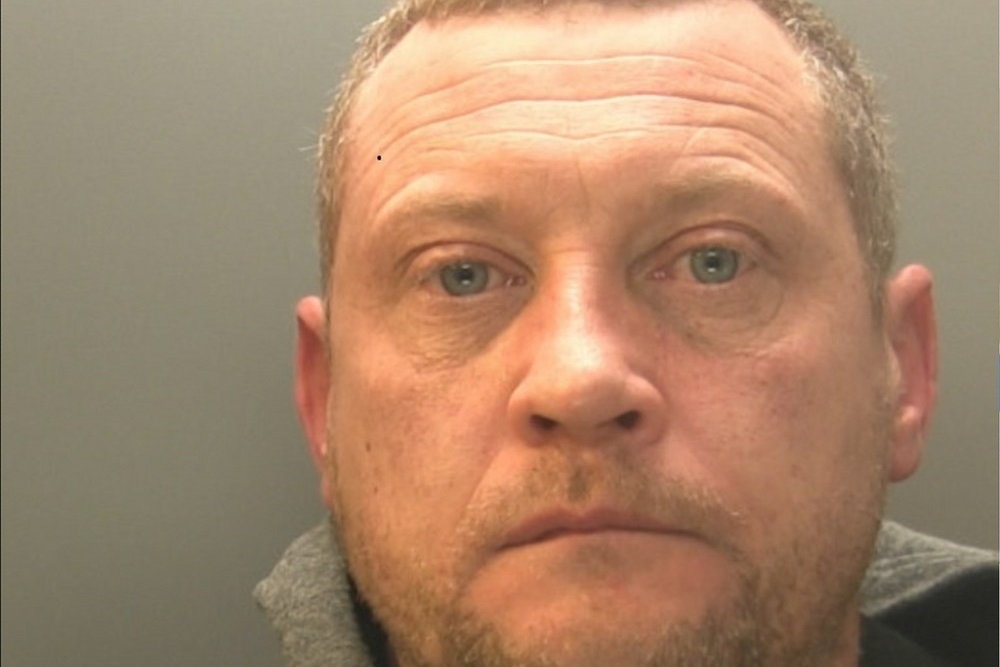 A "selfish" drink driver who ploughed into a married couple after running a red light has been jailed.
Michael Saltmarsh, 48, hit "soulmates" Wendy and David Gay with his white van as they were crossing Nantgarw Road in Caerphilly, at about 7.50pm on March 17.
Saltmarsh, from Station Road, Caerphilly, had two previous convictions for drink driving and at the time of the crash was dangerously over the legal limit having had four to five pints of beer in the pub after work.
Cardiff Crown Court heard on Friday that the father-of-two realised he had "bumped the van" but drove home instead of stopping at the scene, telling his partner he did not know what he had hit.
When she later went to examine his Vauxhall Vivero she found the bonnet "mangled" and a woman's handbag hanging off the back. Shortly after she called the police which led to Saltmarsh being arrested.
Members of the public went to help the pair after they were struck at the pelican crossing but Mrs Gay, who was aged 67, was declared dead at the scene.
Witnesses described how Mr Gay, aged 58, repeatedly asked "Where is my wife?" and despite being severely injured tried to stand to find her.

Red light
Passengers of the car behind Saltmarsh at the time of the collision said he had not slowed down as he approached the crossing even though the lights had been on red for some time.
Collison investigators determined Saltmarsh must have been driving between 37-52mph on the 30mph road when he crashed into his victims.
In a statement read to the court by prosecutor Andrew Davies, Mrs Gay's son Adam Lawrence called the incident "pointless" and "avoidable".
Recalling the moment he was told of his mother's death, he said: "I was shocked. I couldn't speak."
He said that, after his parents split up, Mrs Gay "gave up her life" to look after him.
"It wasn't until I was older that she got some of her life back and met Dave. They were everything to each other. They were soulmates."
"My mum has been robbed of her life and I feel like we have been robbed of life with mum," he added.
Chery Hamm described her best friend of 35 years, Mrs Gay, as "her rock" and said the couple "had so much to live for and should be enjoying their life together".
Unimaginable pain
Mr Gay's older sister, Valerie Thomas, said in a statement the couple's deaths had caused "unimaginable pain" to their families.
"At this time, it is impossible to imagine how we will ever understand and accept the devastating impact of the selfish and irresponsible actions of the driver," she said.
Kevin Seal, defending Saltmarsh, said his client was remorseful and should be full credit for pleading guilty to the charges against him.
Sentencing Saltmarsh, Judge Paul Hobson said Mr and Mrs Gay who were out walking at the time should have been "entirely safe" crossing where they did while the lights were red to traffic.
"But for your presence on the road that evening, they would have been," the judge said.
The judge said Saltmarsh knew he was in "no fit state" to be behind a wheel yet chose to drive the 10 miles home in dark and wet conditions after drinking in the pub for four hours.
"Speeding through that crossing you failed to see the red light, you failed to slow down when approaching that junction, you failed to see two pedestrians and you failed to realise you'd hit them – although you knew you'd hit something, the damage that had been caused to your vehicle was considerable.
"What all of that indicates to me, is just how grossly impaired from driving you were.
"The decision to drive in the state that you were in has had tragic consequences, for which you and you alone are entirely responsible."
Judge Hobson commended Saltmarsh's partner for doing the "right thing" and calling the police when she did.
Saltmarsh was jailed for 11 years and four months and disqualified from driving for 14 years and three months. He will serve two-thirds of the term behind bars and the rest on licence.
---
Support our Nation today
For the price of a cup of coffee a month you can help us create an independent, not-for-profit, national news service for the people of Wales, by the people of Wales.