News
Senedd petition to axe 20mph speed limit rockets to over 50,000 signatures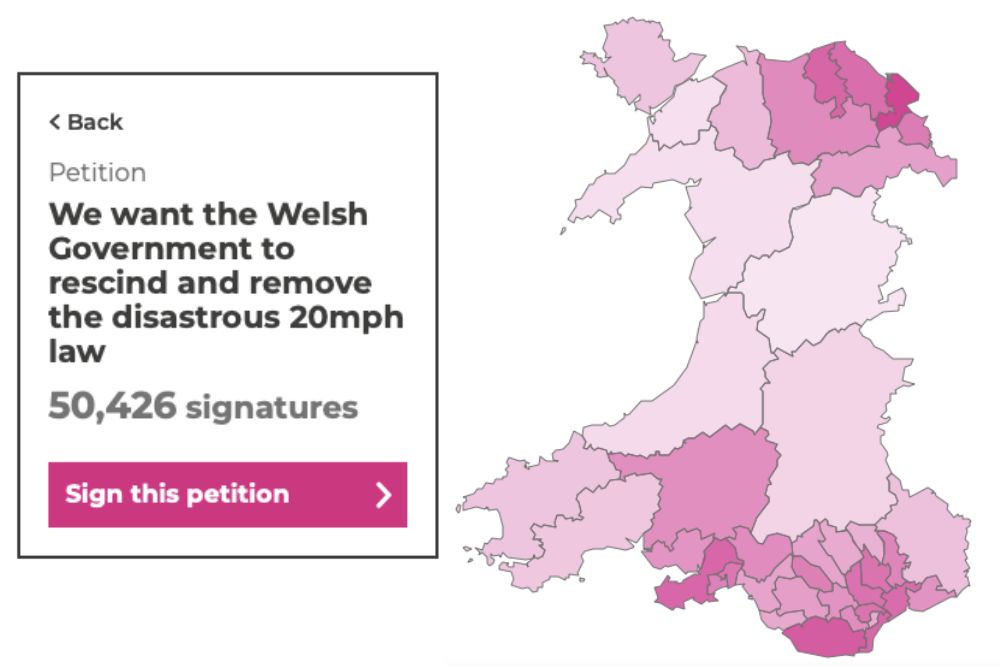 Emily Price
A Senedd petition calling for the new 20mph default speed limit to be axed has reached over 50,000 signatures and is increasing rapidly every hour.
On Sunday (September 17) Wales became the first UK nation to drop the default speed limit of 30mph to 20mph on restricted roads.
Welsh Government ministers have said the new road regulation will result in fewer deaths and save the NHS around £92m every year.
However the speed limit change has been met with opposition by the Tories who last week forced a vote in the Senedd in an attempt to block the new default speed limit coming into force.
Following the fiery debate calling for "targeted measures" instead of a default speed limit, the Welsh Conservatives lost the vote to repeal the new 20mph default law.
Mark Baker started a Senedd petition calling for the 20mph limit plans to be scrapped and the number of signatories has rapidly increased in the last 24 hours to 50,000.
If a Senedd petition gets over 10,000 signatures, the Petitions Committee will consider asking for a debate in the Senedd chamber but this is not guaranteed.
The petition, started by Mark Baker has been signed by the Welsh Conservative's Shadow Minister for Transport and Technology, Natasha Asghar who has shared it on her social media accounts urging others to sign.

"Public opinion"
Titled, 'We want the Welsh Government to rescind and remove the disastrous 20mph law' the petition  states the new 20mph law "will mark the end of having socialism in power in Wales" and demands the "foolish idea" is stopped.
Natasha Asghar, Member of the Welsh Parliament for South East Wales and Shadow Minister for Transport, said: "The new blanket 20mph speed limit has been in place for just one day and already people have had enough of it.
"For nearly 50,000 people to sign a petition within 24 hours shows the extent of public outrage towards Labour's madcap policy.
"This highlights that there has been little to no consultation with the general public, the Labour Government have clearly avoided all public scrutiny in a bid to get their socialist agenda pushed through.
"Labour and Plaid Cymru have refused to listen to public opinion and are continuing to wage their anti-worker, anti-road and anti-motorist agenda.
"With this ludicrous policy forced on the people of Wales, Labour can still U-turn on this disastrous rollout and deliver what Wales wants by scrapping blanket 20mph zones across Wales."
---
Support our Nation today
For the price of a cup of coffee a month you can help us create an independent, not-for-profit, national news service for the people of Wales, by the people of Wales.