News
Senedd told millions spent on flood management doesn't guarantee protection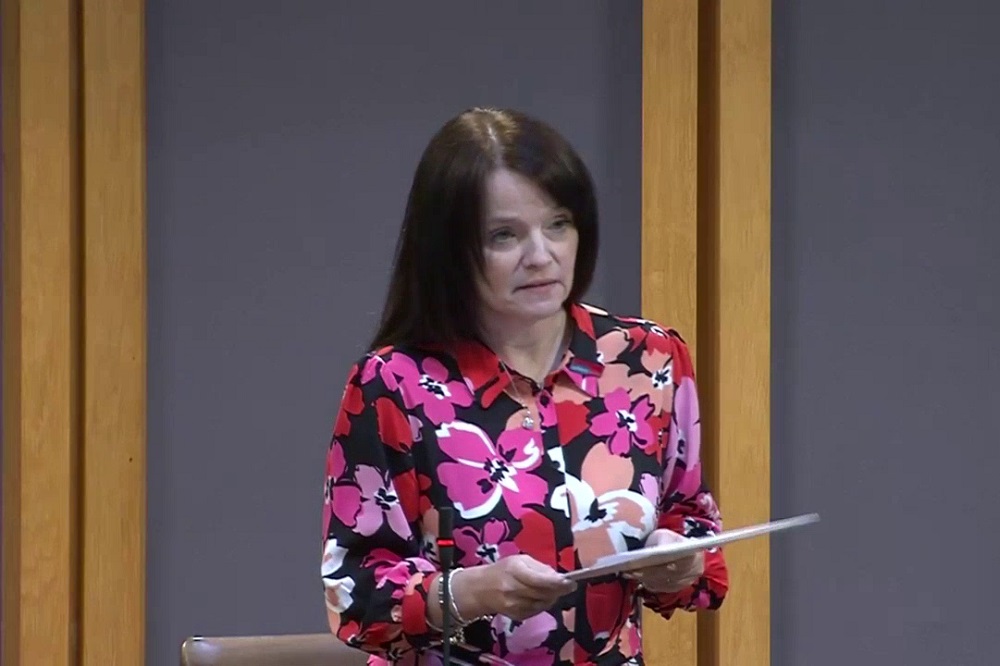 Siân Williams
It is unlikely that the millions spent by the Welsh Government on flood alleviation in the south Wales valleys will protect those communities from any future flooding the Senedd has been told.
This year, Welsh Government will spend a record £75 million across Wales on flood risk management.
In February 2020 Storm Dennis – one of the most intense extratropical cyclones ever recorded – hit Wales. It came after heavy rainfall and ripped through homes and businesses. Parts of south Wales and especially the communities of Rhondda Cynon Taf suffered the most devastating effects of Storm Dennis, coming only a week after Storm Ciara.
Rivers reached record levels according to Natural Resources Wales at the time and properties were flooded with people having to evacuate their homes or were forced to move to live upstairs.
A long-standing campaigner for flood risk alleviation, Buffy Williams MS for Rhondda, told the Senedd that at the time of Storm Dennis, "It was clear, from the devastation caused to residents' homes, businesses and our coal tips, that we needed Welsh Government's support.
The millions spent on upgrading culverts and drainage systems to date can't guarantee we won't see flooding in the future, but the sheer scale of works definitely provides peace of mind for local residents. So does seeing the activity on our mountainsides to put right our high-risk coal tips."

Home insurance
As a result of Storm Dennis household insurance premiums for those areas that were hardest hit have rocketed. Some valleys households at the time had no home insurance because they'd been flooded previously. Some were either denied insurance whilst others couldn't afford the hike in price.
Filling in for Mark Drakeford, Minister Lesley Griffiths MS told the Senedd that the Welsh Government has made £14.6 million capital and revenue funding available to Rhondda Cynon Taf County Borough Council to alleviate the risk of flooding.
To date, in Tylorstown, nearly 400,000 tonnes of debris has been moved from the tip she said.
"The storms we saw in February 2020 were the worst we'd seen in Wales in 40 years. If you've been flooded once, the chances are your (house insurance) premiums will go up a lot and you may not even be able to get insurance. Obviously, that's a matter that's not devolved, it's a reserved matter for the UK Government.
"This year, we'll invest a record £75 million across Wales in our flood and coastal risk management. That's the highest spend in a single financial year to date."
Climate change
Leader of the Wales Green Party, Anthony Slaughter told Nation.Cymru: "Year on year we keep getting record announcements of the money that's been spent on flood defences. It's welcome and a recognition of how grave the situation is. But we're still in a situation of trying to manage the risks but there will never be enough money to defend every community."
Extreme weather and increased flooding will continue, said Mr Slaughter who said that he appreciates the money spent on flood management as part of the cooperation agreement between Welsh Government and Plaid Cymru.
"As part of that agreement Welsh Government is committed to get to net zero by 2035. The recent Climate Change Committee report shows we are woefully short of reaching that. We're playing catch-up and people's lives and people's homes are suffering through this and they're resigned to repeated flooding.
"There needs to be earlier on recognition of the problems that are coming and the implications of the climate crisis. It's only going to get more severe so, there needs to be some realism and there's isn't endless amounts of money to carry on building flood defences. We have to start looking at things like relocation."
---
Support our Nation today
For the price of a cup of coffee a month you can help us create an independent, not-for-profit, national news service for the people of Wales, by the people of Wales.