News
Senior north Wales Lib Dem expelled from party for homophobic conduct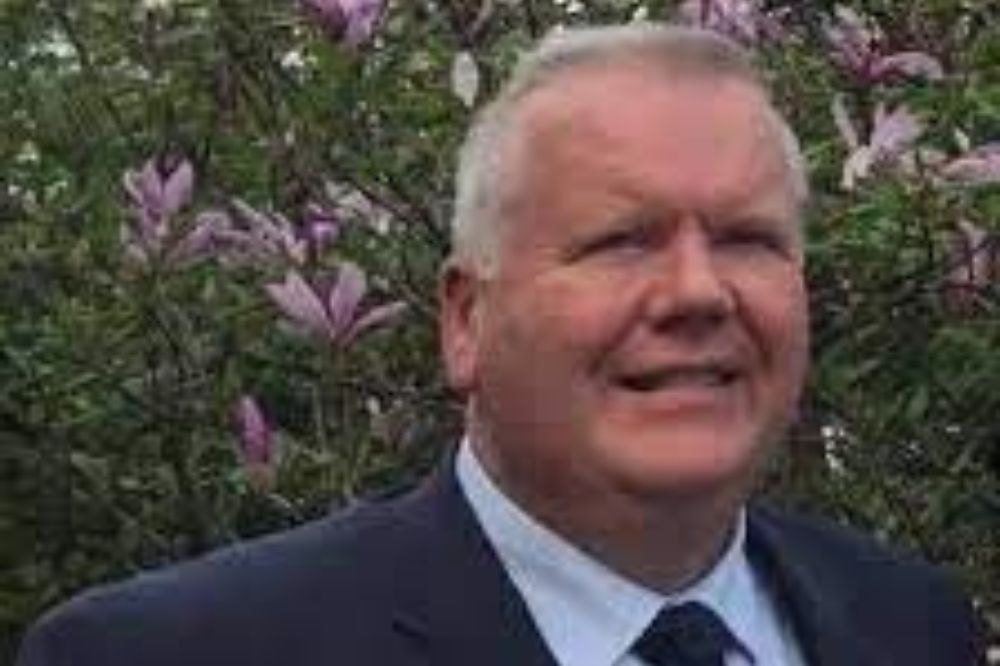 Emily Price
A senior north Wales Liberal Democrat has been expelled from the party following complaints of homophobic bullying and harassment against fellow party members and staff.
Complaints were made by four members of the Welsh Lib Dems in 2019 and early 2020 against Gwyn Williams, a former Chair of the Policy Committee who has previously stood as a candidate for the Senedd and the UK Parliament in Clwyd West in 1997 and Vale of Clwyd in 2015, 2016 and 2017.
Although concerns were raised about the Lib Dem party member's behaviour in December 2019, Mr Williams was not officially expelled from the party until February 2022.
One of the complainants has claimed they were only informed of Mr Williams expulsion from the party this week.
A 25 page report commissioned by the Liberal Democrats internal complaints process investigated the complaints against Mr Williams.
Mr Williams was suspended in June 2020 whilst the investigation was carried out – he appealed against the suspension but the appeal was rejected.
The findings of the report, dated September 9 2020, detailed "major concerns" regarding Mr Williams' conduct going back to 2018 when he was Chair of the Welsh Liberal Democrats' Policy Committee.
One statement described a party member receiving an "incredibly aggressive email" from Mr Williams.
The complainant said that a senior member of the party dissuaded them from making a formal complaint because Mr Williams is "a difficult and challenging character".
The report also included 17 pages of screen grabs from social media of comments written by Mr Williams which included him calling party members names such as "Gollum" and "Diddyman".
One complainant stated that Mr William's behaviour on social media had become a "deterrent for many in engaging and expressing themselves".
The party member said Mr William's behaviour was "apparent" when working with or responding to party members who are "young, LGBTQ+ or women".
Another complaint described an "incredibly offensive and deeply upsetting" instance in which they felt comments on social media from Mr Williams were a reference to them being homosexual and "a young gay man".
Mr Williams referred to "cliques" within the party saying, "I will get into trouble for saying this. ****** and I are over 30 years too old to be in the clique. It would also require a major lifestyle change which my wife would not be too happy about."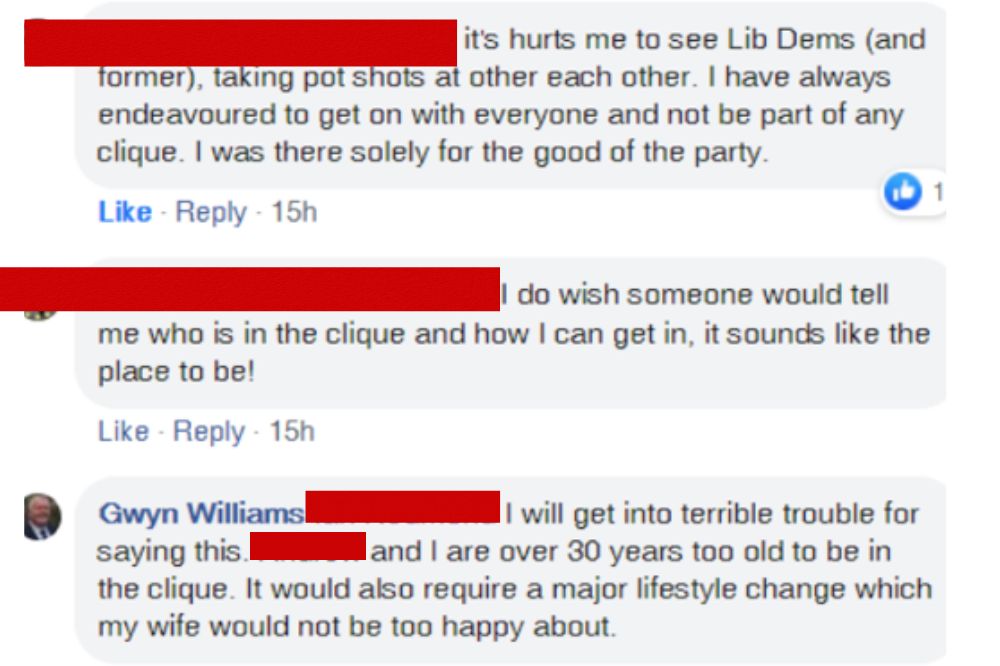 "Discrimination"
In another social media group thread, a news article was shared about Liberal Democrat MP, Layla Moran after she announced she was pansexual and in a relationship with a woman.
Mr Williams responded: "Being pansexual is being a lover of kitchen implements."
Former member of the Senedd, Eluned Parrott replied: "When was it acceptable to make a joke about someone's sexuality?"
Mr Williams said: "When you're a failed humourless politician."
Ms Parrott responded: "If you want to improve your sense of humour, mock subjects of privilege not subjects of discrimination. Otherwise it risks looking like bullying."
Mr Williams said: "I bow to your superior knowledge of bullying. You and your henchmen have got away with it got far too long. Have you know contrition whatsoever for the dismal failure of the General Election campaign and your senior role in it."
In one of the posts dated 24 December 2019, Mr Williams wrote that he was being summoned to a "kangaroo court" in front of Party President and Chair of the Board, Paula Yates and Executive Officer for Membership Development Anne Williams.
When asked by a party member what the reason for the summons was, Mr Williams replied that it was to discuss "an official complaint" made against him.
Accusations
Nation.Cymru understands that this meeting did not take place as Mr Williams did not wish to attend.
The subsequent report that was carried out 9 months later in September 2020 stated that the The Welsh Party President, Paula Yates had approached Mr Williams about concerns that had been raised and asked him to remove certain comments from social media.
She also requested that Mr Williams confirm in writing that he would not take further actions which could leave him open to accusations of homophobia.
In his preliminary responses to the complaints, Mr Williams denied the allegations, saying that he may sometimes be "forthright or blunt" but is expressing his "honestly held opinions" and he is entitled to freedom of speech.
The report concluded that the complaints of homophobia, bullying and harassment should be referred to the Standards Officer.
Mr Williams was expelled from the party on 23rd February 2022, over 18 months after the findings of the report concluded that the nature of the complaints were "serious enough to bring the Party into disrepute".
Mr Williams appealed his expulsion but it was rejected by the Party's appeal panel.
Backlog
The Liberal Democrats told Nation.Cymru that due to staffing issues during the COVID-19 pandemic and the change in complaints procedure from a localised to centralised approach in 2019, their complaints department were dealing with a large backlog.
They said that no formal complaint was made against Gwyn Williams until May 2020 and that during the whole period of the investigation, Mr Williams remained suspended.
A spokesperson from the Welsh Liberal Democrats said: "The Welsh Liberal Democrats take any allegations of homophobia extremely seriously and since September 2019, all formal complaints are handled by our independent complaints process.
"Following complaints submitted to the Party between May 23rd 2020 and June 3rd 2020 and an initial investigation, Gwyn Williams was suspended from the Party on the 19th June 2020. Following a full independent investigation, he was then expelled from the Party in February 2022.
"The expulsion was upheld following an appeal heard by the Party's Appeals Panel."
---
Support our Nation today
For the price of a cup of coffee a month you can help us create an independent, not-for-profit, national news service for the people of Wales, by the people of Wales.