News
Serious safeguarding failures found at Catholic primary school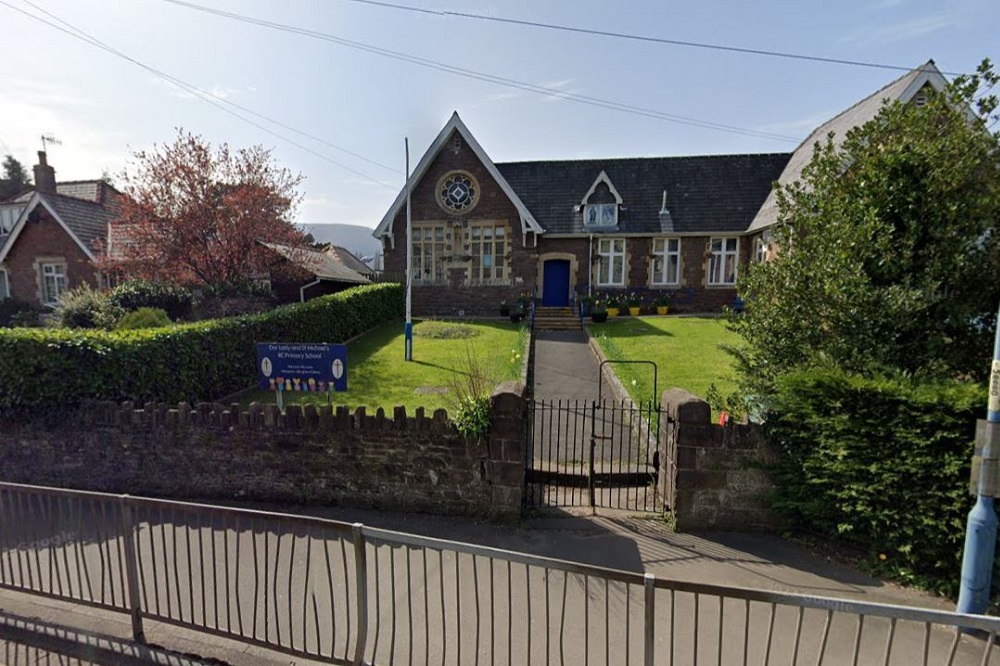 Twm Owen, local democracy reporter
Serious safeguarding failures were found at a Catholic primary school in Monmouthshire – including volunteers being able to attend without all required checks having been carried out.
A report, for Monmouthshire County Council, also found delays in undertaking criminal records checks on school governors.
The failures put children and staff at Our Lady and St Michael's Roman Catholic Primary School, in Abergavenny, at risk, the routine audit check by the county council found.
As a result, and due to other, financial failures, the council auditors issued a "qualified" audit of the school with "limited" assurance marked as "red" on its compliance with council policies. The verdict is the most serious opinion the auditors can offer meaning there are poor controls in place with "unacceptable levels of risk".
The report, which was issued in April and disclosed at the council's governance and audit committee meeting on June 29, requires "urgent fundamental improvements" from the school. The committee was told the headteacher is working with the audit team on addressing the failures.

DBS Checks
Schools are required to carry out checks with the Disclosure and Barring Service – known as DBS Checks – which will reveal if an individual has a criminal record and any bans on working or being present with children or other vulnerable people.
The council also requires schools to carry out additional vetting on volunteers before they start working at a school. But the audit found volunteers visiting were not subject to all checks prior to their start date.
The report said this meant there was a risk that volunteers "who may not be suitable to work with children" were granted access to the school.
Auditors also discovered that not all school governors had DBS checks, which they said meant "staff and pupils could potentially be put at risk."
All new governors are required to be cleared by a DBS check within five weeks of appointment.
In response to the failures the school is currently using a paper-based filing system for vetting volunteers until a manager for schools in the Abergavenny cluster is able to support it using an established system.
A file has also been set up to ensure all governors are, and will be, DBS checked and that any gaps are "identified and addressed".
Significant risks
The safeguarding failures were two of five "red" significant risks identified, with the others relating to starter and leaver forms not being maintained, which could lead to errors going undetected, and delays in raising purchase orders and failing to pay invoices in a timely manner.
A school private fund debit card was also found to have been used by staff other than the named card holder, which was one of 17 "moderate risks" identified which aren't considered "business critical" but require "management attention as soon as possible".
Payments from the private fund cashbook were also found that were "not considered to be appropriate in providing benefit to the pupils of the school" and as a result procedures have been tightened.
School debit cards will also now be stored in the safe and can only be used when authorised by the head teacher or the deputy.
The report also found 10 minor risk and "good operational practices" were confirmed in 32 risk areas which were marked as a "strength".
During the committee meeting independent member Colin Prosser asked for "overt assurance that no fraud had been detected". He also said the use of the "credit card" would be against procedures and asked if staff were required to sign to say they had been issued a card and covering its use.
Lack of control
Council audit manager Jan Furtek said his team has assured him there was no fraud "just a general lack control in certain areas which resulted in the limited opinion."
He said: "There is nothing to be expressely concerned about and from our point of view the headteacher has been fully engaged with the process, which has obviously been quite pleasing."
He added he also understood anyone issued a "procurement card" had to sign for it and understand the terms and conditions.
Mr Furtek said it was likely the committee could be updated on the school later in the year, with the audit team due to check on progress in the third quarter of the financial year, to "allow the new systems to bed in".
On the safeguarding failures Monmouthshire County Council told the Local Democracy Reporting Service: "The school recognises that there were deficiencies in some of its control measures that existed around volunteers and governors and has worked hard with colleagues in the local authority to put in place controls to improve this situation.
"We will continue to work to ensure that all of the report's recommendations are met. We place the safety of our children at the centre of everything we do and we will work with the school to ensure that all measures are in place."
---
Support our Nation today
For the price of a cup of coffee a month you can help us create an independent, not-for-profit, national news service for the people of Wales, by the people of Wales.