News
Seven of nine Dolwyddelan Eisteddfod chairs reunited for S4C show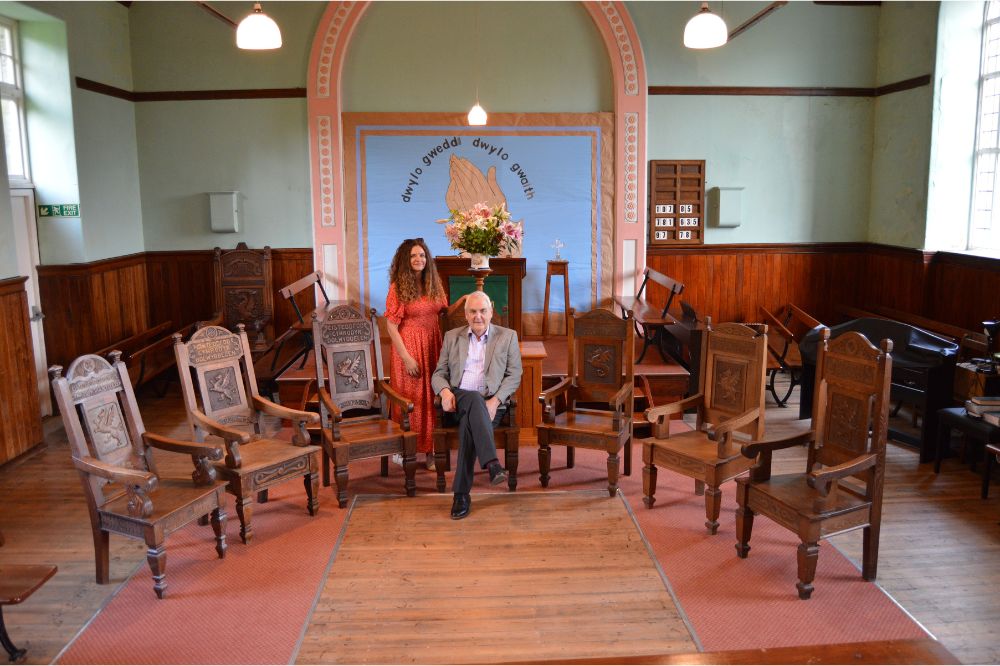 Seven out of nine prize chairs that were created for Eisteddfod Cymrodyr in the Conwy village of Dolwyddelan almost a century ago have been reunited for the first time ever for an S4C show.
In Cynefin: Nant Conwy, presenter Ffion Dafis meets Alun Lloyd Price who's spent a decade tracing the history of the chairs to find out what happened to them after they were won.
Nine Eisteddfod Cymrodyr were held in Dolwyddelan between 1923 and 1931 and the Eisteddfod was famous in its time for its exceptional quality of competitors who travelled far and wide to take part.
The nine chairs were created as the main prize in each of the Eisteddfod's and were made by a local carpenter from the village, Huw Jones.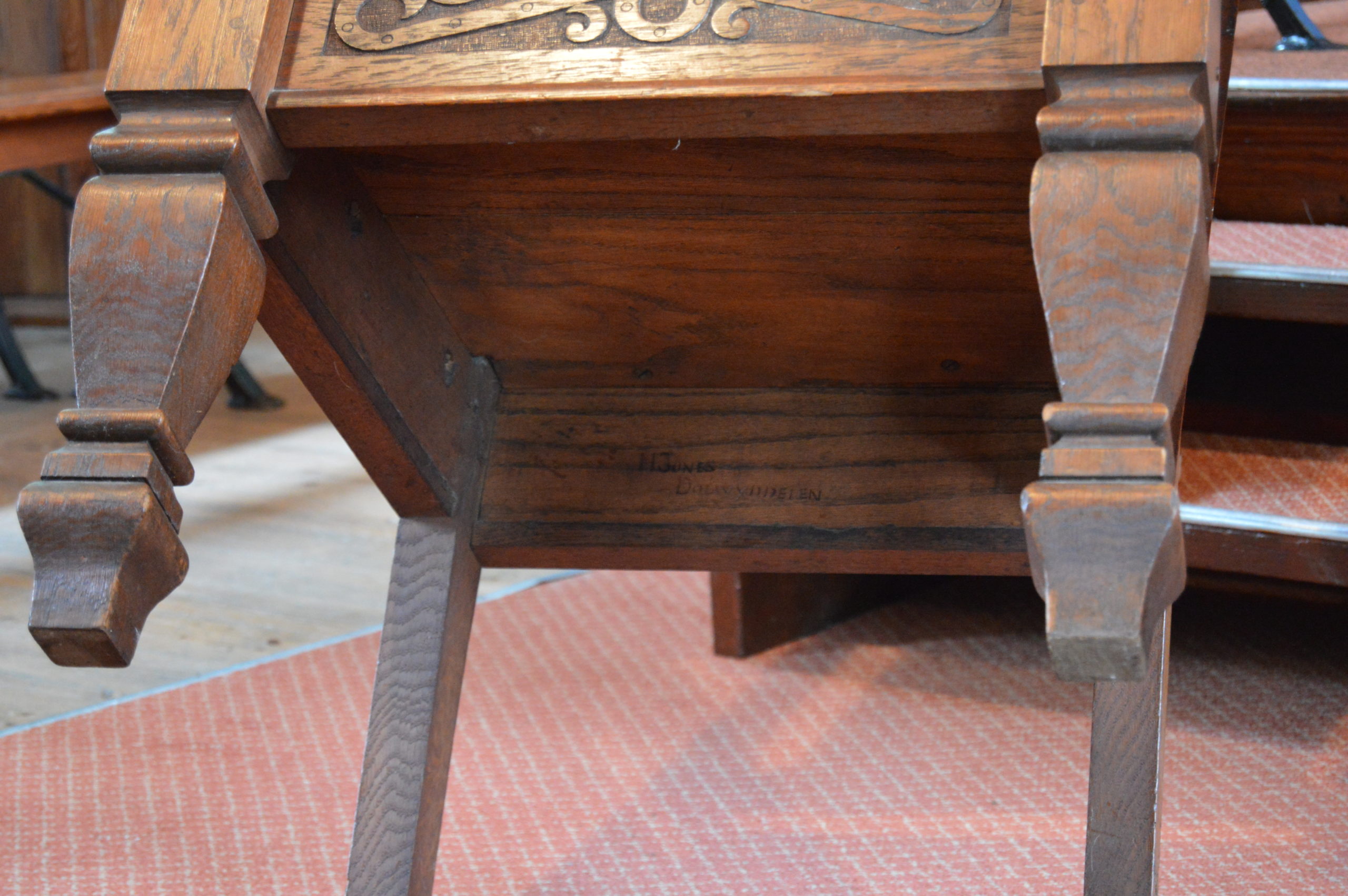 Gifts
The carpenters name is carved in approximately the same place on each one as 'Huw Jones, Dolwyddelen' (the old way of spelling the name of the village).
Alun's interest in the chairs started when a friend of his mentioned that he had one of them in his house.
"I told him that I knew about the Eisteddfod in Dolwyddelan, but I wasn't aware of any chairs that were made for it," explains Alun, "But then he showed me the 1931 chair and it all came from that."
Alun has received three of the chairs as gifts from people who did not know their history and thought that Alun would be more appreciative of them.
He's also tried to track down the families of the original winners so the chairs can continue to be a part of their family's story and history.
Through Alun's detective work, Bryan Sanders from Dyffryn Ardudwy, now has the 1924 chair in his home.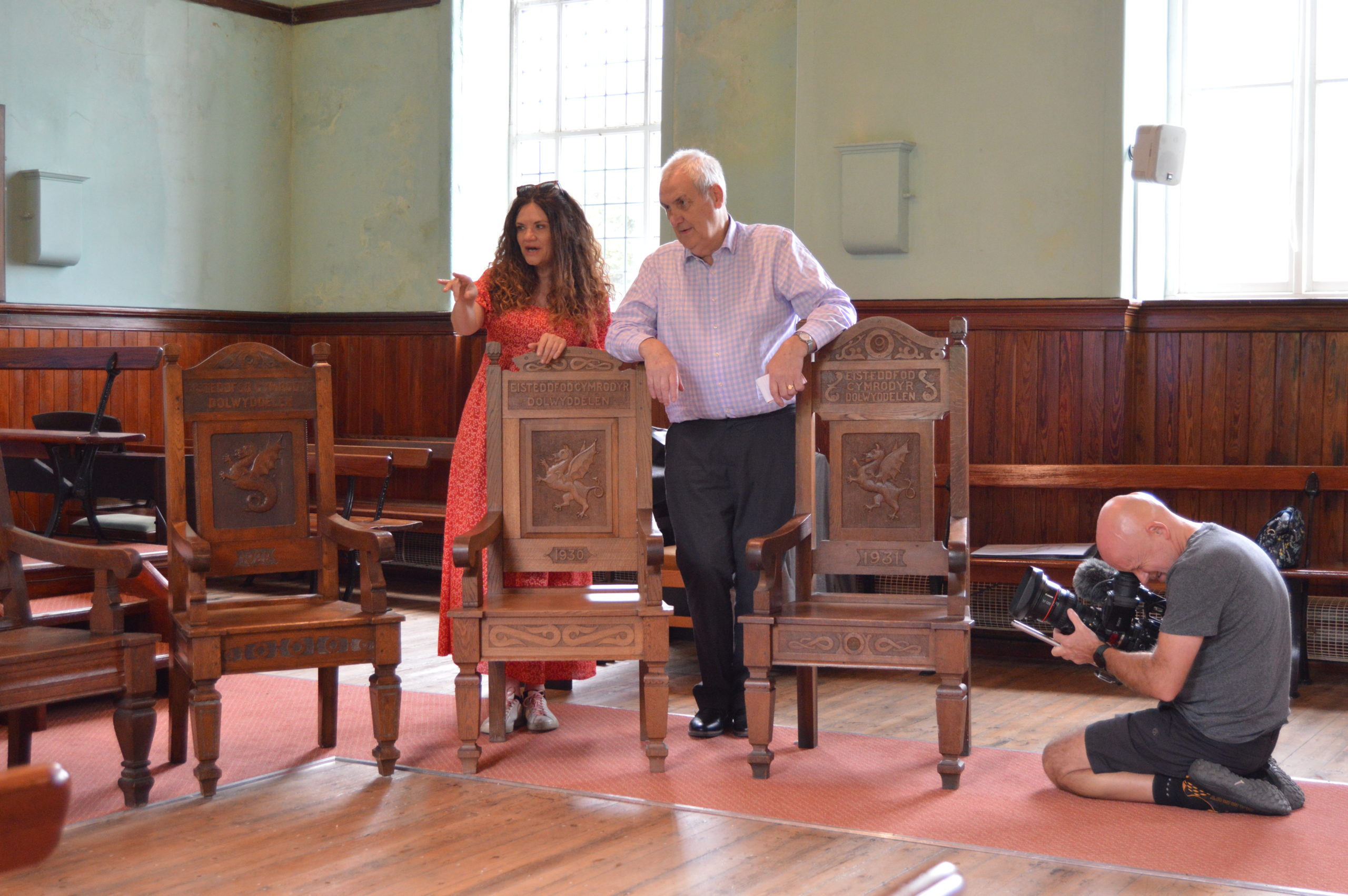 Choir
It's thought to be one of a kind because it's the only Eisteddfod chair to be awarded to a choir rather than an individual according to the former Archdruid of the National Eisteddfod, Robyn Lewis.
As a nephew of the choir leader, Bryan was contacted by Alun who gifted him the chair.
Alun was over the moon when Cynefin's production team travelled as far as Milton Keynes to collect the seven chairs to unite them at last. "It was amazing," he said. "After spending that much time trying to find them and get them together, it was a special feeling."
But there's more to the story than what's happened to the chairs themselves.
It's also a tale of a long-lost time about the talented people who won them and gave them a home for many years.
One of those people is Mair Warwick who lives in Milton Keynes and has the 1923 chair that was won by her father, John Ellis Williams, from Rhyd-Ddu, for his beautiful poetry.
Mair tragically lost her parents when she was nine years old, and she and her brothers were separated.
As an adult she set about looking for her siblings and found one of her brothers who lived with their aunt in Llanrheadr ym Mochnant and saw the chair there.

Recognition
Mair said: "I'm happy to see my father and the chair getting the recognition they deserve after nearly 100 years".
Over the years, Alun Price has managed to find seven of the chairs but so far, his tireless efforts to find the 1927 and 1928 chairs are in vain.
Now, Cynefin is appealing for information about both chairs to understand their special story as well and fulfill Alun's dream of finding the entire collection.
"Seeing the other two chairs. That would be the main prize for me," said Alun.
Cynefin: Nant Conwy will be broadcast at 8pm, April 30, on S4C,
If you have any information about these chairs, please contact Cynefin's production office: cynefin@rondomedia.co.uk
---
Support our Nation today
For the price of a cup of coffee a month you can help us create an independent, not-for-profit, national news service for the people of Wales, by the people of Wales.