News
Shadow transport minister makes plea to scrap 'ludicrous' 20mph plan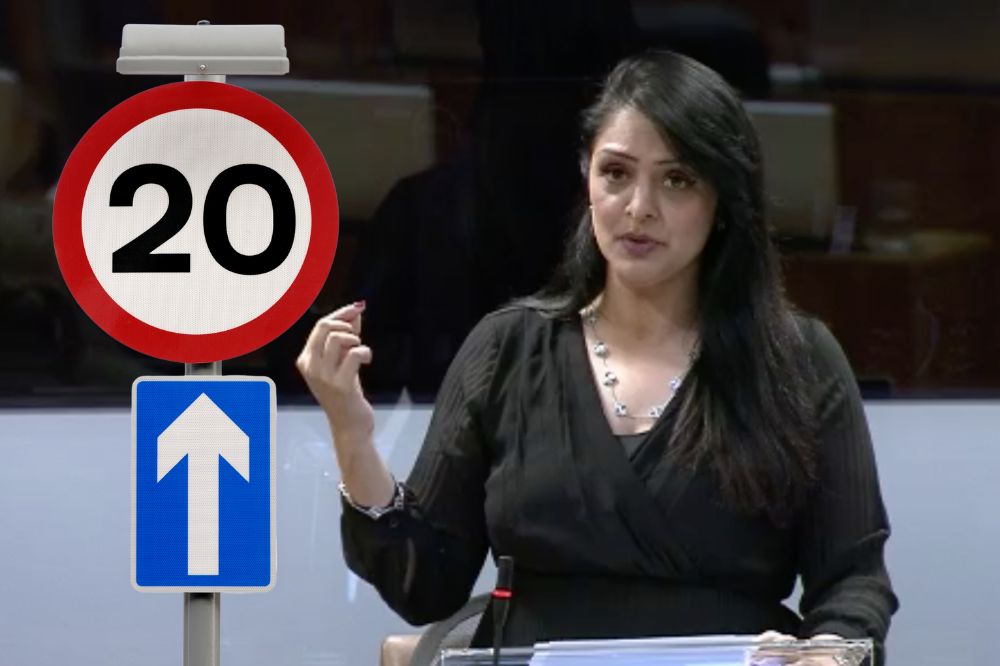 Emily Price
The Shadow Minister for Transport and Technology has made what she called an "eleventh-hour plea" to the Welsh Government to scrap the "ludicrous" 20mph speed limit set to come into force this year.
Speaking during a debate in the Senedd on Wednesday (28 June) Natasha Asghar quoted figures she had obtained from the Police Recorded Road Collisions Interactive Dashboard which she said showed road collisions had reduced on 30mph roads, and increased on 20mph roads.
The shadow transport minister said the new limit – which will see most 30mph streets in Wales switch to 20mph – would be "hugely damaging".
Ms Asghar said: "Between 2017 and 2022, collisions on 30mph roads fell by 33 percent, with 2,528 in 2017 and 1,691 in 2022. Yet, in the same period, incidents on 20mph roads increased by a whopping 174 percent."
The figures show that in 2017 there were 70 accidents recorded on roads with a 20mph speed limit and in 2022, there were 192 recorded on roads with the same limit.
A Welsh Government spokesperson disputed the figures quoted by Ms Asghar, stating that because the numbers of accidents are so low on 20mph roads it means they are more liable to an increase – particularly when expressed as a percentage.
The spokesperson told Nation.Cymru the figures Ms Asghar presented only demonstrated that there are far more accidents on 30mph roads in comparison to 20mph roads and as there are more 20mph roads in Wales now than there were in 2017, figures couldn't be compared as like for like.
A Senedd petition to stop the 20mph speed limit coming into force was submitted by Benjamin James Watkins and was signed by more than 20,000 people.
The petition was closed early at the request of the chair of the Senedd Petitions Committee, Jack Sergeant so that there was time to debate it before the change.
The petitioner warned that the speed limit change would result in road rage and he questioned whether it was a way to raise money by fining people going over the new limit.
Mr Watkins also argued that the new speed limit would affect the commute times of people travelling by road for work.
Altogether, twenty-three petitions have been created with '20 mph' in the title during this Senedd term, 17 of which received the three names they needed to progress to collecting signatures.
Safer
The shadow minster for transport said that although she understood the need for "targeted action" outside schools, play areas and high streets, she did not agree that a 20mph limit covering all streets was the way forward.
Speaking during the debate, Ms Asghar said: "There is a series of reasons, and I totally accept what's been said, why people are against these plans, but the main two are the costs involved and the fact that many see this as nothing more than a money-making exercise.
"The costs involved, let me tell you all now, in this ridiculous scheme, are colossal, with £32.5 million being spent on just implementing it. And according to the Welsh Government's own figures, it will have a dis-benefit of £6.4 billion due to the impact of journey times on businesses and households.
"Earlier today I asked the health Minister about funding for vital services. I totally accepted her answer, but, Presiding Officer, please tell me, for a Government that claims to be cash strapped, wasting this amount of money on yet another vanity project, while the people of Wales are facing cost-of-living pressures, will be a very bitter pill to swallow."
The Climate Change Minister, Lee Waters has said that reducing the speed limit in Wales will not only save lives but will help build stronger, safer communities.

Concerns
The new limit will come into force on Sunday September 17 after four years of work with local authorities, police and road safety experts to design a change in law – Wales will be the first UK nation to reset the default speed limit for local roads.
South Wales East MS, Natasha Asghar said that as well as her own constituents, residents from "all corners of Wales" had made contact with her to vent their concerns about the change.
She said: "The blanket 20 mph speed limit plan is something that my constituents regularly contact me about. And as shadow Minister for transport, from all corners of Wales I have received e-mails, phone calls, you name it, from all constituents, from all your various constituencies here.
"And I want to share something with you from one constituent from south-east Wales who recently told me, as I feel it pretty much sums up the general mood that's across Wales, she said, and I quote, 'This is just another way of raising costs for Welsh people who are trying to get by.
"I would prefer the Welsh Government to concentrate on sorting out the more pressing, urgent and important issues they are struggling with, such as health, education, rather than introducing half-thought-out schemes such as this.
"Or is it that they are trying to do something different from everybody else as though it's a good thing? I'm not impressed.'"
Evidence
The move by the Welsh Government follows a similar approach in Spain where the speed limit on the majority of roads was changed to 30km/h in 2019.
Since then, Spain has reported 20% fewer urban road deaths, with fatalities reduced by 34 per cent for cyclists and 24 per cent for pedestrians.
Evidence has shown that pedestrians are five times more likely to be killed if they are hit by a vehicle driven at 30mph compared to 20mph.
Over the first decade, it is estimated that the lower speed limit will save up to 100 lives and 20,000 casualties.
Dr Sarah Jones, Consultant in Environmental Public Health for Public Health Wales, said: "Public Health Wales strongly supports 20mph legislation, which will transform the places where people live, work and travel.
"The evidence is clear that reducing traffic speeds has multiple health and wellbeing benefits.  It improves road safety, reduces noise pollution and over time will help to tackle air pollution. The safer environment that slower traffic speeds bring will also enable more people to actively travel, for example walking and cycling to work and school.
"Active travel offers such a wide range of benefits across society, boosting physical and mental health, and reducing the demand on our health service of treating many preventable illnesses."
---
Support our Nation today
For the price of a cup of coffee a month you can help us create an independent, not-for-profit, national news service for the people of Wales, by the people of Wales.