News
Small boat migrant arrivals top 25,000 since start of Sunak premiership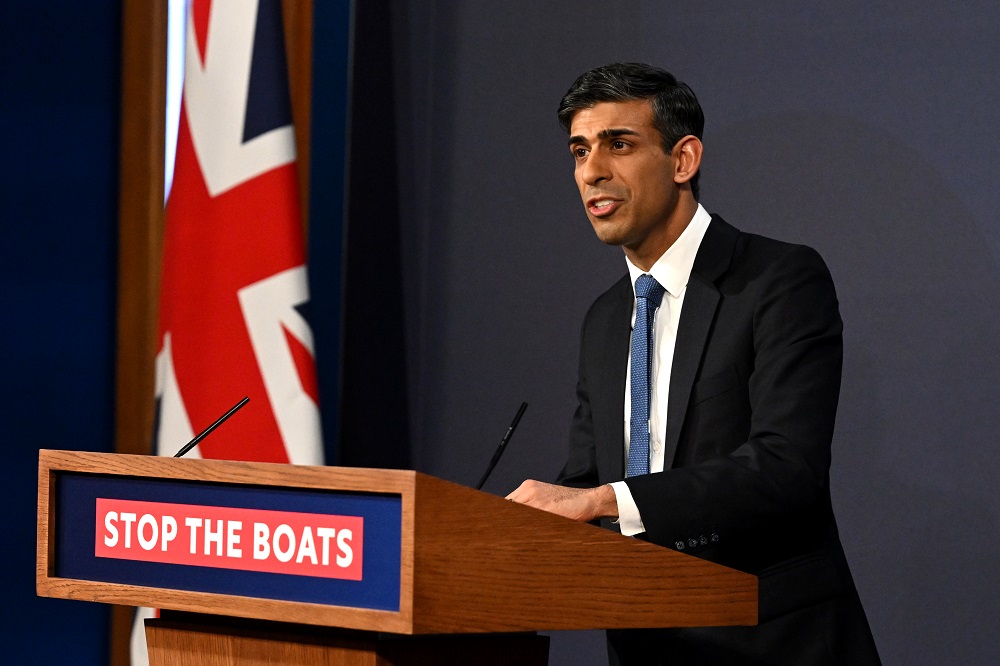 More than 25,000 asylum seekers have arrived in Britain via small boats since Rishi Sunak became Prime Minister, according to figures analysed by the Labour Party.
Shadow immigration minister Stephen Kinnock said Mr Sunak had "fundamentally failed to get a grip" on the migrant crisis in the English Channel, despite a pledge to put a stop to small boats crossing from France.
Mr Sunak entered 10 Downing Street on October 25.
The Conservative Party leader, in a speech in January, made stopping the boats one of his top five priorities ahead of next year's likely general election.
According to Ministry of Defence figures, more than 7,600 people, thought to have been asylum seekers, arrived in Britain in small boats between October 25 and December 31.
Home Office figures up to Friday suggest that almost 17,500 people have arrived via the same route in 2023.
It is thought the 25,000 arrivals mark since Mr Sunak's premiership started was topped on Friday when the Home Office recorded that 144 people arrived in three boats.

Tory incompetence
Mr Kinnock said: "The Conservatives have allowed criminal smuggling gangs to take hold on Britain's borders and Tory incompetence is risking our national security, putting lives at risk, and pounding the public purse for millions every day.
"Rishi Sunak has fundamentally failed to get a grip and crossings are rocketing on his watch.
"It's time for a different approach. The Prime Minister must now back Labour's plan to stop the dangerous Channel crossings by going after the criminal gangs, by securing a returns deal with Europe, and by clearing the asylum backlog which is costing the taxpayer £6 million a day."
Home Secretary Suella Braverman said in December that about 40,000 migrants were being housed in hotels, with the Government estimating that accommodating refugees costs British taxpayers between £5 million and £6 million per day.
Sir Keir Starmer's Labour Party said only 3,000 people are being removed from the UK each year following failed asylum bids.
Citing Home Office figures, Labour said only 16% of asylum seekers who arrived by small boat between 2018 and March 2023 have had their asylum cases decided.
The UK Government has applied a number of measures to make it less appealing to come to Britain via unauthorised routes.
Ministers are looking to move migrants out of hotels and into accommodation on barges and former military sites.
The Illegal Migration Act also allows for those arriving via small boats to be sent back to their country of origin or deported to Rwanda in east Africa.
However, flights destined for Kigali have yet to take off, with the policy currently awaiting an appeal decision in the courts.
Unacceptable
A Home Office spokesman said: "The unacceptable number of people risking their lives by making these dangerous crossings is placing an unprecedented strain on our asylum system.
"Our priority is to stop the boats, and our small boats operational command is working alongside our French partners and other agencies to disrupt the people smugglers.
"The Government is going even further through our Illegal Migration Act which will mean that people arriving in the UK illegally are detained and promptly removed to their country of origin or a safe third country."
A Conservative Party spokesman said: "Sir Keir Starmer and his fellow lefty lawyers oppose any and every practical measure to stop the boats.
"A vote for Labour would be a vote for more boats, more hotels and more pressure on public services.
"Only the Conservatives have made stopping the boats a priority – our tough but fair approach means that if someone enters the UK illegally they will be detained immediately and removed to a safe country within weeks."
Labour said its plan to stop the boats would involve a cross-border police unit tasked with going after criminal smuggling gangs.
It said the new unit would crack down on trafficking, while millions of pounds of new investment would be ploughed into the National Crime Agency to address the migrant issue.
Officers would be based in the UK and throughout Europe to tackle the gangs across the continent, in collaboration with international allies and Europol, Labour officials said.
---
Support our Nation today
For the price of a cup of coffee a month you can help us create an independent, not-for-profit, national news service for the people of Wales, by the people of Wales.