News
Social media post goes viral after rats are named after the Royal Family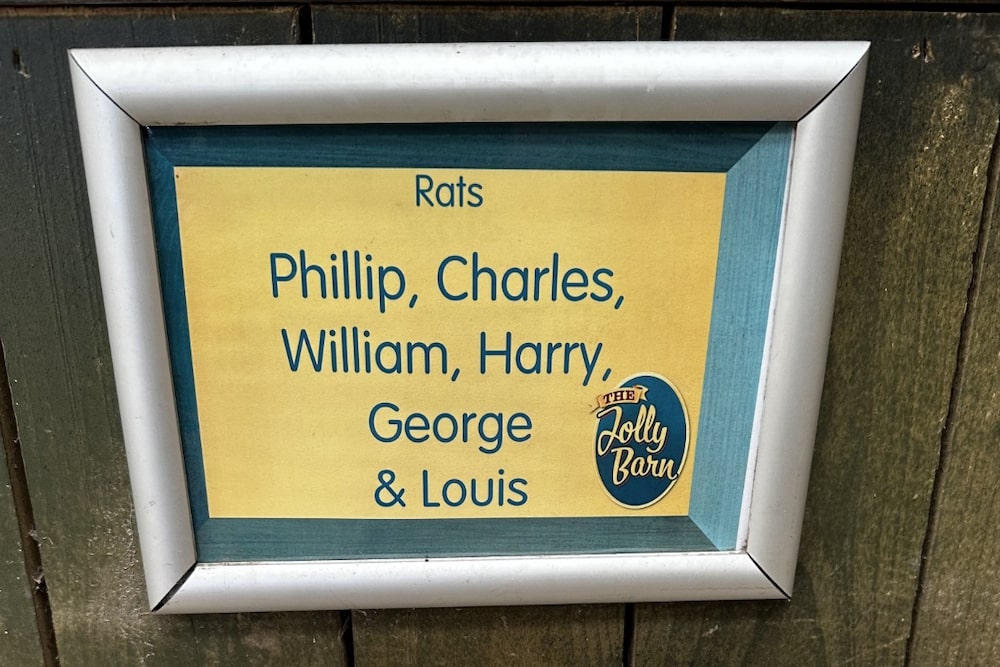 A social media post about the rats at Folly Farm has gone viral after receiving thousands of views – with many enjoying the picture which accompanied it on Twitter.
On a visit to the adventure park and zoo in Pembrokeshire, Welshman Andrew Kenning was amused to see the names given to the rats at the ever popular Welsh tourist attraction.
So he took a photo and posted it on Twitter, not expecting what happened next. The post quickly went viral and has so far received more than 164,000 views.
His picture shows the name plate of the rats in there barn at Folly Farm – all named after members of the Royal Family – Phillip, Charles, William, Harry, George and Louis.
That's four generations of the Royal Family given names to a creature which let's face it doesn't after the most complimentary of reputations.
Well, that's nice. 😂😂#FollyFarm pic.twitter.com/cw3UR6njEw

— Manic Street Teacher (@AndrewKenning) July 16, 2023
The post has been met with much amusement, especially from anti-monarchists, who were quick to delight in the post, with many praising Folly Farm for their naming decisions.
'So my support to Folly Farm has just gone up', wrote one. Another posted: 'Always loved the Folly Farm lot the mad b*stards'.
'Always rated Folly Farm', added one poster, while 'Inject it', was the comment from one Twitter user.
As for the original poster Andrew Kenning, he said the reaction represents a depth of feeling in Wales right now about the Royals: "The folk at Folly Farm have tapped into something that obviously hits a nerve with many in Wales and beyond but what struck me about it was there was no Andrew.
"On a related note, Folly Farm is a great day out with the young ones. Well worth a visit."
However, anyone believing that one of Wales' premier visitor attractions is actually masquerading as a hotbed of republican dissent might need to think again.
A spokesperson at Folly Farm said: "It's great that this post has received so much interest. We often name our animals after well-known figures or TV characters, or themed around current events taking place at the time of their arrival.
"We have had goats named William and Charlotte, penguins named after presidents such as Roosevelt and Lincoln or Simpsons characters. We've even had sheep named after the cast of Gavin and Stacey such as Bryn, Gwen and Nessa.
"We believe our fancy rats in the barn arrived around the time of the Jubilee and were therefore given fancy names in keeping with the theme – and that is the sole basis of how we came about naming them after members of the Royal Family. We certainly didn't give it any more thought than that, but it's fun to hear this post has received such interest."

---
Support our Nation today
For the price of a cup of coffee a month you can help us create an independent, not-for-profit, national news service for the people of Wales, by the people of Wales.