News
Starmer battles to maintain Labour discipline over Israel-Hamas war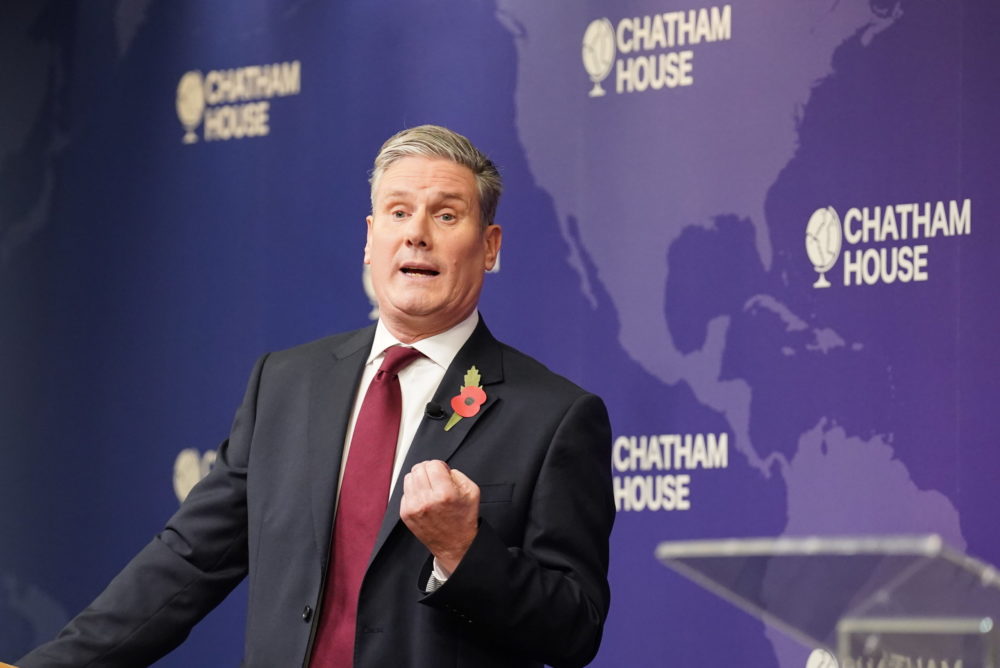 Sir Keir Starmer is battling to maintain Labour discipline with members of his frontbench in open revolt about his stance on the Israel-Hamas conflict.
The Labour leader has resisted pressure from within his own party to call for a ceasefire, instead urging both parties in the conflict to agree to a humanitarian pause to allow aid in and people out of the war zone.
Shadow ministers are among senior Labour figures demanding a change in his stance, with frontbencher Alex Cunningham calling for an "immediate ceasefire" less than an hour before Sir Keir delivered his speech.
Scottish Labour leader Anas Sarwar also criticised Sir Keir, claiming he had made "hurtful" comments about the conflict and there was "repair work to do" to mend bridges with Muslim communities.
A small group of protesters gathered outside the Chatham House foreign affairs think tank where Sir Keir was speaking, holding banners reading "Starmer Shame" as they demanded an immediate ceasefire.
Sir Keir said his response was shaped by responding to both the massacre of Jews in Israel by Hamas and the "humanitarian catastrophe" unfolding in Gaza.

Emboldened 
Hamas would be "emboldened" by a ceasefire and start preparing for future violence immediately, the Labour leader said.
Sir Keir said: "While I understand calls for a ceasefire at this stage, I do not believe that it is the correct position now for two reasons.
"One, because a ceasefire always freezes any conflict in the state where it currently lies. And, as we speak, that would leave Hamas with the infrastructure and the capabilities to carry out the sort of attack we saw on October 7.
"Attacks that are still ongoing. Hostages who should be released still held.
"Hamas would be emboldened and start preparing for future violence immediately."
A humanitarian pause is the "only credible approach", which could see "the urgent alleviation of Palestinian suffering".
"Aid distributed quickly. Space to get hostages out," he said.
"And it is why it is also a position shared by our major allies in the US and the EU."
Sir Keir said the consequences of events in Israel and Gaza would "last for decades" and "the trauma might never fade".
There was a "rising temperature on British streets" as a result of the conflict, he acknowledged.
The Hamas attacks were "the biggest slaughter of Jews – and that is why they were killed, do not doubt that – since the Holocaust".
In an apparent message to his critics in the UK, Sir Keir said: "This is terrorism on a scale and brutality that few countries have ever experienced, certainly not this one, and that is an immutable fact that must drive our response to these events."
But the humanitarian crisis in Gaza was also on a "previously unimaginable scale" with "thousands of innocent Palestinians dead, displaced, desperate for food and water, reduced to drinking contaminated filth, hiding out in hospitals for shelter whilst in those same buildings babies lie in incubators that could turn off at any moment".
Wales' first minister has backed Keir Starmer's calls  for a humanitarian pause in Gaza, despite 12 of his backbenchers signing calls for a ceasefire last week.
In a statement issued to the BBC at the weekend, Mark Drakeford said: "I endorse the calls made by Keir Starmer for humanitarian pauses so that aid can urgently get to those who need it.
"A pause could create conditions which lead to a ceasefire and then on to the crucial next steps to provide a credible route to the peaceful resolution which is so desperately needed.
Hurtful
Before Sir Keir's speech, Mr Sarwar used a Daily Record interview to criticise Sir Keir's handling of an LBC interview in which he appeared to endorse Israel cutting off water and power to Gaza – comments the Labour leader later clarified by insisting he was merely stating the Tel Aviv government had the right to self-defence.
The Scottish party leader said: "It was hurtful and I think he would accept it was hurtful. He accepts that it is not his position and it never was his position. But (that) language, framed as it was, did cause hurt."
He went on to say that the comments could have been clarified and "rebuffed" sooner.
Shadow justice minister Mr Cunningham used a social media message to say there "must be an immediate ceasefire to get vital aid to Palestinians, give the UN chance seek the release of Hamas-held hostages, and end the deadly attacks on Palestinian and Israeli people".
Yasmin Qureshi, Jess Phillips and Imran Hussain are among other frontbench figures who have joined calls for an end to the fighting.
Sir Keir has also been at odds over its stance on Israel with devolved mayors like Andy Burnham and Sadiq Khan, and with Labour-led councils across England.
---
Support our Nation today
For the price of a cup of coffee a month you can help us create an independent, not-for-profit, national news service for the people of Wales, by the people of Wales.