News
'Structurally unsound' castle placed on at-risk list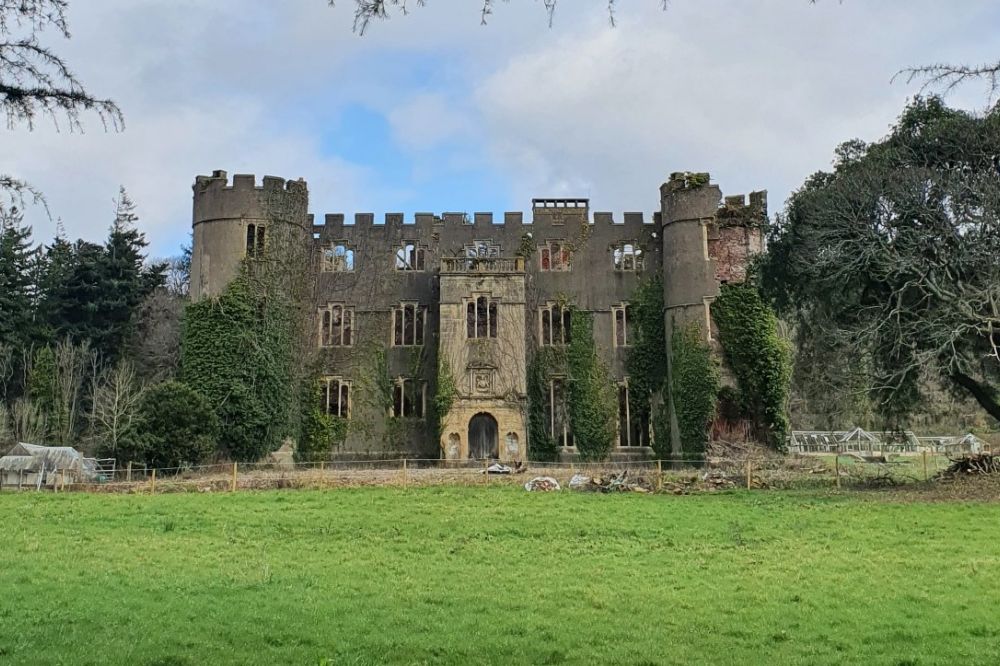 Nicholas Thomas, local democracy reporter
A privately owned castle and scheduled ancient monument dating back to 17th  century has been declared 'structurally unsound' and placed on a list of at-risk historic buildings.
The future of Ruperra Castle – near Draethen – is in jeopardy, according to a council survey of some of the region's most historically significant buildings.
Inspectors behind Caerphilly Council's new strategy to protect these landmarks found Ruperra Castle was "structurally unsound" with "multiple failures".
The "loss" of the castle "may follow in [the] short-term", they warned, in a new report which has been welcomed by a community organisation set up to preserve the "special" landmark.
Several former collieries are also among the most at-risk buildings in the county borough.
But the report on the council's strategy highlights how local authorities have only limited powers to step in and preserve privately-owned listed buildings.

Irreplaceable resource
Caerphilly Council described such structures as a "valuable and irreplaceable resource" and said it was "recognised good practice" that they "should be retained in use".
But it said owners of listed buildings were "under no statutory obligation to maintain their properties in good repair", even though it was "usually in their interests to do so".
Councils have powers to secure repairs "when it becomes evident that a building is being allowed to deteriorate".
But it is only as a "last resort" that a local authority is able to take control of a derelict property, using compulsory purchase powers "to secure necessary repairs".
The council did not single out any property owners for a ticking-off, and said its new Buildings at Risk Register was "not intended to criticise an owner who fails to conserve their listed building in an appropriate manner".
The new strategy would instead "focus on identifying ways to secure our most vulnerable listed buildings for future generations", the council said.
Five buildings at Ruperra Castle appear on the new register of at-risk buildings, and it is likely the council will pursue "liaison with the owner" and Welsh heritage organisation Cadw, as well as the Ruperra Castle Preservation Trust – a volunteer group set up to try and protect the landmark.
Speaking at a meeting of the council's Corporate and Regeneration Scrutiny Committee on Tuesday (November 7), Charlotte Rogers, a trustee at the preservation trust, said it was "no surprise" the "unique" building had been categorised as one of the most at-risk in the Caerphilly area.
She said "making the castle safe should be a priority, so it is no longer a danger to the public and residents".
The committee agreed to pass on three of the trust's recommendations to the council's cabinet next month.
They are: to "press" Cadw and the owner to undertake a structural survey of Ruperra Castle; to "determine a safe radius around the castle while essential repairs are undertaken by the owner"; and to "refuse to accept any further planning applications for Ruperra unless accompanied by a Conservation Management Plan for the whole site".
Cadw
The case has been further complicated because Ruperra Castle is a scheduled monument, meaning Cadw also has responsibility for its future.
Council heritage officer Peter Thomas told the committee the local authority had "very limited influence" at the site.
Committee member and Plaid Cymru councillor Lindsay Whittle, the leader of the opposition, said Ruperra Castle was practically "falling down" and questioned whether Cadw could do more to "preserve" the buildings there.
"It's our money after all – it's taxpayers' money," he said, noting Cadw had pledged £10 million to refurbish Caerphilly Castle.
The council's head of planning and regeneration, Rhian Kyte, said she was meeting with Cadw "on a regular basis" and would raise the matter, but said "how Cadw chooses to spend their money is a matter for Cadw".
Following the meeting, the Ruperra Castle Preservation Trust told the Local Democracy Reporting Service it was "delighted" the committee had agreed to send its recommendations to the council's cabinet.
Despite the shared involvement with Cadw, "Caerphilly Council still has a key role on the public right of way and the other listed building close to the castle, which could now be in danger of the castle falling onto it", the trust said.
"Given the huge historical significance of Ruperra, and the impact of the buildings on one another, we hope the council will amend its Buildings at Risk Strategy to ensure a conservation management plan is in place at Ruperra Castle before any more planning decisions are made at this special place," it added.
Elsewhere in the county borough, three former mines – Navigation Colliery in Crumlin, Penallta Colliery, and Llanbradach Colliery – are also among the most at-risk historical buildings.
Other sites which feature prominently on the list include Susannah Houses, in Rhymney; and Gelli Farm, in Trinant.
---
Support our Nation today
For the price of a cup of coffee a month you can help us create an independent, not-for-profit, national news service for the people of Wales, by the people of Wales.