News
Suella Braverman sacked as Home Secretary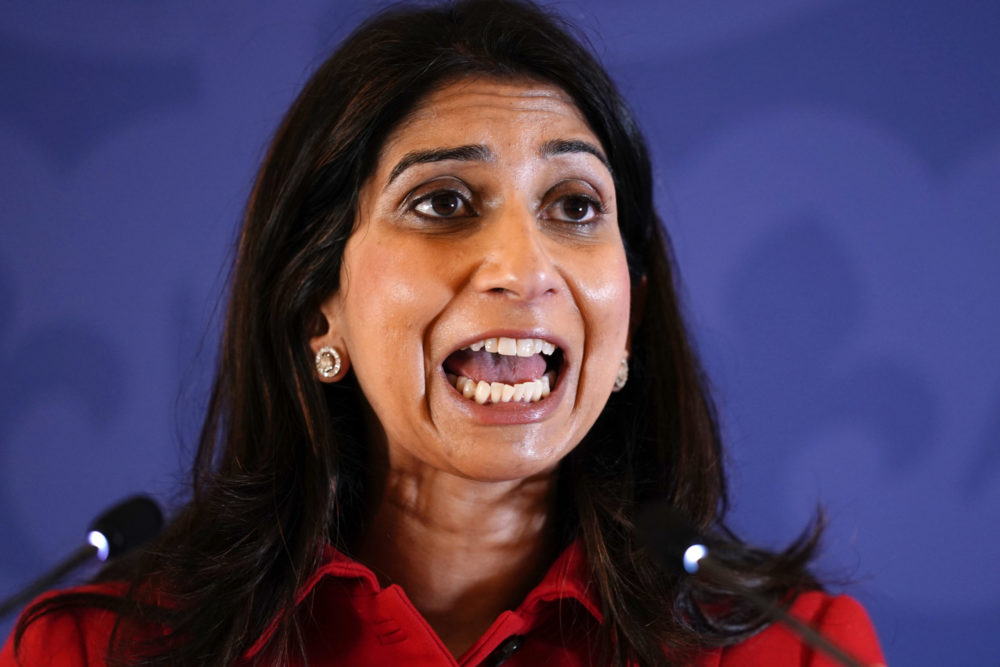 Suella Braverman has been sacked as home secretary, No 10 sources confirmed, saying Prime Minister asked her to leave the Government.
After being sacked, Ms Braverman said: "it has been the greatest privilege of my life to serve as home secretary", adding: "I will have more to say in due course."
James Cleverly has been appointed Home Secretary following the sacking.
Rishi Sunak took action following her unauthorised article criticising the way pro-Palestinian protests had been policed.
A No 10 source said the Prime Minister "asked Suella Braverman to leave Government and she has accepted".
The Conservatives said Mr Sunak is carrying out a wider reshuffle which "strengthens his team in Government to deliver long-term decisions for a brighter future".
But sacking one of the leading figures on the Tory right could pose difficulties for the Prime Minister as he seeks to get his party united behind him and ready for a general election expected next year.
David Cameron was seen entering Downing Street on Monday morning.
The former Prime Minister walked inside No 10 shortly before 9am amid a ministerial reshuffle.
On X, formally Twitter, Plaid Cymru's Westminster leader, Liz Saville Roberts said: "If Rishi Sunak hadn't been so weak as to re-hire Suella Braverman six days after she was last sacked, he could have avoided this chaos.
"Even Liz Truss had better political instincts. People in Wales are fed up with this Westminster psychodrama."
The leader of the Liberal Democrats said the Prime Minister had shown "sheer cowardice" in keeping Suella Braverman in post as home secretary for as long as he did, as the party demanded a general election.
Sir Ed Davey said: "Suella Braverman was never fit to be home secretary. Rishi Sunak knew this and he still appointed her.
"It was the Prime Minister's sheer cowardice that kept her in the job even for this long. We are witnessing a broken party and a broken Government, both of which are breaking this country.
"This whole sorry saga has shown the Conservative Party for what they truly are – an unruly mob more focused on fighting and undermining each other rather than standing up for their constituents and fixing the country that they have broken.
"They need to put us all out of our misery and call a general election now."
More to follow…

Reshuffle
Veteran schools minister Nick Gibb said he had quit the government and would not stand at the next general election.
"Over the last few weeks I have been discussing taking up a diplomatic role after the general election," he said.
"To enable me to do so I have asked the Prime Minister if I can step down from the government at the reshuffle and he has agreed."
He added: "I campaigned for Rishi last Summer and I remain an enthusiastic supporter of the Prime Minister's leadership."
Smoking
Health minister Neil O'Brien announced that he is stepping down.
One of the responsibilities Mr O'Brien had in the Department of Health and Social Care (DHSC) was for tobacco and addiction.
He was due to play a key role in delivering Prime Minister Rishi Sunak's effective ban on smoking and vaping in the younger generation.
Tweeting a picture of a child's arts-and-crafts style sheep, the Harborough MP wrote: "It's been a privilege to serve at DHSC.
"Great ministerial team and spads (special advisers) and some fab officials.
"But with so much going on locally I want to focus 100% on constituency work so have asked to go to back benches. I'm also keen to see more of our two small children (artwork attached)."
---
Support our Nation today
For the price of a cup of coffee a month you can help us create an independent, not-for-profit, national news service for the people of Wales, by the people of Wales.