News
Sunak announces two new asylum barges and claims plan to 'stop the boats' is working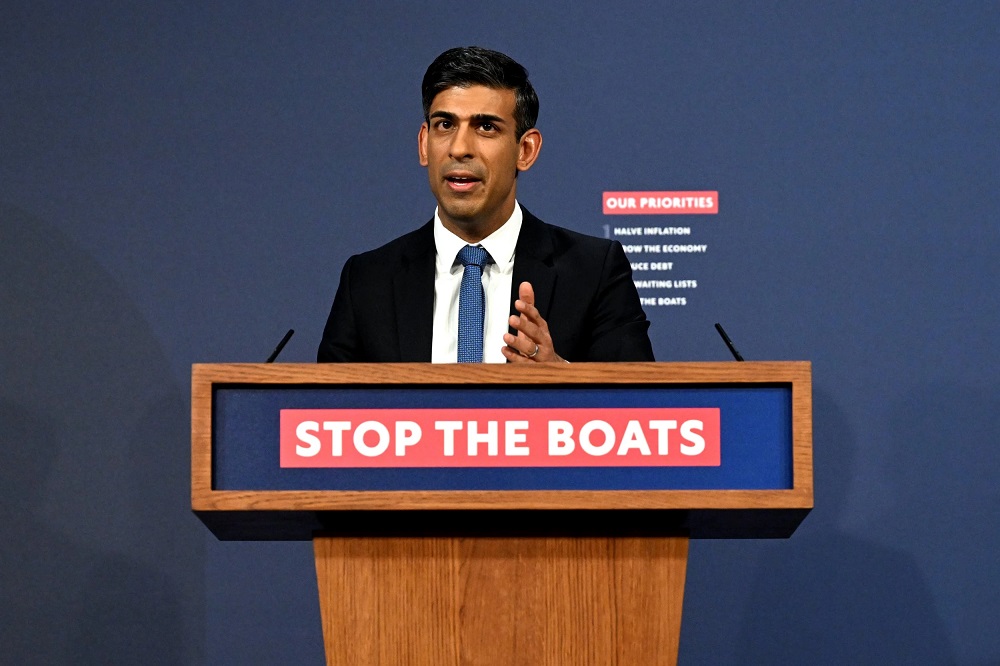 Rishi Sunak claimed his plan to tackle small boats crossing the English Channel is working, but there is "work to do", as he announced two more barges to house asylum seekers.
The Prime Minister said the numbers making the crossing were down by around a fifth since last year and "our plan is starting to work".
He said the returns deal with Albania had led to 1,800 people being sent back, and was having a deterrent effect.
In a speech in Kent, Mr Sunak also defended measures to house asylum seekers on barges – with the first one set to be moored in Portland, Dorset, within a fortnight, and the announcement of two more to house another 1,000 people.
He said: "Before I launched my plan in December, the number entering the UK illegally in small boats had more than quadrupled in two years. Some said this problem was insoluble, or just a fact of 21st century life.
"They'd lost faith in politicians to put in the hard yards to do something about it. And of course, we still have a long way to go. But in the five months since I launched the plan, crossings are now down 20% compared to last year.
"This is the first time since this problem began that arrivals between January and May have fallen compared to the year before."

Not complacent
He suggested that the UK was doing better than other European countries, but said that the Government was not "complacent".
The Prime Minister added: "With grit and determination, the Government can fix this and we are using every tool at our disposal."
Mr Sunak declined to say where there two new barges would be moored, although there has been widespread speculation one could be based on Merseyside.
He also defended the requirement for asylum seekers to share hotel rooms, following protests outside accommodation in Pimlico, London.
"If you're coming here illegally, claiming sanctuary from death, torture or persecution, then you should be willing to share a taxpayer-funded hotel room in central London.
"To reduce pressures on local communities, we'll also house people on ships, the first will arrive in Portland in the next fortnight and we've secured another two today that will accommodate another thousand."
Analysis of provisional Home Office data by the PA news agency suggests that as of June 3 some 7,610 people had been detected crossing the channel, compared with 9,954 at the same point in 2022 – a 23.5% decrease.
But crossings are heavily influenced by the weather and the summer months typically see higher numbers making the journey.
Mr Sunak said the deal with Albania had seen 1,800 people sent back, although some of those were convicted criminals rather than migrants.
Mr Sunak said the UK had gone from accepting about one in five Albanian asylum cases to just one in 50.
"So far this year, the number of Albanian small boat arrivals has fallen by almost 90%," he said. "This is proof that our deterrence strategy can work."
---
Support our Nation today
For the price of a cup of coffee a month you can help us create an independent, not-for-profit, national news service for the people of Wales, by the people of Wales.