News
Sunak distances himself from top Tory's death penalty views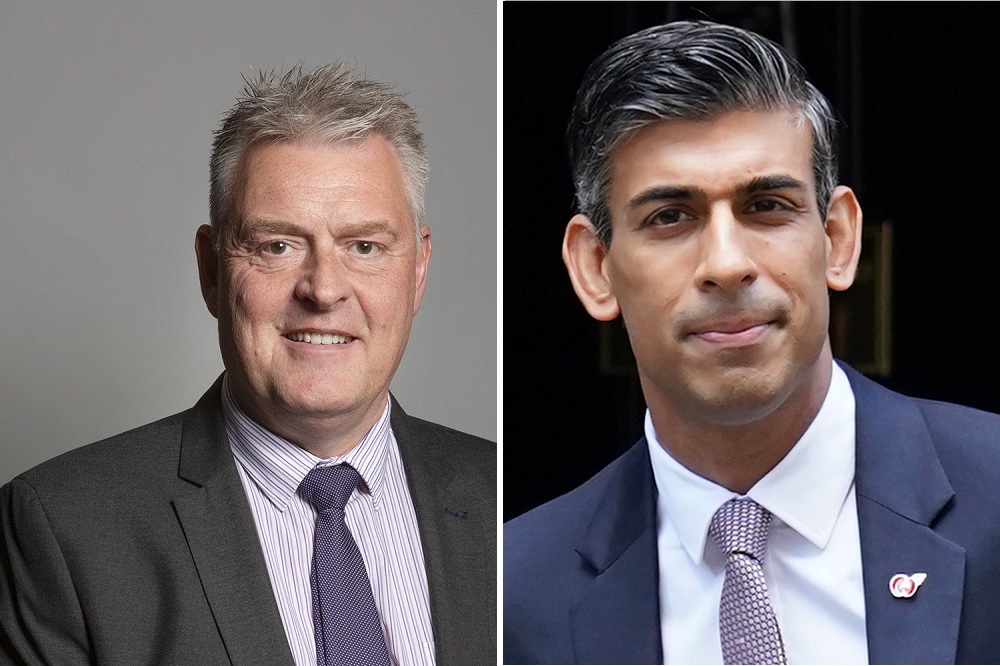 Prime Minister Rishi Sunak has distanced himself from the MP he appointed deputy Tory party chairman, after Lee Anderson backed the return of the death penalty.
The Prime Minister said "that's not my view, that's not the Government's view" when questioned about reinstating capital punishment.
Mr Anderson, who was appointed by Mr Sunak on Tuesday, also clashed with a radio presenter in a combative interview.
Ashfield MP Mr Anderson was given the post of working as one of new chairman Greg Hands's lieutenants in the run-up to the next election.
In an interview with The Spectator magazine conducted a few days before his appointment but published after he had been given the role, Mr Anderson said he would support the UK reintroducing the death penalty.
He said: "Nobody has ever committed a crime after being executed.
"You know that, don't you? 100% success rate."
He also suggested using Royal Navy frigates to return to France those arriving in small boats across the English Channel.
Migrants arriving unlawfully in Britain should be returned the "same day" to where they came from, he said.
"I'd put them on a Royal Navy frigate or whatever and sail it to Calais, have a stand-off. And they'd just stop coming."
A former Labour councillor before joining the Tories, Mr Anderson has been no stranger to controversy since being elected to Westminster in 2019, having criticised food bank users and the England men's football team for taking the knee in protest at racism.
In an interview on Thursday with BBC Radio Nottingham, Mr Anderson became defensive when challenged about being caught asking a friend to pose as an anti-Labour swing voter on the doorstep during the 2019 election campaign.

Dishonest
Mr Anderson refused to reply when asked if he was dishonest. Instead, he asked the reporter 10 times if she had ever lied.
When she said that she had, Mr Anderson said: "So you're dishonest."
He has been dubbed "30p Lee" for claiming that meals could be prepared for that sum and suggesting people using food banks could not budget.
Asked if he believes that some working people are having to use food banks, Mr Anderson replied: "No."
"I will challenge you right now to find a firefighter or a nurse in Ashfield that's using a food bank," the MP from the so-called Red Wall seat said.
Mr Anderson also hit out at the press, saying: "They say I'm controversial but it's the media that stokes controversy by picking up on these sorts of stories."
He denied that he would be toning down his opinions as a result of his new position, but said many of his "debates will be behind closed doors" now.
"I don't want to be seen as someone who's causing problems all the time," he told TalkTV.
"I believe in collective responsibility."
An expert on the views of political party members pointed out that many Tories would agree with Mr Anderson's views on the death penalty.
Majority of Conservatives
Professor Tim Bale from Queen Mary University of London said he was "almost certainly speaking for the majority of Conservatives".
A survey of 1,191 members carried out as part of his work on party membership after the 2019 election found 53% agreed that "for some crimes, the death penalty is the most appropriate sentence".
But Mr Sunak rejected Mr Anderson's calls for the return of capital punishment.
"That's not my view, that's not the Government's view," the Prime Minister told reporters during a visit to Cornwall.
"But we are united in the Conservative Party in wanting to be absolutely relentless in bearing down on crime and making sure people are safe and feel safe."
Mr Sunak added that the Government had "tightened up sentencing laws for the most violent criminals, they spend longer in prison".
---
Support our Nation today
For the price of a cup of coffee a month you can help us create an independent, not-for-profit, national news service for the people of Wales, by the people of Wales.